Facebook brought 663 people to the MSU Bug House on a Monday night
What happens when you mix a Bug House, kids, Facebook and Michigan State University outreach?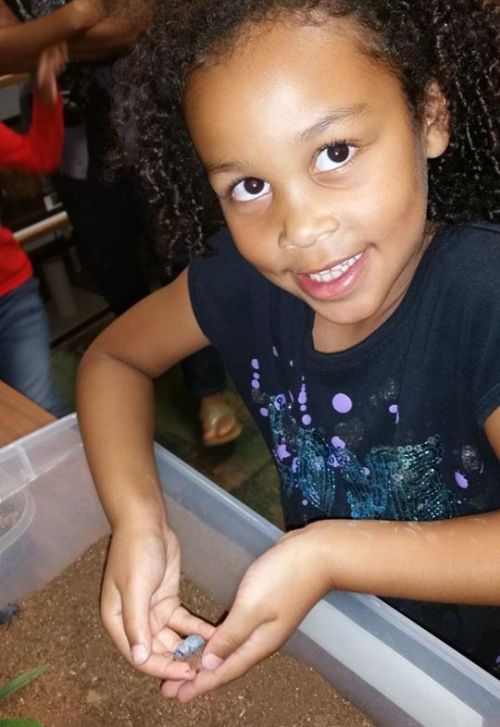 The MSU Bug House learned the power of social media at its Feb. 8, 2016, open house. Typically about 50 visitors attend the monthly Monday night open houses, which are mostly staffed by volunteers. To try to increase attendance, the new Bug House marketing student, Shelby Komar, suggested creating an "event" on the Bug House Facebook page that would invite the over 900 people who "like" the page.
Amazingly, by the Friday before the event, 450 people responded and indicated they planned to attend, something the Bug House organizers thought could never happen. Event volunteers were surprised when 663 people came through the doors to the Bug House during three hours on a cold Monday night. At one point, people were waiting in line from the Bug House down the hall to the Deans office in the Natural Science Building.
"We had to stay open an extra hour just to get everyone in," Entomology staffer Carolyn Devereaux said. "Surprisingly, our visitors were not upset at the wait or the crowded conditions. Most people said it was worth the wait and they had a good time."
Special thanks to our student volunteers who stayed late and went above and beyond to make this work: Julia Brokaw, Amelia Gardener, Shelby Komar, Joseph Lonchar, Marissa Schuh, and Courtney Weatherbee. Gary Parsons and Bernice DeMarco oversee the Bug House and its critters along with Devereaux, who is the main contact person and handles scheduling. For more information, contact the MSU Department of Entomology at 517-355-4662 or e-mail bughouse@msu.edu.