FCWG 2019-20 Learning Exchange Series Session: Policy I - Federal Forest Carbon Policy Status and Path Ahead
Speakers Alix Murdoch, American Forests, and Natalie Alex, American Forest Foundation, will present "Policy I: Federal Forest Carbon Policy Status and Path Ahead."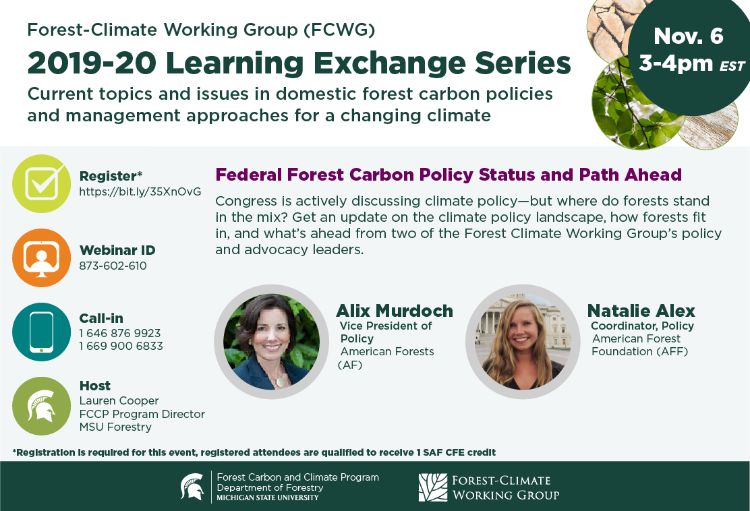 Title
Policy I: Federal Forest Carbon Policy Status and Path Ahead
Speakers
Alix Murdoch serves as the Vice President of Policy for American Forests, the oldest conservation organization in the United States. She oversees the formation of American Forests' policy agenda, government relations and external affairs, and advocacy efforts. Prior to assuming her role at American Forests, she spent seven years at The Chesapeake Bay Foundation (CBF), where she served as the Federal Policy Director. She is a graduate of Hamilton College and Catholic University Columbus School of Law, and is licensed to practice law in the State of Maryland.
Natalie Alex joined the American Forest Foundation (AFF) team in the spring of 2018 as the Coordinator for both the Policy and Conservation teams. Since then, she has transitioned to focusing solely on Policy to make sure family forest owners and the benefits their lands provide get the representation they deserve. Natalie graduated from Michigan State University with a Bachelor's in Fisheries and Wildlife. Prior to joining AFF, Natalie worked for both public and private sector organizations, including the Forest Resources Association, where she focused on promoting the public policy interests of the forest products community. With Natalie's help, AFF has had a positive impact on family forest policy, including the passing of the 2018 Farm Bill and the recent passage of the disaster aid package. She is currently working on advancing legislation that improves forest management programs for private landowners, including policies that support strong market opportunity.
Description
Congress is actively discussing climate policy—but where do forests stand in the mix? In this webinar, speakers Alix Murdoch (American Forest Foundation) and Natalie Alex (American Forests) will share an update on the climate policy landscape, how forests fit in, and what's ahead from two of the Forest Climate Working Group's policy and advocacy leaders.

This webinar is the first in a series of two FCWG Learning Exchange Series sessions focused on forest carbon policy. Next month's session will focus on state-level policy.
Supplementary Materials
Recording
About the FCWG Learning Exchange Series
The Forest-Climate Working Group (FCWG) Learning Exchange Series covers current topics and issues in domestic forest carbon policies and management approaches for a changing climate. The FCWG represents a diverse group of forest interests including landowners, industry, conservationists, academia, and those active in carbon markets. The group has worked together for more than 8 years to advocate for state and federal policies that work to ensure sustainable forest use and prevention of land use change. We have currently been in the process of reinvigorating our focus and activities and welcome inquiries into our work. Please reach out if you have questions or think your organization may be interested in joining.