FCWG 2019-20 Learning Exchange Series Session: Forest Carbon Soil Partnership
Speakers Luke Nave, Forest Program Manager at Climate Action Reserve, presents "Carbon Market Opportunities and Project Development Tools for Forest Owners".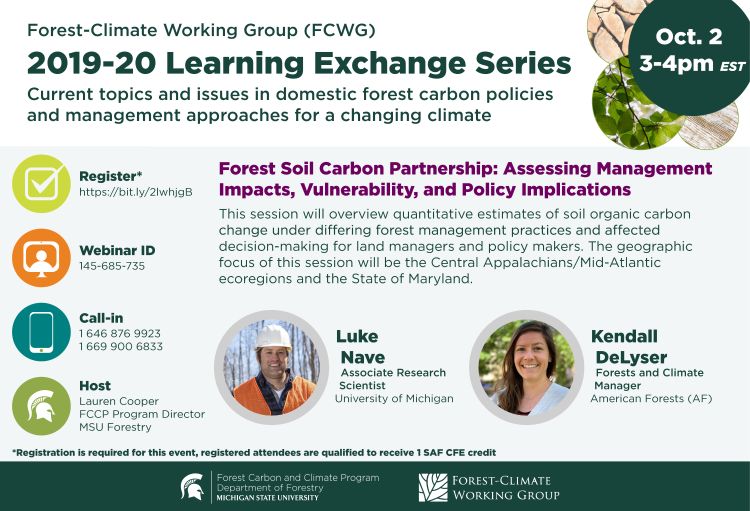 Title
Forest Carbon Soil Partnership - Assessment Management Impacts, Vulnerability, and Policy Implications
Speakers
Luke Nave, Associate Research Scientist at the University of Michigan and Northern Institute of Applied Climate Science (NIACS)
Kendall DeLyser, Forests and Climate Manager at American Forests
Description
The Northern Institute of Applied Climate Science (NIACS) and American Forests (AF) began a partnership focused on soil carbon in 2017, and have been working since that time to produce increasingly refined, quantitative assessments of land use and management impacts on soil organic carbon (SOC) stocks. An early project that broadly quantified the carbon benefits of reforestation at the national level has provided a foundation for more localized assessments of other types of land use change and forest management activities at ecoregional to landscape levels.

In this talk, project partners Luke Nave (University of Michigan, NIACS) and Kendall DeLyser (AF) will report on project findings for the Central Appalachians and Mid-Atlantic ecoregions, including quantitative estimates of SOC change under differing forest management practices and how these inform tools for land managers and policy makers within the State of Maryland.
Supplementary Materials
Recording
About the FCWG Learning Exchange Series
The Forest-Climate Working Group (FCWG) Learning Exchange Series covers current topics and issues in domestic forest carbon policies and management approaches for a changing climate. The FCWG represents a diverse group of forest interests including landowners, industry, conservationists, academia, and those active in carbon markets. The group has worked together for more than 8 years to advocate for state and federal policies that work to ensure sustainable forest use and prevention of land use change. We have currently been in the process of reinvigorating our focus and activities and welcome inquiries into our work. Please reach out if you have questions or think your organization may be interested in joining.