Create your own March Madness with a financial free throw activity
Combining fitness, finances and free throws makes this a game worth playing.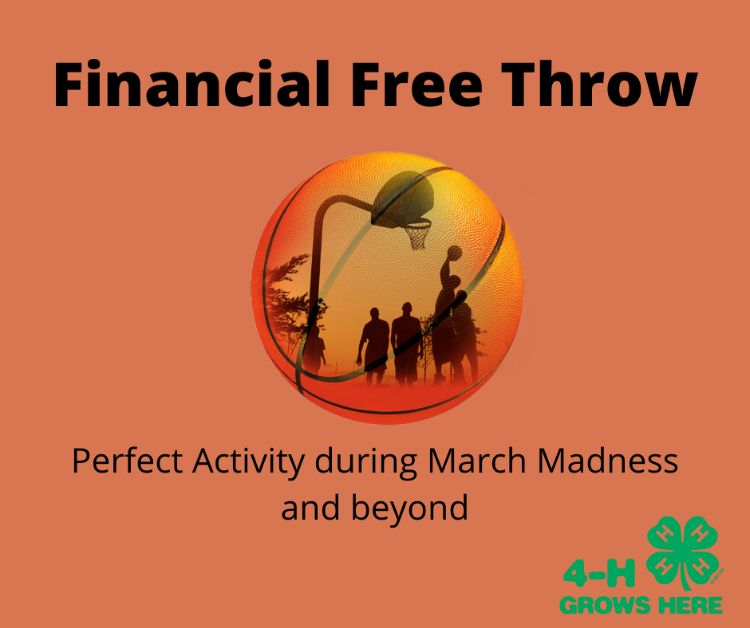 Basketball is a favorite sport of many. With warmer weather just around the corner and the NCAA March Madness in full swing, this is a perfect time to have fun while infusing financial lessons into this fast-paced sport. Using basketball to connect with young people to teach about finances can be a great springboard to learning. Here is how:
Game overview
In a game called Financial Free Throw, teams compete by answering financial questions to earn a chance at scoring extra points and shooting hoops. This game can be played indoors or out. All you need is an open space, basketball, basketball goal (basketball hoop) and financial questions.
Resources
Depending on the player's level of knowledge, you may want to instruct students on basic financial concepts before game play begins. Michigan State University Extension provides numerous financial instructional resources through 4-H youth development and family programming.
Financial comic books can be used as a fun instructional tool youth could read prior to playing. Here are three comic books you could use with this game.
Preparation
Create financial questions from the financial instruction, comic book or resource given. Put the questions on index cards or pieces of paper and place in a basket, bucket, or other similar container. For already created questions, check out the games created by Michigan's 4-H Money Smart Youth Ambassadors, teens committed to providing fun financial education to their peers.
If you are playing somewhere other than a basketball court, you can still play the game with easy adaptations. You will need masking tape to simulate the free throw line or the designated shooting spot. The shooting area can be a stationary spot, or it can move around throughout the game similarly to the basketball games "Around the World" or "Horse." If a hoop is too difficult to hang, consider using an empty trash can or similar object to serve as the target. Also, if you are playing indoors, exchange a real basketball for something softer, like a nerf ball.
The play
Separate the youth into teams of two or more players each. If there are youth of different ages, make sure to mix up the age groups into the various teams. Each team must decide the order for the players, for instances oldest to youngest, tallest to shortest, or alphabetically by name.
To start the game, pull a financial question from the container and read aloud to the first round of participants. The participants can use the resource or comic book if provided and their teammates for help in answering the question. The first person who gets the answer right scores one point for their team and gets a chance to shoot a basket for a bonus point. Team members must rotate answering the questions in the order decided earlier. Play rounds continue until a team reaches a designated number of points or for a designated amount of time.
Using sports as a vehicle to help teach young people about personal finance while also getting fit is a win- win for all who play.
MSU Extension and Michigan 4-H Youth Development help to prepare young people for successful futures. As a result of career exploration and workforce preparation activities, thousands of Michigan youth are better equipped to make important decisions about their professional future, ready to contribute to the workforce and able to take fiscal responsibility in their personal lives. To learn about the positive impact of Michigan 4-H youth money management, career preparation, and entrepreneurship programs, read our impact report.