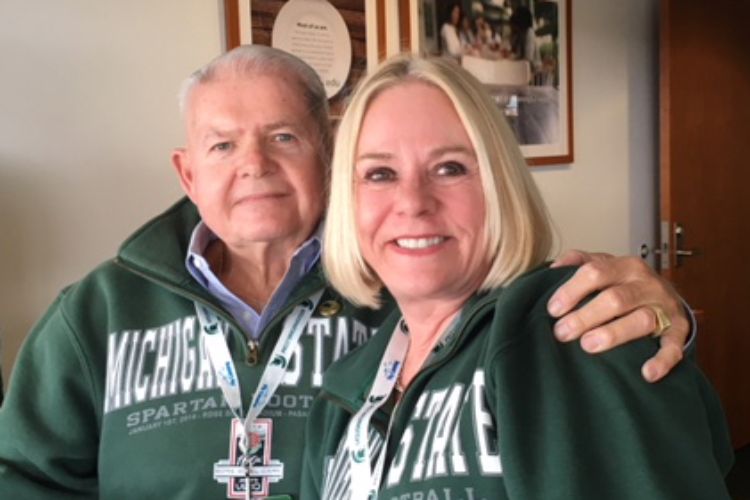 Charles "Chuck" Frasier, of Ft. Lauderdale, is a 1970 Michigan State University School of Packaging alumnus. He's traveled internationally, owned and sold a successful business and recently gave the lead $1.5 million gift to kick off a building renovation.
Frasier said he wouldn't be where he is today if it were not for his time at Michigan State. And it all started out because he wasn't satisfied.
Growing up in Port Huron, Frasier studied civil engineering at a local community college. While many of his counterparts were transferring 600 miles north to Michigan Tech, Frasier preferred to stay closer to home. He transferred to Michigan State's civil engineering program.
"I started out in civil engineering, working a lot of engineering jobs, so I could pay for school," he recalled. He remembers feeling that MSU seemed large. "Michigan State is a big place for a little kid, but a great school."
After a few years, he wasn't satisfied with his major and began to explore other options. That's when he took a packaging class and found his true passion.
"I was burned out. So, I looked around for another profession. Packaging seemed interesting and I took a class. I remember thinking, 'This is for me.' It was my strong suit and I decided that's what I would do. I worked extra hard to get out on time with a switch in majors. I graduated just a term late, in December."
Turns out, Frasier made the right move.
"There were plenty of job opportunities, companies were looking for packaging graduates. It was a little bit of a novelty, but everybody wanted to get in on it – not just the local Michigan companies. I was excited to get out of Michigan and see the world."
He settled on an offer from General Electric International in Manhattan as a packaging engineer.
"I did a lot of overseas traveling. It was very much leaned on the international end of it – corrosion protection, physical protection and it got more into logistics – before it was called logistics – and assembling the equipment for the plants."
After a decade at GE, he moved into sales, but continued to use his packaging skills.
"I was very fortunate. I used my packaging knowledge to sell, you might say. My credentials got me in a lot more doors. It made a big difference so I took advantage of the expertise in the field," Frasier said. "A couple years later I thought I might want to do this on my own."
In 1981, he established Dixie Box and Crating, a company he owned and operated until 2005. The first location opened in Charleston, South Carolina, however after just a few years, the company expanded to 11 divisions coast to coast.
After that venture, he and a partner founded American Packing and Crating, a full-service export packing, shipping and project consolidation company, based in Norfolk, in 2010. Over the years, the company grew to seven locations.
"The company is still strong. In the end, it has been a very good run. And, it's all because of packaging. I never left the business of packaging. It's always been packaging – in one form or another," he said. "That's what the School of Packaging really did for me – it made a difference in my career. I was going to school for one thing and packaging caught my eye. That got my career going."
When Frasier and his wife, Jacqueline, heard about the campaign for the School of Packaging, they decided it was the perfect opportunity to give back to the school that gave him his start.
"My wife and I have no children, as we thought about getting our estate in order and learned about the School of Packaging's plan for renovations, we decided it was a great opportunity to start giving back," Frasier said.
Their gift will name what will become the new atrium in the School of Packaging building, additionally they have committed another $1.5 million to endow a professorship through an estate gift. The couple used Charitable Lead and Charitable Remainder Trusts to make their gift and still allow them to meet their financial needs.
"Chuck and Jackie Frasier's leadership and support for the School of Packaging will help transform a space that continues to produce business and industry leaders," said Ron Hendrick, dean, College of Agriculture and Natural Resources, where the School of Packaging resides.
To attract the next generation of faculty, and students, it is imperative that our academic spaces and laboratories reflect what we are – the top school in packaging," Hendrick said. "People like the Frasiers know that by investing in our students, our faculty and our spaces allows us to continue to develop packaging as a science and become the starting places for students like Chuck was – curious and ambitious.
The Frasiers recently visited campus for a football game.
"It hasn't changed much, but it has changed some," Frasier said of the School. "We decided someone had to take the lead, and that was us. We accomplished what we wanted. To make an impact and to give back – to go out, become a success and share."
Last updated in 1986, the renovation of the packaging building will make it possible for MSU to remain a leader in the packaging field. Specifically, private support will fund:
New, state-of-the-art lab equipment to provide world-class facilities.
Creation of new, central gathering spaces with adequate seating where students can plug in, work between classes and recharge their electronic devices.
Open-style lab and office arrangements for graduate students.
The MSU School of Packaging was the first school of packaging in the United States and is the largest packaging program in the country. It is the only school that offers a Ph.D. program.
Outside of work, Frasier has also been involved with the Boys and Girls Club of south Florida, the Salvation Army and local food pantries.
Learn more about the School of Packaging building renovation. For more information on supporting the School of Packaging or other priorities, contact CANR External Relations.