From Data Collection to Policy Implementation
Training workshops support state government staff with collecting and analyzing data to inform government and executive policy makers.
By Oyinkansola Tasie, Saweda Liverpool-Tasie, and Elisabeth Paymal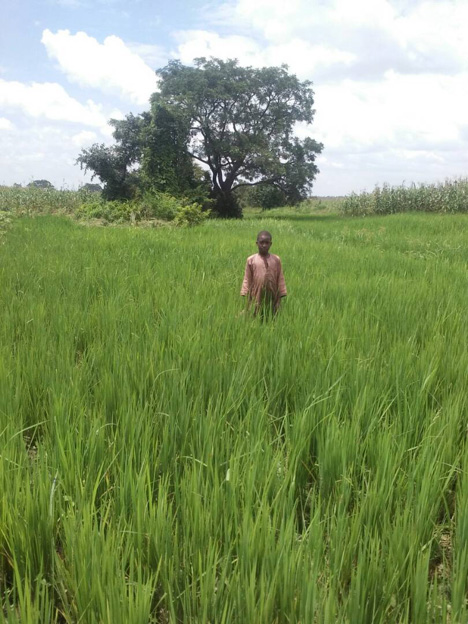 "Policies based on scientific input are sustainable. There should no longer be room for policies based on sentiments," states Mr. Alhassan Umar, in his role as Director of Planning Research and Statistics, at Nigeria's Niger State Ministry of Agriculture and Rural Development. "And to do this, we need more technical support. With continuous training, we will be able to carry out rigorous scientific work on all crops." Meeting this need to build government's capacity to make evidence-based policies is what Feed the Future Innovation Lab for Food Security Policy (FSP), Nigeria Agricultural Policy Project, has set out to do.
Rice has been a cash crop of Niger State for several decades, in part because of the water access from rivers, lakes, and dams. Niger State has also a local population that consumes rice, with a good market system. Several intervention programs by government and international donor agencies have already helped develop rice crops in this State [1]. However, while the current potential rice production area is 1 million hectares, much less is currently under rice cultivation. Remedies under consideration are year-round farming, and irrigation facilities which are currently non-functional or obsolete.
To better understand how to maximize the potential of a cash crop such as rice, and to prioritize policy actions, data have been collected by the government agencies in Nigeria, but sound analysis of this data at the State level to guide policies has been lacking. In response to this capacity building need at local government level, FSP has designed and offered a series of training workshops for state government staff in the Niger State. Mr. Mohammed Musa Isah, Director, Project Monitoring and Evaluation, Niger State Agricultural and Mechanization Development Authority, attended one of these workshops focused on data analysis and interpretation skills for linking data to policy. As part of the training, participants were asked to bring data on a State priority crop. Isah explains how local government agents are "at the source of the data, and it's important to take full ownership of the data and its interpretation. We brought our own data to the workshop and they showed us how to interpret it and present results. We learned to write policy notes which linked data to our programs on rice in Niger State." Equipped with these scientific results, Mr. Isah feels much more confident in making recommendations for policy changes. "This training on STATA, a statistical analysis package, has enhanced our capacity in agricultural data analysis and reporting" Mr. Isah said. "It has broadened our knowledge on data and its usefulness for policy implementation." Mr. Isaiah Gana, another workshop participant, confirms this statement: "This training has enhanced our skills to generate rigorous evidence to guide policy making. From the data and our analysis, we find that intervention programs such as the Niger State Commercial Agriculture Credit Scheme has contributed to rising levels of rice productivity, which is a departure from the declining numbers recorded between 2009 and 2011. However, to sustain this growth rate, we find that it is necessary to pursue increased investment in irrigation agriculture to minimize dependence on rain fed farming and facilitate year-round production. It is also important to have the government prioritize farmers' access to quality and affordable inputs, including with facilitating financial credit, and improve contracts between farmers and off-takers."
The next steps are to disseminate the policy notes to inform the government and executive policy makers. It is also expected that stakeholders such as farmers and farmer organizations be informed of these results to pressure government to implement policies that will effectively support greater rice and other crops production. The Niger State Government is in the process of developing a statewide agricultural policy, and policy notes such as the one on rice will guide the design of a comprehensive agricultural state policy. In the meantime, "we have started sharing the policy notes at important meetings, including to potential investors such as the Dangote Group," explains Mr. Alhassan Umar, The Director of Planning Research and Statistics of the Niger State Ministry of Agriculture and Forestry. The Dangote Group is owned by Alhaji Aliko Dangote with a net worth of 14.4 billion USD ranked by Forbes magazine as Africa's richest person and the 51st richest person in the world. The Group recently acquired over 16,000 hectares of land in Niger State for sugarcane production. The Dangote Group is currently in talk with the Niger State Government on investment opportunities in rice production. The publication of the Policy Note on Rice is indeed timely; it strengthens the State government's position when speaking to potential investors who are key to further develop the agro based economy of the State.
This first series of training workshops is proving so helpful that more requests have already been formulated by the Niger State Ministry of Agriculture and Rural Development and the newly established Niger State Ministry of Livestock and Fisheries Development. The training is particularly beneficial for newly hired staff and an overall capacity strengthening effort. One goal is to establish a broad and comprehensive data base to better integrate knowledge to further advance policy formulation. FSP is planning to provide such technical training and capacity building in Niger State and the six other Focus States of USAID Nigeria. The project is also exploring how to extend such trainings to the local government levels.
[1] Several Internationally funded projects such as FADAMA, IFAD value chain, USAID MARKET 2, GIZ, JAICA have been implemented in the State in the last decade