From Africa to America: Childhood dream of being an agronomist becomes a reality
Meet Mathieu Ngouajio, associate professor in the MSU Department of Horticulture.
November 15, 2012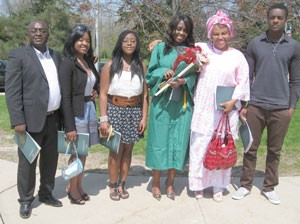 Michigan State University (MSU) AgBioResearch scientist Mathieu Ngouajio calls his life "blessed." It has indeed been a remarkable journey, with passion and determination playing key roles.
Ngouajio, an associate professor in the MSU Department of Horticulture with a specialty in vegetable production, grew up in a small village in Cameroon. This west central African country is known for its coffee production. Scientists and researchers from around the world came to Cameroon and Ngouajio's village to offer advice on improving coffee production and also to help villagers who, despite growing coffee, often had limited food to eat.
"When I was growing up, the people who impressed me the most were agronomists," Ngouajio said. "I thought an agronomist was someone who could grow a lot of food in a very small area and get a very high yield. They knew how to kill all the bugs and diseases that attacked crops and made it possible to have a very good harvest. So I decided to be an agronomist."
Ngouajio followed through with this plan by attending the University of Dschang in Dschang, Cameroon, which specialized in agronomy.
"That university accepted only 50 students per year, and sometimes there were 10,000 candidates for the 50 positions," Ngouajio explained. "It was a blessing to be part of that specific school."
He finished top in his class which, by university rules, allowed him to choose any job he wanted. By then, Ngouajio had decided to be a professor, and he received a scholarship from the U.S. Agency for International Development (AID) to attend Virginia Polytechnic Institute in Blacksburg, Va., to work on a master's degree.
He then received his Ph.D. in weed science at Laval University in Quebec, Canada, and worked as a postdoc at the University of California at Riverside, researching vegetable production systems.
"That was the beginning of my real career," Ngouajio said.
When MSU posted an announcement for a horticulture position, Ngouajio's colleagues encouraged him to apply, but Ngouajio was reluctant, thinking he would not get the position. He did, however, interview for the job and was offered the position.
Ngouajio's personal life also has been blessed. He married his childhood sweetheart, Babette, who is a nurse assistant. They have four children, two of whom are now MSU alumni.
Question-and-answer profile:
Q: What's your title?
A: Associate professor, MSU Department of Horticulture
Q: When did you join MSU?
A: In July 2001
Q: What's your hometown?
A: Baleveng, Cameroon
Q: Who's your muse or source of inspiration?
A: My wife (we have been married for 26 years now) and my four kids are my source of inspiration. They are the engine and fuel that keep me going every day. My late father, David, and my mother, Jeanne, taught me through their own example that life is about friendship, love, modesty, respect for your neighbor and fun.
Q: What's your favorite food?
A: A Cameroonian dish called "Ndolé." This is made with fresh leaves of a tropical plant, Vernonia amygdalina. The leaves of this plant are very bitter and undergo a very complicated washing process to remove most of the bitterness prior to cooking. The washed leaves are shredded and cooked with fresh peanuts and meat or fish. My wife, Babette, continues to make Ndolé on holidays and each time we have guests at our house. I go to Cameroon each year and bring back dried leaves for Ndolé.
Q: Best song or group?
A: Manu Dibango, a Cameroonian musician born in 1933. He really touched me with this music when I was growing up. I also enjoyed listening to Dolly Parton when I was in college.
Q: What do you think is the coolest gadget?
A: A compass.
Q: What's the best invention?
A: The computer.
Q: The worst invention?
A: The atomic bomb.
Q: What's one thing on your bucket list?
A: To go on safari with my family, perhaps in the Serengeti National Park in Tanzania.
Q: Who's someone you'd like to meet?
A: Nelson Mandela or Barack Obama. I am curious to read their minds.
Q: What was your best vacation or favorite trip?
A: Disneyland in California in 2001 with my family. I remember taking one of the rides that played the song "It's a Small World After All."
Q: On a Saturday afternoon, where are you most likely to be found?
A: I play on an adult soccer team in Williamston, Mich., and I also like deer hunting -- it's very relaxing.
Q: What's a research breakthrough you'd like to see in the next decade?
A: Finding a cure for obesity. In my field, I hope that we can discover ways to produce food that people can eat as much as they want and yet maintain their health.