Gary Parsons' gift supports research arthropod collection and the Bug House
Parsons is sharing an unexpected gift to expand the capacity of the A.J. Cook Collection and bolster outreach at the MSU Bug House.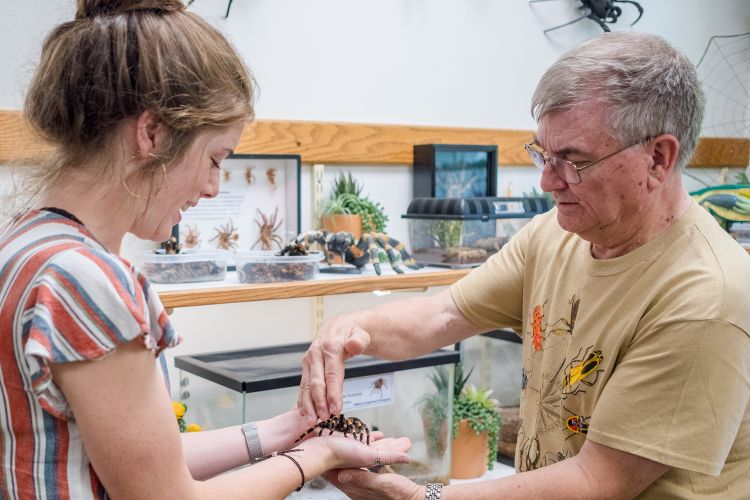 Gary Parsons has invested a lot of heart and soul over the past 22 years as collection manager for the Albert J. Cook Arthropod Research Collection. When he interviewed at Michigan State University, he noted some of the collection drawers needed to be fumigated to stop insect and other specimens from deteriorating and helped make that happen before returning home to Oregon.
He happily accepted the job offer at MSU and has dedicated his career to securing and growing the Collection. His efforts also included partnering with then Bug House manager Barb Stinnett to bring insect specimen drawers -- duplicates from the collection -- and live specimens into its outreach. Tarantulas, blue death-feigning beetles and Madagascar hissing cockroaches are just a few of the creatures that now live at the Bug House and thrill hundreds of visitors each year.
Fast forward to 2021 and Parsons is preparing to retire January 1. During retirement, he plans to join expert volunteers who diligently help curate the Collection and enable its meager budget to cover expenses. Recently, Parsons received a financial gift from his mother and in reflecting how best to use it, he realized improving the Collection's space would support something he is passionate about and would improve working conditions for all volunteers.
Collection director Anthony Cognato secured more space when he arrived in 2006, allowing the collection to expand at that time, however, several private collections are expected to be donated in the near future, including over 300 drawers of Lepidoptera (butterflies and moths). This year, the underutilized library section of the facility is being converted to house more specimens with cabinets and drawers funded with Parsons' gift.
"This is the first step in a multi-year plan to get the storage needed for the growing collection," Parsons said. "We've packed as much as we can in the space we have, but further donations will be needed before too long."
Parsons also has made a smaller contribution to the Bug House, which he views as a place where children and students can be inspired by insects to respect and appreciate them. Again, Parsons found a way to support where his passion led him at MSU. When the pandemic began in spring 2020, Parsons packed up the live specimens and took them home with him to ensure their safety until longer term plans could be made.
He has been partnering with academic advisor Amanda Lorenz in updating the Bug House and its outreach in her role as its new manager. If you'd like to join Parsons in supporting either the Bug House or the arthropod collection, visit: https://www.canr.msu.edu/ent/giving/