Grad Spotlight: Godwin Nutsugah
Godwin is a third-year student in the Agricultural, Food, and Resource Economics (AFRE) M.S. program.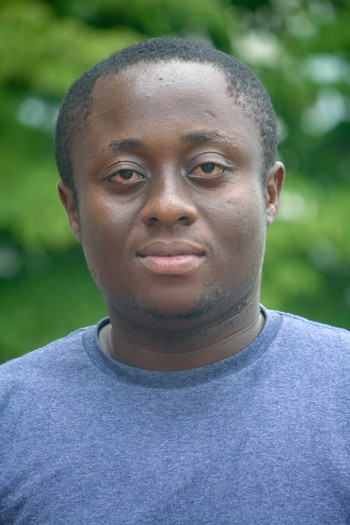 Godwin is from Koforidua, the capital of the Eastern Region of Ghana. From a family of 7, where he is the last born, Godwin attended Pope John SHS, and later continued his tertiary education at the University of Ghana Legon, where he pursued a dual major in Economics and Mathematics. Godwin believes if you want to be an economist, then you have to be prepared mathematically.
Godwin draws inspiration from many people, including Dr. Mahmud Bawumia, Dr. Thomas Jayne, and Dr. Felix K. Yeboah, who is currently mentoring him. He is interested in addressing the declining nature of Africa's agricultural development and finding solutions to the youth unemployment problems. In his view, "Africa can be made better by Africans."
Why did you decide to choose AFRE for your graduate studies?
I decided to join AFRE because of its rich and experienced faculty, especially the faculty in development research. AFRE graduate studies in development is a call that you can never deny.
What is your favorite thing about the AFRE department?
My favorite thing about AFRE is the graduate student brown bag sessions. It is an informal way to share your ongoing, or work in progress, research with graduate students for feedback. It has been an avenue to learn and correct common research mistakes that are normally not taught in class.
What is one thing that you are looking forward to doing once we are able to return to campus?
It's in my prayers that if things go back to normal and students could return to campus, I would socialize with fellow students and professors a lot. This has been one thing that is lacking in the online classes. I miss the AFRE happy hours where we used to socialize with faculty and students. I am not going to miss that once we are able to return to campus safely.
What is a saying or expression that you probably say too much?
"If life gives you LEMONS, make LEMONADE." This an expression that I am obsessed with. And, it fits perfectly in these difficult and trying times. This expression encourages optimism and a positive can-do attitude in the face of adversities or misfortunes. It has been my daily booster.
If you could have one song play every time you entered a room, what would it be, and why?
I listen to a range of diverse songs from across the different countries, but one that stands out is the song by the late Lucky Dube, titled, "Different Colors One People." It is such a touching and inspiring song that seeks to bridge the diversity and inclusion gap normally experienced around the globe. I see it as a way forward for everyone to come together as one and help solve global issues without political, religious, and ethnic tensions.
What thoughts instantly make you feel more relaxed?
The thoughts of the discovery of Coronavirus vaccines makes me more relaxed and optimistic that I am going to see and hang around my friends and loved ones again. It has been one fulfilling discovery that makes me relaxed and excited, and I am really looking forward to hanging around people without fear and panic.