Grand Rapids area tree fruit update – May 19, 2020
Heavy rainfall and long wetting periods lead to high disease pressure.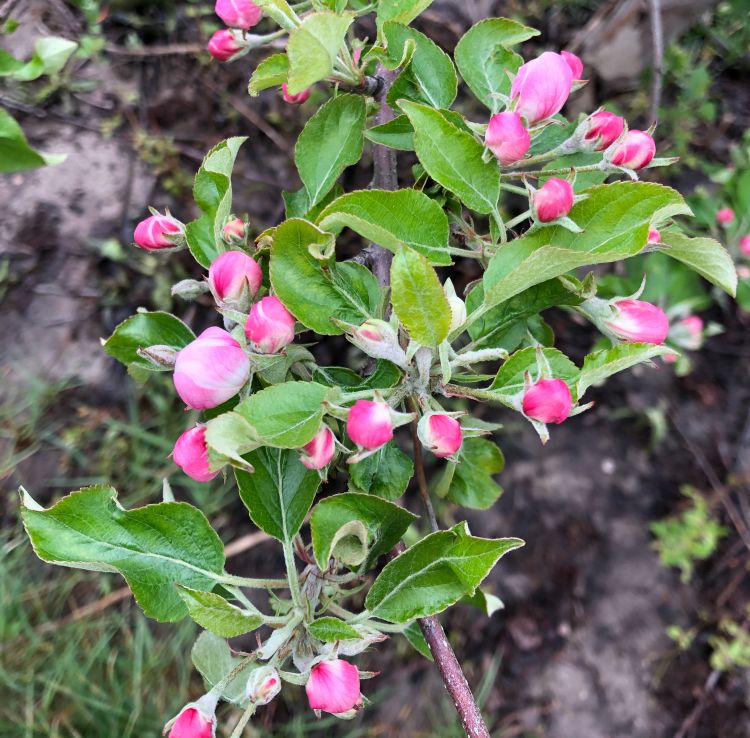 Weather update
The cool weather pattern continues and degree day totals are still running behind normal averages through May 18, 2020. The Michigan State University Sparta Enviroweather station has accumulated 367 degree days base 42, which is nine days behind the average for Jan. 1 to May 18. Degree days base 50 at Sparta are 130, which is 14 days behind normal from Jan. 1.
Crop update
Apple growth stage ranges from open cluster to pink on the latest developing varieties in northern areas to nearly first blooms open in the warmer southern areas. The majority of apples in the main Ridge growing area are at pink with some bloom starting on earlier cultivars such as Ida Red and Gingergold. Flower damage from several nights of freezing temperatures can be found but overall is less than expected. Currently, we estimate 95% of a full apple crop.
Trees are starting to look a bit sickly and yellow. You can add some foliar nutrition to your tank to give trees some extra love, especially as we move into bloom, but we really need some heat to pull them out of this. The forecast continues to be on the cool side this week with some upper 70s and maybe an 80 or so in the coming weekend.
Tree fruit diseases
As predicted, apple scab spore numbers took a dramatic jump with the warmer weather and heavy rains of late. For the rain event that started on Thursday, May 14, we caught a total of 21,630 primary scab spores, most of them (over 17,000) were discharged by the end of the afternoon of May 14. Another 4,500 spores were discharged the second day of the rain, Friday, May 15. That wetting event was a heavy infection for all Grand Rapids area Enviroweather stations with many sites getting between 1 and 2 inches of rain.
A separate rain event began on Sunday, May 17, and is still ingoing. Many stations have received well over 2 inches of rain in this event with a few stations recording over 3 inches so far. I caught an additional 1,335 spores with this latest rain event. Most areas should be around 60% of more of mature spores with at least another three or four weeks of primary scab to deal with. Maintaining good fungicide coverage during the long duration and heavy rainfall events is tough and this is not the time to cut corners with high spore release and warmer temperatures in the next few weeks.
Normally, tight cluster to petal fall is the time to start adding materials to manage powdery mildew at bay in apple blocks. Cool and dry (low relative humidity) weather up until the week most likely reduced mildew infections. With warmer and wetter conditions now in place, be sure to add something in for mildew over the next few cover sprays.
Apple bloom is starting to appear and with that comes the risk for fire blight of blossoms. The cooler weather has kept the EIP (Epiphytic Infection Potential) low so far and the risk is low to moderate according to the MaryBlyt model. You can track the predictions on the Enviroweather fire blight model or you can use the Fire Blight Interactive model on Enviroweather to change parameters to better fit your local weather data.
Insect activity continues to be very slow to get started in 2020 with very cool weather. With bloom starting to open, there are very few pesticides that can safely be used when pollinators are present. Be mindful of your bees and those in neighboring blocks before petal fall insecticides are applied.