Grand Rapids area tree fruit update – September 6, 2022
Easing into harvest this week for Gala and Honeycrisp in many locations.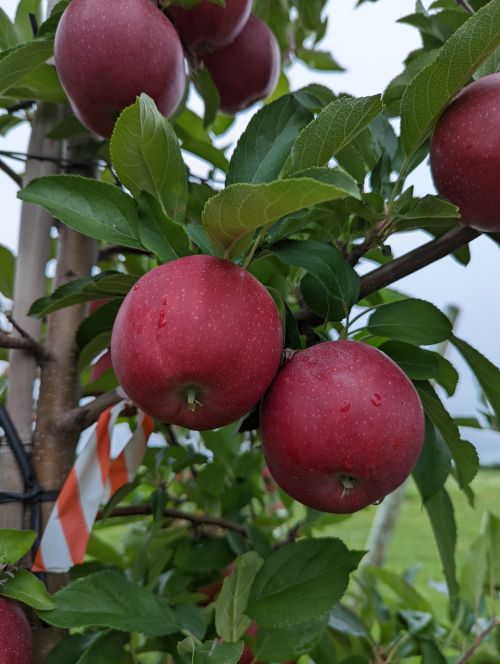 Weather & Phenology Update
Conditions in the Grand Rapids area this week were slightly warmer than normal. Temperatures were in the upper 70s to 80 F all week, with overnight lows in the upper 50s to 60. This was followed by a significantly cooler trend Sunday through Tuesday, with mostly overcast skies and highs in the 70s. As of Sep. 5, the Michigan State University Sparta Enviroweather station has accumulated 3385.1 Degree Days Base 42 F (DD42). This is slightly above average, which is 3231.2 DD42, and approximately seven days ahead of normal.
Some rainfall occurred over the weekend, but accumulation was variable. There was little rainfall recorded by weather stations in the Sparta area, while Clarksville and Belding Enviroweather stations recorded >1 inch. At this time, most areas are not experiencing drought conditions, according to the US Drought Monitor.
Expect the weather system hovering over our region since before the weekend to slowly move east throughout Tuesday and Wednesday. This will be followed by a high pressure system over our region, including warmer, fair conditions for the remainder of the week, with highs in the 80s.The next chance of precipitation will be Saturday evening and Sunday, with likely accumulation of 0.5 inches of rain. This will be followed by cooler, more fall-like conditions, with highs in the 70s and overnight lows in the 40s-50s.
Both medium and longer range forecasts indicate slightly warmer, drier conditions than normal over the next two weeks, and the remainder of the season. Long lead outlooks indicate a third consecutive La Nina event this year, meaning winter conditions will likely include greater precipitation than normal conditions due to an active storm track across the Ohio valley. Temperatures during La Nina typically includes more extremes and swings in temperatures. However, this year is expected to be only moderate in strength.
Tree fruit is maturity gradually and continuing to put on size and color. Apple harvest is underway, with early varieties such as Zestar, Ginger Gold, Paula Red, and Premier Honeycrisp wrapping up mostly last week. Harvest of standard strains of Honeycrisp and gala are beginning slowly, giving plenty of time for adequate color, flavor, and size development. The crop is anticipated to be one of the best in the past few years. Maturity reports will continue for the remainder of the season on Wednesdays.
For these updates, we used averages for 1997-2021 from the Michigan Automated Weather Network (MAWN) https://mawn.geo.msu.edu/ to represent normal conditions. Weather data was gathered from Enviroweather https://enviroweather.msu.edu/.
More information and reports on normal weather conditions and departures from normal can be found on the NOAA Climate Prediction Center website https://www.cpc.ncep.noaa.gov/products/forecasts/, NOAA U.S. Climate Normals website https://www.ncei.noaa.gov/products/land-based-station/us-climate-normals, NOAA Climate Normals Quick Access Page (which may be searched by region) https://www.ncei.noaa.gov/access/us-climate-normals/#dataset=normals-monthly&timeframe=30&location=MI&station=USW00094860, and Midwest Regional Climate Center website https://mrcc.purdue.edu/cliwatch/watch.htm#curMonths.
Tree Fruit Pest Update
Some areas in the general Grand Rapids area have had high amounts of rainfall over the past month. With a large crop and the likelihood much fruit will go into long-term storage, do not stretch your pesticide program in the orchard too much. The best place to manage sooty blotch/fly speck, apple scab and fruit rots is with fungicides in the orchard prior to harvest. Late season pests – Apple Maggot and Brown Marmorated Stink Bug – could flex their populations when insecticides are stretched thin with heavy rainfall.
Tree Fruit Diseases
Summer disease management in apples should be considered in areas where the Michigan State University Enviroweather model indicates adequate wetting hours for disease expression. The wetting hour totals vary greatly from station to station this year—be sure to check the summer disease model on Enviroweather for the weather station nearest you for guidance. If you want to read about how to use this model, see About Enviroweather's Sooty Blotch and Flyspeck Progress.
If you remember back to the fall of 2016, we experienced a very high level of Sooty Blotch and Fly Speck along with very high levels of various fruit rots. And, in 2018, we had even higher rainfall totals with similar disease pressure. This 2022 late summer is on track with high rainfall for some areas, and summer diseases and fruit rots might again be an issue.
In 2016, from Aug. 1 to Sep. 3, the Sparta weather station recorded 6.48 inches of rain.

In 2018, from Aug. 1 to Sep. 3, the same station recorded 10.27 inches of rain.

In 2022, from Aug. 1 to Sep. 4, the Sparta station has recorded 6.95 inches of rain – well on track with these previous seasons where late season disease pressure was much higher than usual.
Fruit rots could be enhanced with higher rainfall that washes away fungicide cover sprays. Temperatures and relative humidity levels have been moderate to average but are still favorable for fruit rots when fungicide residues are lacking. Warm temperatures and high humidity greatly favor fruit rots – either during the day or through the night.
Apple scab is present in some highly susceptible apple varieties – McIntosh in particular. As we move late in the season, leaves and fruits become once again quite susceptible to scab infections and the recent heavy rain events will favor apple scab growth again. While you might not see new lesions in the field, you could be unpleasantly surprised to find pinpoint scab on fruit when you pull it out of storage. Again, the best management is with in orchard applied fungicide applications.
Tree Fruit Insects
Codling Moth – a second generation biofix for codling moth was set for July 19, 2022 (1330 DD50). We've accumulated 940 degree days base 50 since. This indicates egg hatch for the second generation of codling moth should be nearly at an end. Overall, codling moth adult numbers were low across the region in 2022. There were some blocks with high pressure, but that is not the norm these days for Codling Moth.
A Grand Rapids Oblique Banded Leafroller (OBLR) biofix was set for June 14, 2022 (1076 DD42) with 2337 degree days accumulated since. Small larvae are present in known hot spots and some fruit damage can be found in higher pressure blocks, but generally, OBLR is low across the Grand Rapids region.
Oriental Fruit Moth (OFM) – a Grand Rapids regional biofix was set for: May 12, 2022 (312 DD45) with 2636 degree days base 45 accumulated since. Third generation OFM should be coming to an end, however, in high pressure blocks, there can be overlap with fourth and even fifth generations that don't follow the model very well. This third generation can sometimes be an issue in apples as the cover sprays for Codling Moth wane, and OFM builds unexpectedly.
Woolly Apple Aphids (WAA) are still active in some blocks. At this late in the season, management is really too late to have any overall economic effect on fruit size or quality, however, workers do not like to pick in WAA infested blocks. High WAA pressure can lead to higher winter injury potential in apples.
San Jose Scale (SJS) - A regional biofix for the general Grand Rapids area was set for May 20, 2021 (288 DD51 with 1907 degree days accumulated since the regional biofix. All second-generation crawlers should have emerged at this point, and we should be near the end of this generation's activity. There is some thought that we might have a third generation in our warmer summers. Second generation can settle on fruits, making them unmarketable. If you do see SJS on fruits at harvest, make a note of locations and treat next spring accordingly.
Apple Maggot adult emergence continues and seems to be declining as expected, but they are still present and need to be managed where traps are still catching adults.
Brown Marmorated Stink Bug (BMSB) has not been very present in apples yet this season. There are hot spots, of course, but this pest hasn't been as prevalent as we expected it to be. Keep an eye out in apples near other BMSB host plants, such as soybeans. In the past, we see BMSB move to orchards when the beans begin to die back. Soybeans are still very green, but I am starting to see some fields changing and this could trigger a BMSB relocation to nearby apples.
As we approach harvest dates for apples, keep in mind Pre-Harvest Intervals (PHI's) for all spray applications. Please refer to the product label or guidelines from your end buyers and processors. There are several tables in the back of E-154 as well. Look for the Days Between Final Spray and Harvest tables on pages 322 to 327.
Final Note – apple fruit quality appears to be excellent this year and a higher percentage of your crop could be going to fresh which will pay better. Don't cut corners here at the end to save a few pennies and risk wasting all you have done so far.