Great Lakes Guardians
The U.S. Coast Guard on the Great Lakes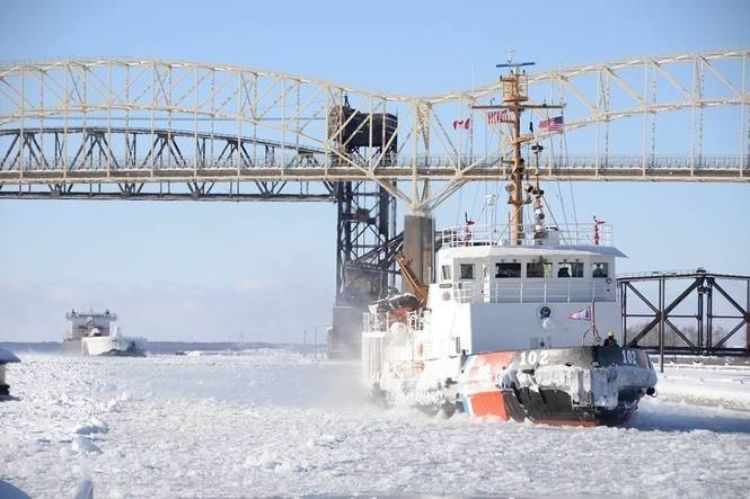 With the summer season being in full swing now, more people are venturing out onto the Great Lakes for recreational experiences, such as boating, swimming, and fishing. And every year, people get caught in dangerous situations out on the Great Lakes. Weather can change very rapidly and dramatically, sometimes leaving recreationists with little warning of impending danger.
When an emergency situation occurs on the Great Lakes and emergency services are initiated, it is likely that the Coast Guard will become involved with the rescue. So, many people think of the Coast Guard as sort of a water-based ambulance and rescue service. While it's true that the Coast Guard assists in search and rescue missions, there is much more the agency does to protect us and the water bodies.
The U.S. Coast Guard's beginnings can be traced back to 1716, when the U.S. Lighthouse Service was created. Back then, the Service administered lighthouses, starting with one at Boston Harbor. By 1789 there were 12 lighthouses in the U.S. (Michigan has had over 120 lighthouses, the most of any state in the nation.) Today many of the Great Lakes' lighthouses are either automated, decommissioned, or run by local nonprofits and historical societies for educational/historical purposes.
As the Coast Guard evolved into its current state, various districts were established around the country to oversee more specific geographic areas. The Great Lakes are part of the Ninth District, headquartered in Cleveland, OH.
One of the Coast Guard's primary duties today is law enforcement. Technically a branch of the U.S. military, this means that the Coast Guard could get involved in any sort of law enforcement related issues—patrols, border control, etc.
The Coast Guard is also involved with the shipping industry, assisting in both law enforcement and safety. For example, in a cold environment such as Michigan, shipping can become a hazardous endeavor in winter. The Coast Guard is tasked with cutting shipping lanes through the ice, as well as freeing ice-bound vessels.
The Coast Guard is also involved with environmental protections. These could include invasive species management, toxic spills, endangered species protections, and other projects.
So the next time you're out on the water enjoying our Great Lakes, remember to be appreciative of all the efforts the Coast Guard undertakes to keep us, and the resource, safe.
Visit Michigan State University Extension to learn more about our natural assets.