Great Lakes Urban Agriculture Working Group meets in Flint
Michigan State University Extension hosts the annual meeting of the North Central – Great Lakes Urban Agriculture Integrated Pest Management Working Group in April, 2018.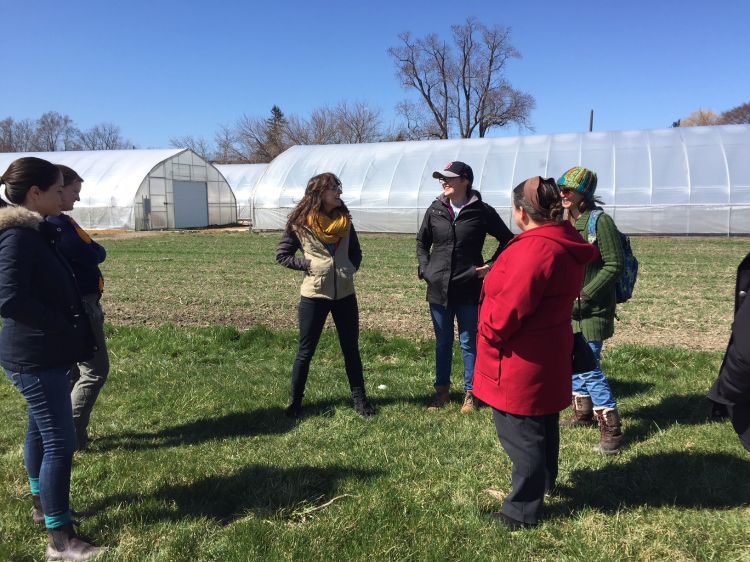 The North Central – Great Lakes Urban Agriculture Integrated Pest Management (IPM) Working Group met in Michigan in April, 2018 to collaborate, strategize on pest management resources to develop specifically for urban farmers, and to tour several urban farms in Flint and Detroit. The objectives of this working group are to provide support for urban agriculture via technical resources, research, and sharing best practices with respect to integrated pest management. The work is funded by the USDA's National Institute of Food and Agriculture, Crop Protection and Pest Management Program (CPPM) through the regional North Central (NC) IPM Center. This NC Great Lakes Urban Agriculture specific working group is part of a larger set of IPM working groups that address pest management challenges with new and emerging technologies. The CPPM program supports projects that will increase food security and respond effectively to other major societal challenges with comprehensive IPM approaches that are economically viable, ecologically prudent, and safe for human health.
The NC Great Lakes Urban Agriculture IPM working group was first established in 2016; we met in 2016 and 2017 to establish initial priorities in Indianapolis, Indiana and Chicago, Illinois, respectively; and in Flint, Michigan in April 2018 to continue collaborating on new IPM resources. The group's project is to develop pocket sized pest cards to identify common urban ag pests, and how to best manage them with the least disruption to the environment. Who is involved? University researchers, Extension personnel, non-profit organizations, and other partners who work in the realm of urban agriculture development and support. Represented at the meeting in Flint on April 18-19 was Michigan State University Extension; Edible Flint, a non-profit Michigan organization supporting healthy food access initiatives; Ohio State University Extension; Cornell Cooperative Extension's Harvest New York City; Let's Grow Akron, a non-profit Ohio organization supporting healthy food access initiatives; and the Midwest Pesticide Action Center in Chicago.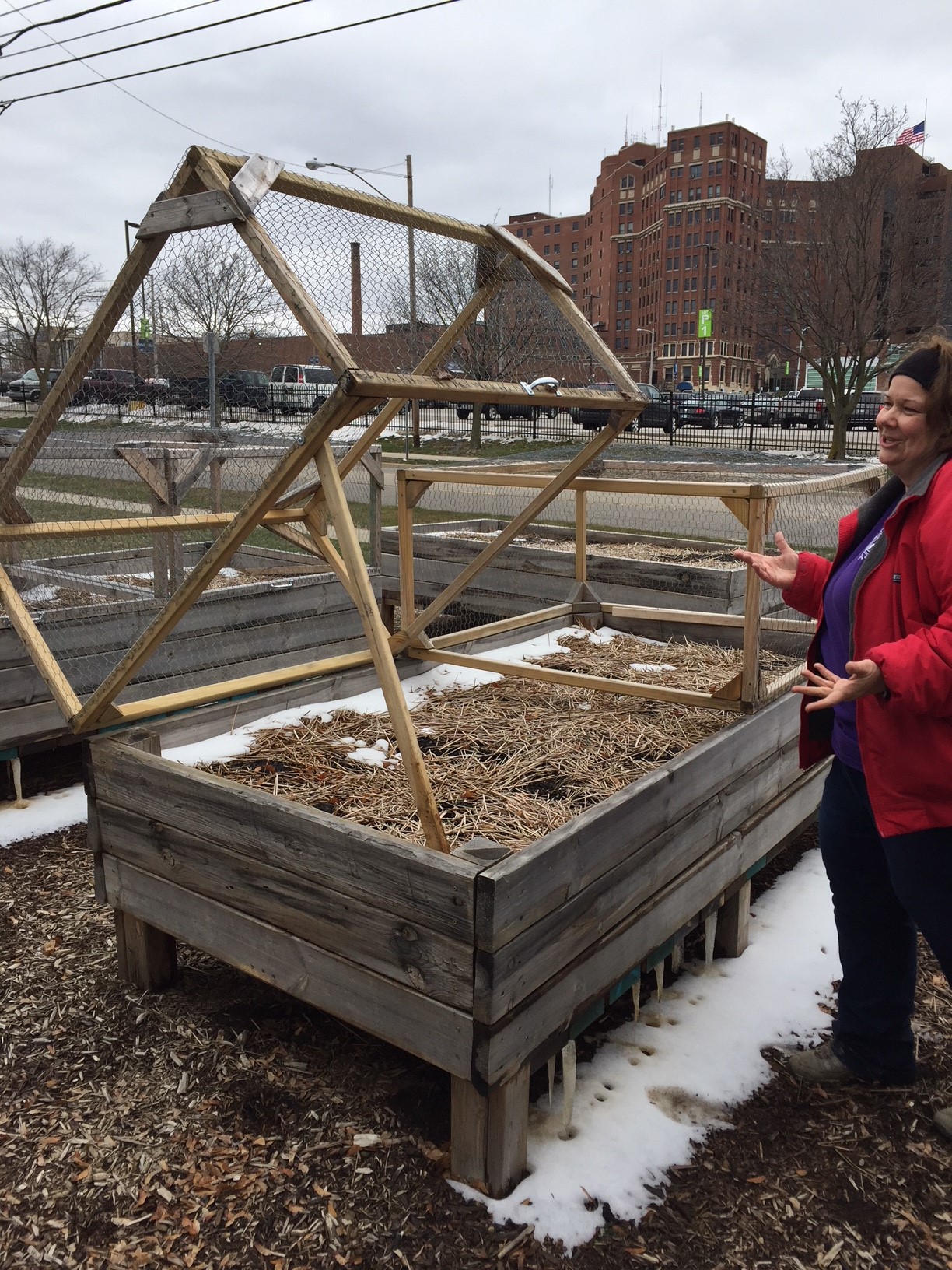 Edible Flint raised beds.
This year's Great Lakes Urban Ag IPM working group agenda* was designed to share annual updates with state partners, discuss future projects, collaborate/network on urban pest management resources, and to tour several Flint and Detroit urban agriculture community gardens and farms to hear from the growers themselves. This allowed the group to compare and contrast differences that each state partner faces in their urban farming work. The list of sites visited included: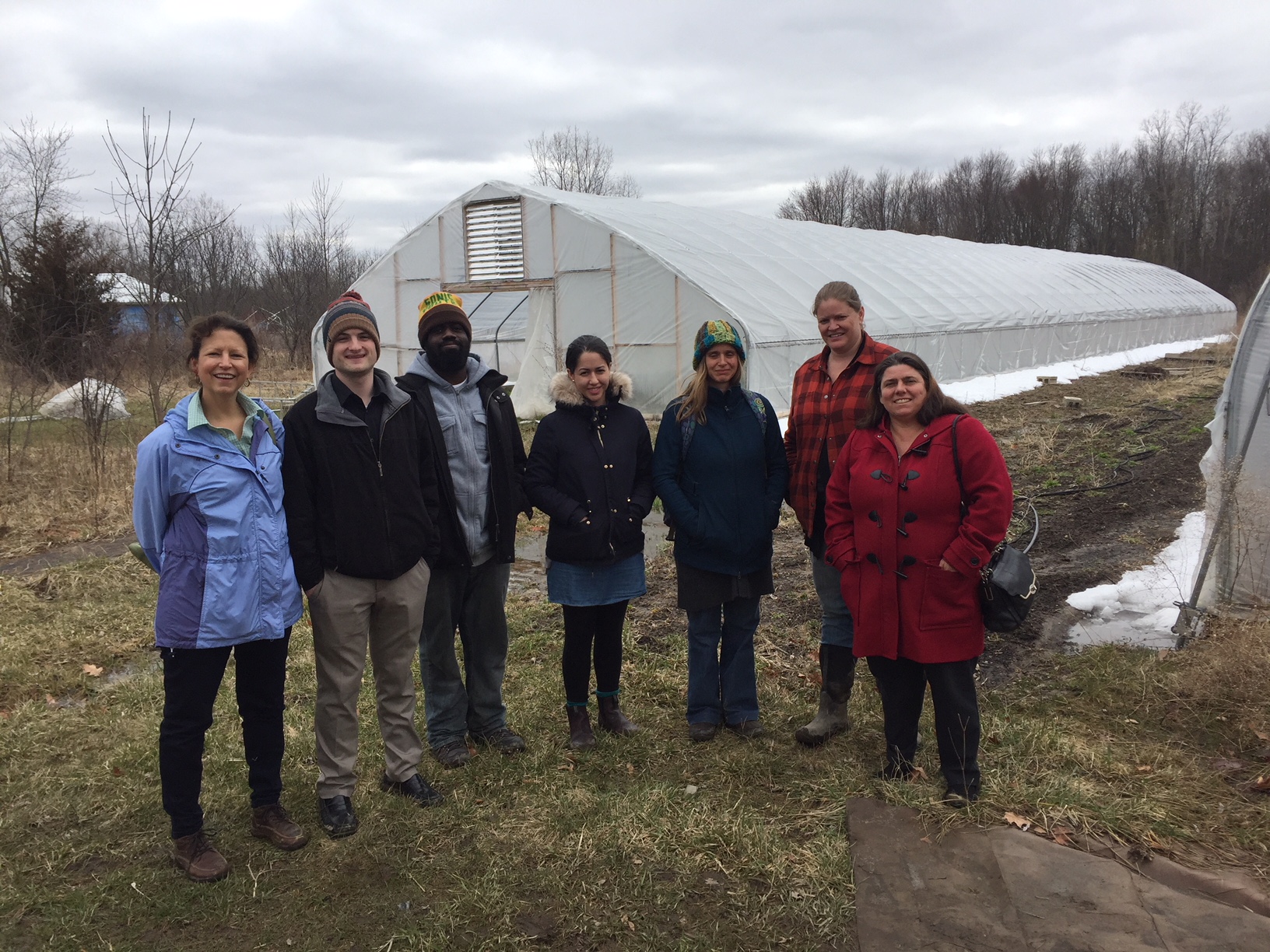 Flint Ingredient Co. farm.
One main takeaway from the meeting was how our different communities must approach the urban farming phenomenon. In Midwestern Rust Belt cities, production on vacant land is the starting point. This often entails land bank or governmental partners, coordination for machine work and water access, soil sampling and reclamation from heavy metals, and people/pollinator conflicts at the ground level. There are often restrictions on perennial tree and shrub (edible) crops and semi-permanent hoophouse construction on rented or leased land. In New York City, where available soil is quite rare, growers work mostly to secure rooftop space with hydroponic setups. As a result, there are more private investor partnerships, and the farming is done in the controlled environment of greenhouses. This entails higher expenses, harvest and transport through building challenges, and more greenhouse-specific pests. But, there are fewer pollinator conflicts and soil contamination hurdles. Water accessibility can be equally challenging in either farming system. Building and managing trust relationships between all entities involved is a key factor.
This work is supported by the USDA National Institute of Food and Agriculture, Crop Protection and Pest Management Program through the North Central IPM Center (2014-70006-22486).