Healthy, Michigan-grown food for Michigan's youngest eaters
$90,900 grant will grow connections between early care and education providers and food producers.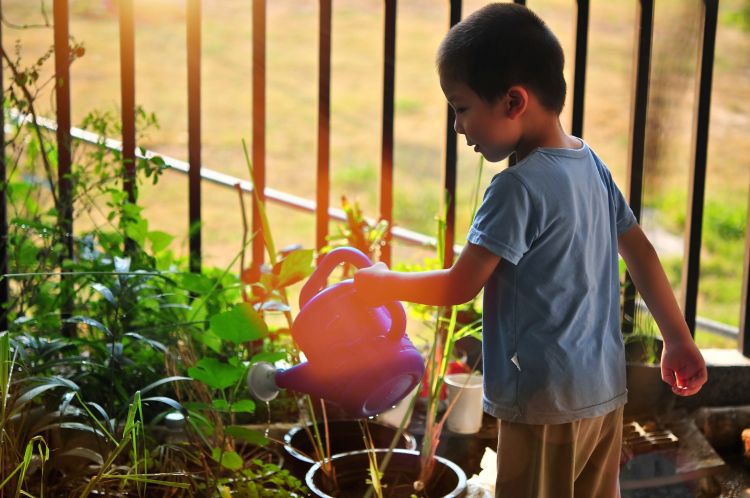 Contact: Meagan Shedd
---
Farm to Early Care and Education (ECE) programs enrich young children's health and lives through greater access to nutritious foods and a hands-on approach to food, health, and agriculture education. A one-year, $90,900 grant from the Association of State Public Health Nutritionists (ASPHN) has been awarded to the MSU Center for Regional Food Systems (CRFS) to strengthen collaborations and increase awareness of, capacity for, and equitable access to farm to ECE.
MSU CRFS coordinates the Michigan Farm to Early Care and Education Network, a group of statewide partners who collaborate to improve access to healthy food, increase nutritional awareness and health outcomes, and support ECE providers as they work to improve children's learning environments.
"Michigan is a national leader in local food and farm to school innovation, which gets healthy Michigan-grown food to Michigan's school-aged children. This grant continues Michigan's work to bring early care and education settings into this momentum, getting healthy Michigan-grown food to Michigan's youngest eaters by engaging with the unique needs of early care and education settings," says Meagan Shedd, Michigan project co-lead and assistant professor with MSU CRFS.
Michigan was one of 10 states and the District of Columbia that was awarded $90,900 each to strengthen their state-level farm to ECE initiatives for a one-year project period. These impactful plans were competitively selected from a pool of 21 applicants and include: Colorado, District of Columbia, Iowa, Michigan, Minnesota, Mississippi, New Mexico, North Carolina, Ohio, Vermont, and Washington.
"There were many common themes detailed among the selected proposals, including the prioritization of equity across all farm to ECE activities. "We champion the vital work these states are undertaking and are excited to provide tailored technical assistance to help them succeed," says ASPHN's Emia Oppenheim, PhD, RD, LD.
Interest in farm to ECE has grown in recent years thanks to its innovative and effective approach. By networking local farmers and food producers with early care and education providers such as preschools, childcare centers, family based child care, and Head Start, farm to ECE programs stimulate local economies and provide young children with fresh, healthy food.
---
The Michigan State University Center for Regional Food Systems (CRFS) unites the knowledge of diverse food systems stakeholders with that of MSU faculty and staff to advance regionally-rooted food systems through applied research, education, and outreach. Our work fosters a thriving economy, equity, and sustainability for Michigan, the nation, and the planet by increasing understanding of and engagement with systems that produce food that is healthy, green, fair, and affordable. Learn more at foodsystems.msu.edu.
Founded in 1952, the Association of State Public Health Nutritionists (ASPHN) is a non-profit membership organization that strengthens nutrition policy, programs and environments for all people through the development of public health nutrition leaders and the collective action of members nationwide. ASPHN's membership is composed of more than 600 nutrition professionals located throughout all 50 states, the District of Columbia and five U.S. territories. ASPHN's vision is healthy eating and active living for everyone.You can find ASPHN on the web at www.asphn.org and on Facebook at www.facebook.com/asphn.
MSU Center for Regional Food Systems appreciates the technical assistance, training, and financial support provided to us by the Association of State Public Health Nutritionists (ASPHN). The ASPHN 2020-21 Farm to ECE Implementation Grant (FIG) is supported by the Centers for Disease Control and Prevention (CDC) of the U.S. Department of Health and Human Services (HHS) as part of cooperative agreement number NU38OT000279-03. This specific project, along with many other projects, is funded through this cooperative agreement that totals $3,960,000. One hundred percent of this meeting and project are funded by the Division of Nutrition, Physical Activity and Obesity/National Center for Chronic Disease Prevention and Health Promotion/CDC/HHS. The contents of this work are those of the author(s) and do not necessarily represent the official views of, nor an endorsement by, DNPAO/NCCDPHP/CDC/HHS, or the U.S.
The original press release can be found at asphn.org/press-room/.