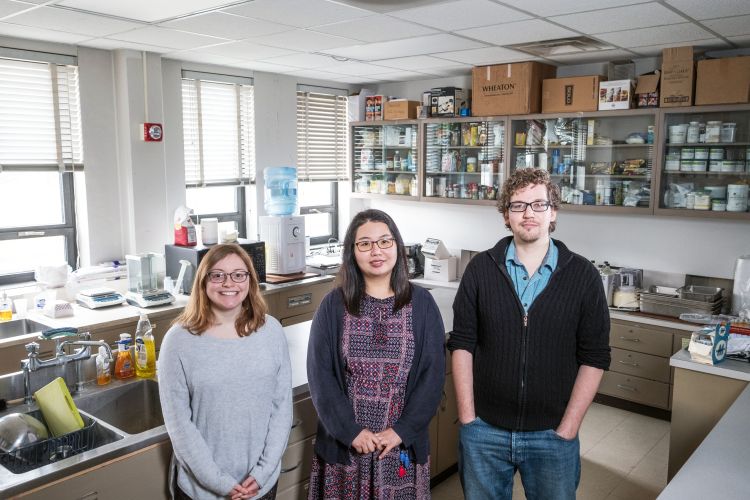 With a seemingly infinite amount of information just a few finger taps away, consumers are quick to judge the quality of food based on its ingredients. Equipped with an arsenal of internet insights, people are feeling more knowledgeable and demanding more of their food.
While artificial coloring and preservatives generate provocative press, many of us may be less aware of how our surroundings influence our eating habits.
At the dining room table or on the couch. In front of the television or immersed in a family conversation. In a cool building or on a sultry patio. Alongside our taste preferences, the environments in which we eat often dictate the type of food consumed. They may even subtly guide the amount of food we reach for.
Sungeun Cho, an assistant professor in the MSU Department of Food Science and Human Nutrition, is keenly aware of these behaviors. Faculty coordinator of the Food Sensory Laboratory at MSU, Cho is studying the sensory effects of our dining experiences—with respect to ingredients and environments.
"The internet has given consumers access to more information than ever before," Cho said. "Because of that, many people want to eat food they think is healthy. What they may not be considering when they think about healthy food is that taste plays a big part in which foods they eat. What we find is that whether the food is healthy or not, if it doesn't taste good or adapt to their lifestyle they aren't interested."
Much of the activity in Cho's lab operates in conjunction with the food industry—companies elicit consumer reactions through product testing. The volunteer panelists rate food on the 9-point hedonic scale, also known as the degree-of-liking scale.
Companies are usually confident because internal audiences have lauded the products. Once objective, third-party panelists get involved, however, the excitement can wane for a variety of reasons. Cho said the companies are trying to balance being responsive to feedback while maintaining quality taste and visual profiles.
"We see that taste and sight are consistently really important to our groups," Cho said. "People often have a conflict between what they think they should want and what their senses are telling them. Even if they read what they perceive to be a 'clean' label for a product, if it doesn't look or taste right to them, they give it a poor score.
"Companies regularly go through different versions of a product with our lab trying to get the best taste with the ingredients that are satisfactory to customers."
Cho's work is partially supported by the MSU Product Center, which was established in 2003 by MSU AgBioResearch and MSU Extension to boost economic opportunities for businesses and individuals interested in Michigan agriculture, food and natural resources.
She touted the reward of helping companies and entrepreneurs improve their products, thus providing a boon to the Michigan economy.
"From what we've heard from our clients, the testing is very valuable to them," Cho said. "Sometimes the results are not necessarily what they want to hear, but they are appreciative to have the information. It allows them to learn, and we learn a lot, too."
Services offered by Cho's lab are in demand and collaborations extend across the MSU campus as well.
She is a member of a team of cross-institutional researchers investigating stevia and its potential to meet market desire for a natural, low-calorie sweetener. The $3.2 million project is funded by the U.S. Department of Agriculture's Specialty Crop Research Initiative.
While other scientists work through the production methodology, Cho is analyzing several combinations of stevia compounds to find the ideal taste. Her techniques utilize both volunteer participants and electronic tongues, technology that evaluates samples using human-like taste properties. Electronic tongues can more effi­ciently judge hundreds of samples and reduce participant fatigue.
In addition to ingredient and taste testing, Cho and her students—a crew that includes graduate and undergraduate scholars—measure the effects that other stimuli have on eating.
The testing area in the G. Malcolm Trout Food Science and Human Nutrition Building features seven individual booths. Each is fitted with a sliding door for receiving food from an adjacent preparation area, a touch-screen computer, fluorescent lighting and air pressure for temperature control.
Currently, one of Cho's students is exploring the impact of room lighting and temperature on eating ice cream. The student presents participants with multiple types of vanilla ice cream under an assortment of lighting colors and temperatures.
The research team has found that warm, yellow lighting is preferred. Cho said research like this can inform restaurants on what environments may be conducive to eating certain foods.
"We want to understand what's appealing to people and why it's appealing," Cho said. "That may mean the ingredients, or it might be where and when they're eating. Our lab is providing information to food producers and allowing the consumer voice to be heard, which will ultimately lead to the development of high-quality food products."
This article was published in In the Field, a yearly magazine produced by the College of Agriculture and Natural Resources at Michigan State University. To view past issues of In the Field, visit www.canr.msu.edu/inthefield. For more information, email Holly Whetstone, editor, at whetst11@msu.edu or call 517-355-0123.