Huge turnout at Midwest Mechanical Weed Control Field Day
The Midwest Mechanical Weed Control Field Day had over 100 attendees last month.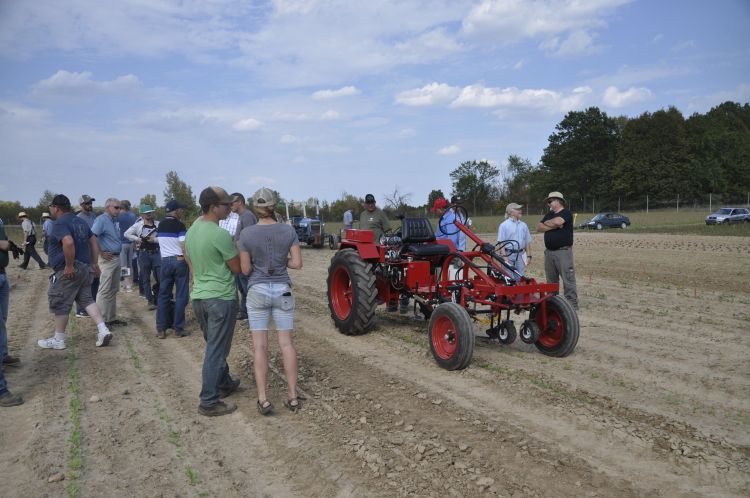 EAST LANSING, Mich – Over one hundred farmers gathered on Michigan State University's horticulture farm for the Midwest Mechanical Weed Control Field Day on Sept. 26, 2017. The event featured demonstrations of weeding machines and techniques, cultivating tractors and discussions amongst growers, researchers and manufacturers.

The field day gave attendees hands-on experience with new techniques demonstrating how weeding machines could help increase productivity. Michigan State University Extension's Collin Thompson was one of the Field Day's attendees who was happy to see new weeding tools and techniques in person.

"For me, I've been exposed to the various different tools they have here, but seeing them in action is a different thing than seeing them in a catalog or seeing them in a trade show," Thompson said. "Standing back and watching the torsion weeder or the finger weeders makes you understand better how it actually could work with what we're already doing, as opposed to saying 'well our system is pretty good already.'"
Abby Benson agreed with Thompson on the importance of hands-on demonstrations. To her, the field day was a great way to see mechanical weeding setups help attendees understand how the machines worked and helped farmers visualize how the devices could work on their own farms.

"Actually seeing it set up the way it's supposed to be set up by the people who are selling it is important so you can see how it should be working when it's properly set up."

When the hosts began planning the field day last year, they expected to see about 50 farmers at the event. The committee was pleased that more than double the original estimate came out for the event, and many of the attendees travelled from out of state.
"Turnout was incredible!" Sam Hitchcock-Tilton, one of the Midwest Mechanical Weed Control Field Day hosts, said. "Around 130 people came out, and we expected 50 farmers when we first starting planning last year. To see so much interest from people in the state and places like Minnesota, Ohio, New York and even places like Quebec was really something."

After the field day, attendees were asked to fill out evaluations of the event. Tilton said the responses were "glowing" with most attendees saying they learned something new and walked away with ideas for implementing what they saw at the field day on their own farms.
If you missed this year's Midwest Mechanical Weed Control Field Day, keep an eye out for information regarding future events next year. Tilton said he is already in the process of planning next year's field day in Bloomington, Illinois with the help of Extension educators, farmers and manufacturers.