Innovation and Growth
Matt Birbeck opens the new Food Processing and Innovation Center.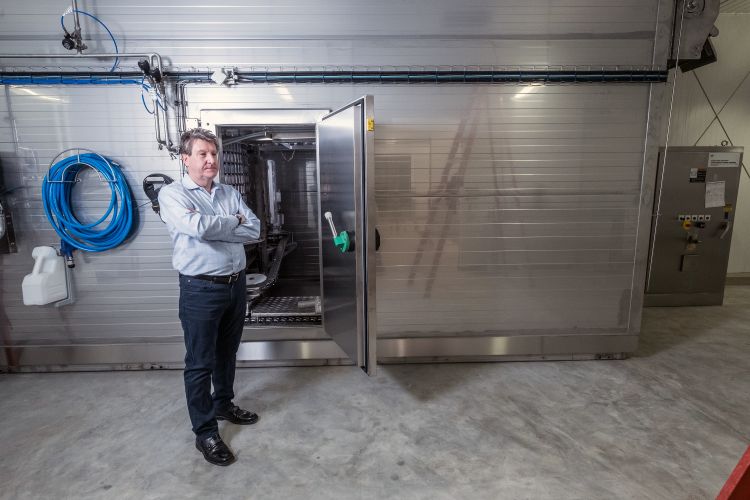 Matt Birbeck has never been afraid of taking risks. It's always about finding the right amount of risk. That's what he's done his entire career in helping budding food entrepreneurs as he assists in leading the MSU Product Center.
Now, Birbeck is taking what could be the biggest risk of his career. As he sits in his office during a chilly December morning, however, he's relaxed and confident about the impending launch of the Food Processing and Innovation Center (FPIC).
The $8 million, 8,000-square-foot facility, located in Okemos, Michigan, is the culmination of years of work and the wrangling of dozens of partners, regulators, donors and funding lines.
Amid the flurry of scheduling equipment installation, regulator inspection and an endless final checklist, Birbeck's confidence in the FPIC is unshakeable. It's an $8 million risk, sure, but for Birbeck that $8 million will open up limitless possibilities—both for MSU and businesses in Michigan and beyond.
"This facility is going to open the door to the future of food," Birbeck said. "And MSU is going to be on the front line. It will be the first university in America that owns and operates a functional, full-service factory."
The FPIC isn't only a unique proposition for MSU; it will be the first factory of its kind in America. It is a licensed, full-service factory with loads of equipment, processing, packaging and storage options. It is also fully licensed and compliant with United States Department of Agriculture and Food and Drug Administration regulations. This means businesses can take the resulting product and sell it to consumers to get real-world feedback and recover costs.
Clients simply rent the facility, set up the equipment they need, and begin testing their product, package or production run process. And by renting the facility and using its equipment, they will spend a fraction of the cost of going to a private vendor or adapting their own production facility.
It's this combination of control, cost reduction and adaptability that attracted Marc Raymond to the FPIC, and he is excited that his venture, Burgers Unlimited, is going to be the inaugural client of the new facility when it opens in April.
A chef by trade, Raymond is also no stranger to risk. He launched a catering business in the 1980s, eventually finding a niche in private airline food service. He sold that venture to the Ford family and opened his own restaurant. He then sold his restaurant and was ready for a new challenge—the gourmet hamburger business.
"I was all set to fly to New York and L.A. to meet with other food and beverage go-to-market companies when I heard about the Product Center," Raymond said.
His son went to MSU, as did his business partner, and he was encouraged to reach out to MSU as he looked to solidify his business plan.
After meeting with Birbeck, Raymond said he canceled his flights.
"To have control over our product development from start to finish was very appealing," Raymond said. "When you go into that go-to-market level, once you reach a certain point you give them the keys to your product and you lose control."
Integrity, full flavor and creating a frozen patty as good as the ones made fresh by hand are what is going to set his product apart, Raymond said.
"Vendors, they talk about compromise all the time. You might lose your identity, a little bit of your soul," he said. "That is why we feel like we have such a great opportunity at the FPIC."
The Product Center began in 2003 to improve Michigan's business climate by helping commercialize food products from budding entrepreneurs.
"We were the jams and jellies people," Birbeck said with a laugh.
But like any business, there was concern about leveling off. How does the Product Center grow? How does it innovate?
"We had clients thanking us for our help, and we would tell them what they needed to do next, but there was no real way for them to get it done. The need was there but a way to get it done in a cost-effective way didn't exist for our clients," Birbeck said.
The FPIC fills that need for both mid-sized companies looking to grow and multi-billion dollar companies hoping to innovate.
"If you're making fresh pies the question becomes, 'How do I get my product in the freezer section of my grocery story?' Now, instead of buying $300,000 worth of equipment you spend $30,000 to rent space at FPIC.
"Before, for many businesses it was an all or nothing proposition. And the risk was too great for too many. Spending $30,000 to show proof of concept to grow a mid-sized business is much more manageable. And big companies like Kellogg and others, they view us as a playground to try new and innovative things," Birbeck said.
He has commitments that, if turned into contracts, would rent out the FPIC for 241 days over the next two years. The goal is to rent out the space 200 days per year.
"We're going to be able to make the U.S. the center of innovation, and we're going to make Michigan products cool again," Birbeck said. "I feel like the world is our oyster. Now we just have to get the thing open."
This article was published in In the Field, a yearly magazine produced by the College of Agriculture and Natural Resources at Michigan State University. To view past issues of In the Field, visit www.canr.msu.edu/inthefield. For more information, email Holly Whetstone, editor, at whetst11@msu.edu or call 517-355-0123.