JOANN stores to grow local 4-H programs with Clovers for Kids Campaign beginning March 1
Support Michigan 4-H by visiting your local JOANN store from March 1 – April 30, 2020 and add a donation to 4-H at checkout.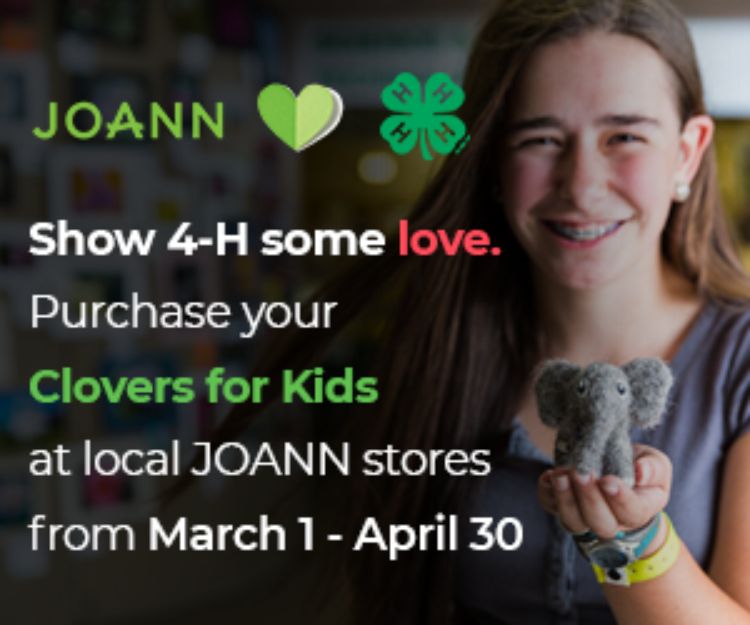 From March 1 – April 30, 2020 you can support 4-H by visiting your local JOANN store and adding a donation to 4-H at the register.
All of the funds donated go back to 4-H with 50 percent going directly back to local 4-H programming and 20 percent supporting Michigan 4-H, including 4-H workshops and 4-H participant fee sponsorships. Thirty percent goes back to National 4-H Council for underwriting the program.
This partnership between JOANN Fabrics and National 4-H Council will empower the next generation of makers by connecting more Michigan young people to experiences where they can learn by doing, creating and making. By providing local 4-H clubs with resources and tools to run impactful programs, JOANN will bring the 4-H experience to more kids in need.
"Studies show many students lose their natural love of learning between kindergarten and their senior year of high school," said Jennifer Sirangelo, president and CEO, National 4-H Council. "4-H programming allows students to participate in projects where they can design, create and make for themselves. These hands-on experiences are proven to rekindle a love of learning, strengthen creativity and imaginative thinking, and improve motor skills, coordination and self-esteem. Our partnership with JOANN will allow us to expand those experiences and help more students across the nation continue to learn and grow."
In addition, JOANN supports individual 4-H'ers involvement by providing a rewards card for current and lifetime 4-H members, parents of members, volunteers and 4-H staff. The rewards card gives holders 15 percent off total in-store and online purchases every day. JOANN will give a minimum of 2.5 percent of every eligible transaction to 4-H.
To learn more about the national partnership and the Clover for Kids Campaign, visit www.4-h.org/JOANN and to sign up for a JOANN rewards card, go to https://www.joann.com/4-h/.