Join us for a Michigan Enchilada Sauce Taste Trial on June 15
Taste trials in Saginaw could economically impact local, state and Midwest growers.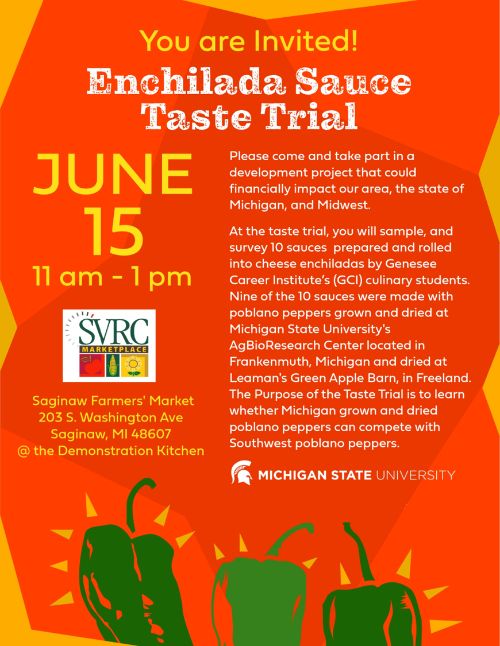 In the fall of 2017, Hilda McShane, a Genesee County enchilada sauce developer, asked me, "With all the current dehydrating technology on the market, can Michigan growers cultivate and dry poblano peppers that can compete with Southwest poblano peppers?" To answer that question, I successfully cultivated poblano peppers at Michigan State University's Saginaw Valley Research and Extension Center located outside Frankenmuth, Michigan, and dried them at Leaman's Green Applebarn in Freeland, Michigan. "The next step in this research is to prepare and taste recipes made with the AgBioResearch poblano peppers. This is where the two scheduled taste trials come into play. The outcomes from the two taste trials can potentially impact our area, Michigan and Midwest growers," stated McShane.
Participants of the two trials will sample and rate 10 enchilada sauces prepared with and rolled into cheese enchiladas by Genesee Career Institute's culinary students. Nine of the 10 sauces will be prepared with peppers grown and dried in the MSU trial, while one sauce made from Mexico-grown poblano peppers will be included for comparison.
The first taste trial, held May 29, was only for Genesee Career Institute students and staff. The second taste trial, however, is open to the public on June 15 from 11 a.m. to 1 p.m. at the Saginaw Farmers' Market Demonstration Kitchen, 203 S. Washington Ave., Saginaw, MI 48607. The media is also welcomed to attend.
For questions regarding the Saginaw Farmers' Market, contact Rachel Trumble, marketplace manager, at rtrumble@svrcindustries.com or 989-770-0233.
For questions regarding the Saginaw Valley Research and Extension Center, the trial and final outcomes, contact Ben Phillips, MSU Vegetable Extension educator, at phill406@msu.edu or 989-758-2502, or local Hilda McShane, enchilada sauce developer, at holymoley88@gmail.com or 810-569-9392.