Chile pepper production trial in Michigan
We conducted a variety trial to find the best large chile peppers for our region and investigate inexpensive ways to dry them.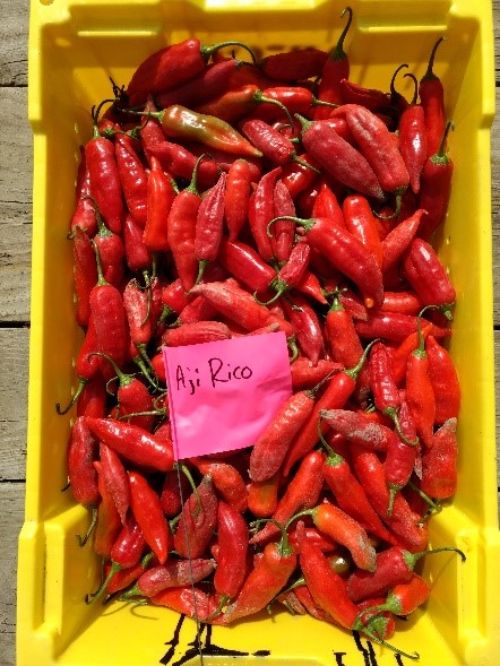 Most chile peppers are grown in places with some combination of seasonally high temperatures and aridity, sunshine and long frost-free periods. These climatic features allow for some or all the drying to take place in open air. The leading production and export regions are China, Mexico, Turkey, Indonesia, India and Spain. Can we grow and dry chiles in Michigan? Can Michigan-grown and dried chiles compete in the international spice trade? These were questions asked by a local sauce-maker who wanted to make mole (pronounced moh-lay) sauces from Michigan-grown and Michigan-dried chiles. Moles are a Mexican sauce made from large-fruited, sweet and mild-heat varieties, including poblanos, pasillas and guajillos.
Can we grow chiles in Michigan?
To assess adaptability, 12 commercially available varieties and one experimental variety were grown in 2018 at Michigan State University Extension's Saginaw Valley Research and Extension Center outside Frankenmuth, Michigan, to determine which would yield the highest number of ripe colored fruit before the first frost and to estimate drying costs.
Indeed, we can grow them. Their production is similar to sweet peppers. However, a chile pepper must be ripened to maturity. Therefore, using earlier maturing varieties in our climate is key. Table 1 depicts yields of 13 varieties of chile peppers grown at the Saginaw Valley Research and Extension Center.
Table 1. Yield of 12 commercial varieties and one experimental variety at the Saginaw Valley Research and Extension Center in 2018. Plants were set in bare soil, 40-inches on center and 16-inches in-row spacing on May 30.

Variety

Company

Type, Ripe Color

Ripe fruit per plant

Pounds per ripe fruit

Ripe fruit to breaker fruit ratio

Total % cull

Aji Rico

PanAmerican

aji, red

36.85

0.04

1 : 0.17

7.42

Durango

Sakata

guajillo, red

5.66

0.10

1 : 0.24

44.44

WI Wroaster*

Jim Nienhuis

guajillo x poblano, red

4.00

0.14

1 : 0.65

12.25

Holy Mole

Seminis

chilaca, brown

2.67

0.11

1 : 0.22

24.43

SHP9018

Sakata

chilaca, brown

2.32

0.11

1 : 0.23

21.55

Alteno

Sakata

poblano, red

1.86

0.26

1 : 1.01

11.78

Don Matias

Seminis

poblano, brown

1.50

0.25

1 : 0.81

25.75

Capitan

Sakata

poblano, red

1.38

0.27

1 : 0.80

19.70

Hidalgo

Seminis

poblano, brown

1.33

0.25

1 : 0.78

19.96

Vencedor

Seminis

poblano, red

1.28

0.25

1 : 1.21

13.72

Baron

Seminis

poblano, red

1.17

0.25

1 : 2.16

13.75

Trident

Sakata

poblano, red

0.50

0.28

1 : 5.64

23.68

Masivo

US Agriseed

poblano, red

0.37

0.27

1 : 1.50

57.62
All pepper varieties in this trial tended to lean over as they grew, and many fruits touched the ground with their tips or were sunburned on the western side of the rows as the plant leaned and exposed fruit from under their leaves. The longer, thinner fruits of SHP9018, Holy Mole and Durango were straighter on more upright plants. Some varieties ripened to a dark chocolate color that was hard to differentiate from their dark green immature fruit. The darker fruit color also made it difficult to grade out culls from fruit blemishes that were easy to spot on red fruit. However, darker fruit tasted sweeter.
Aji pepper
Aji Rico yielded ripe fruit by Sept. 12 and generated an enormous amount of small fruit overall that peaked on Sept. 26. This pepper was the only C. baccatum species in the trial and was more stunted by the preemergent herbicides than other varieties. They grew in a more compact shape that resulted in fewer fruit touching the ground from the plant leaning over. This All-America Selections winning variety was bred by Ellen Leue, at PanAmerican Seed, in collaboration with Jim Nienhuis at the University of Wisconsin, specifically for northern climates.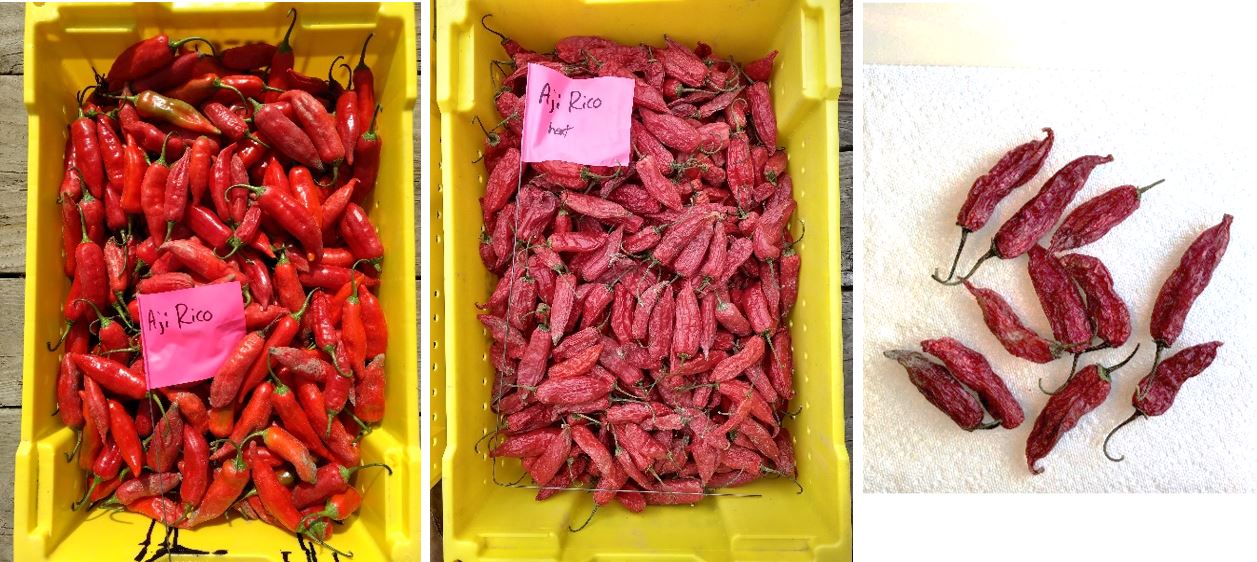 Guajillo pepper
Durango was the only guajillo pepper in the trial. These peppers had the thinnest fruit walls of those evaluated, which is a good drying quality and is typical for these types. Durango yielded more ripe fruit with each successive harvest, but exhibited high incidence of blossom end rot, resulting in 44 percent of the red peppers being culled. Like the chilacas, these fruits were easy to break while harvesting due to their long and thin shape.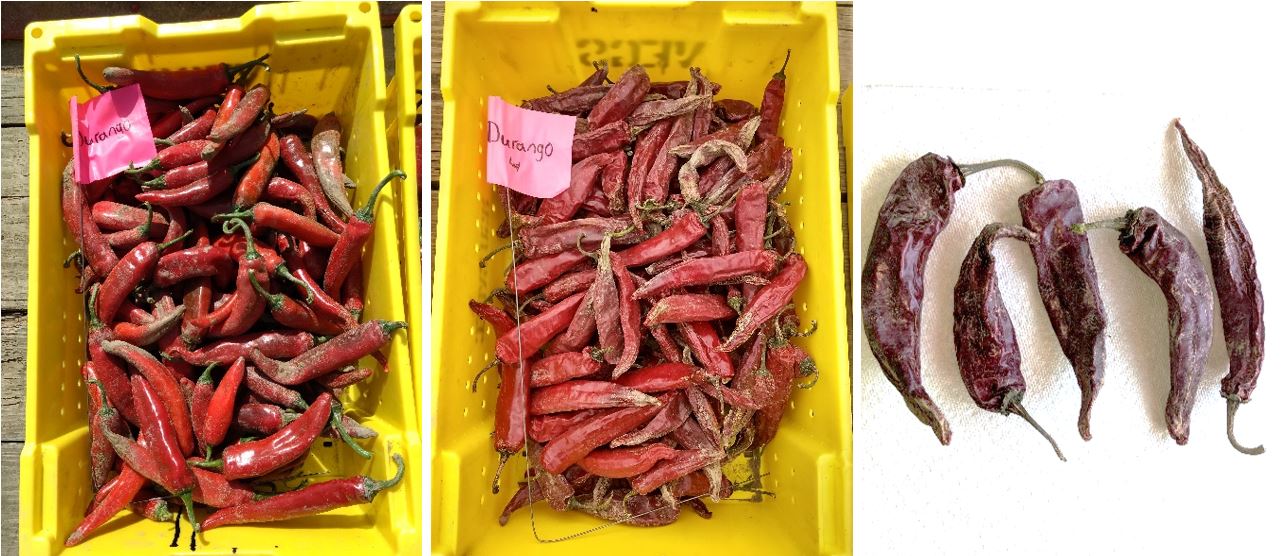 Guajillo x Poblano hybrid pepper
Wisconsin Wroaster yielded the most red fruit at the earliest picking date on Sept. 12, and the number of red fruit decreased at each successive harvest. It is a cross between a poblano and a guajillo, and it looks like any number of other flattened banana-shaped peppers. The wall thickness of this pepper was like the poblanos, but fruits were slightly smaller in shoulder width and had an inverted calyx like a guajillo, allowing water to shed instead of collecting in the top of the fruit. Altogether, this was a very nice pepper for our region, but lacks the visual identity of the others. This variety was also bred by Jim Nienhuis, specifically for northern climates, but has not been picked up by any seed companies.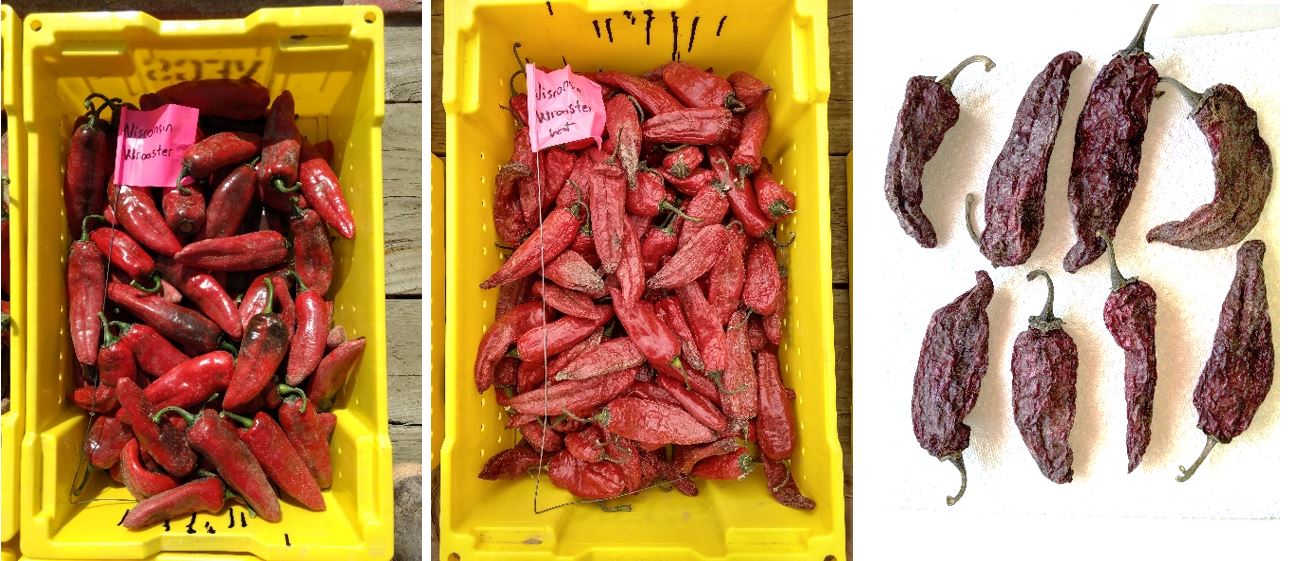 Chilaca pepper
Holy Mole and SHP9018 were the only chilaca peppers in the trial and they performed identically in all respects. Ripe fruit were first picked on Sept. 26, and this is the date when the highest numbers of ripe fruit were picked. Both chilaca peppers ripened to a dark chocolate and tended to curve as plants leaned over. These fruits were easy to break while harvesting and bagging after drying due to their long and thin shape that gets brittle when dried.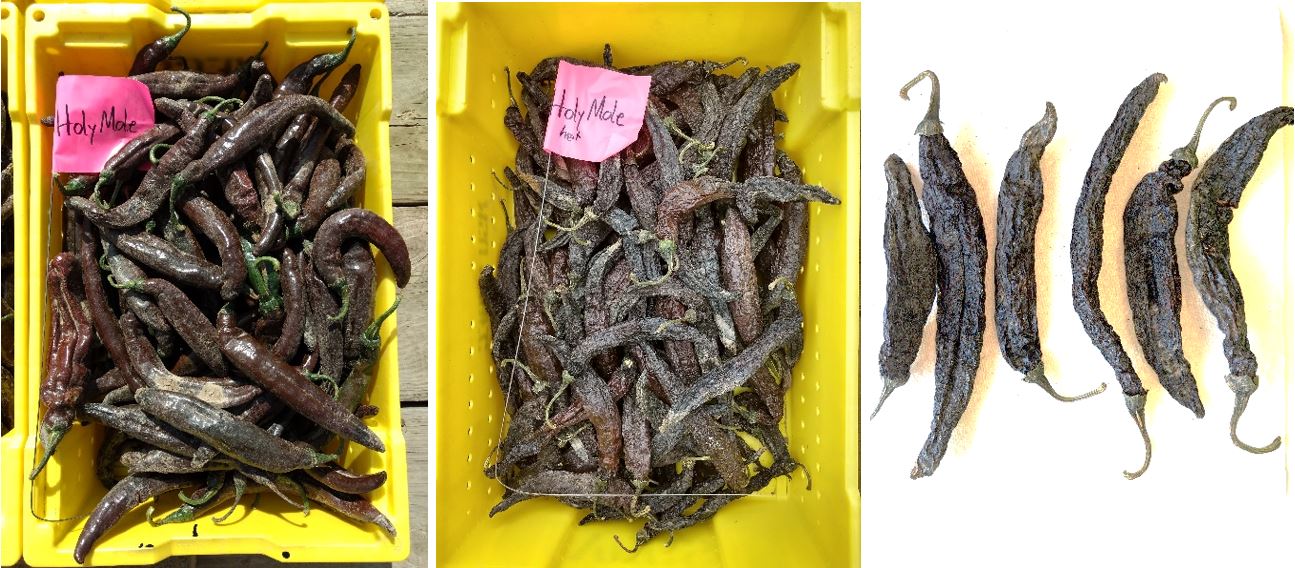 Poblano pepper
All poblano varieties had ripe fruits by Sept. 26 but Capitan and Vencedor were the earliest to reach maturity on Sept. 12. Don Matias was the only variety to yield more ripe fruit with each successive harvest. Masivo had a high cull rate resulting from stip disorder, which is a known issue with ripening some varieties of peppers in cooler temperatures in the northern latitudes. Both Don Matias and Hidalgo ripened to a dark chocolate color. Many growers have a market for the green immature poblanos and would need to leave that fruit on the plant in order for them to ripen. This is an opportunity cost that will need to be considered. Varieties like Alteno, Don Matias, Capitan or Hidalgo could be grown for more ripe fruit, while varieties like Trident, Baron or Vencedor will not yield many ripe fruit in the span of our summer and could be marketed as green fruit.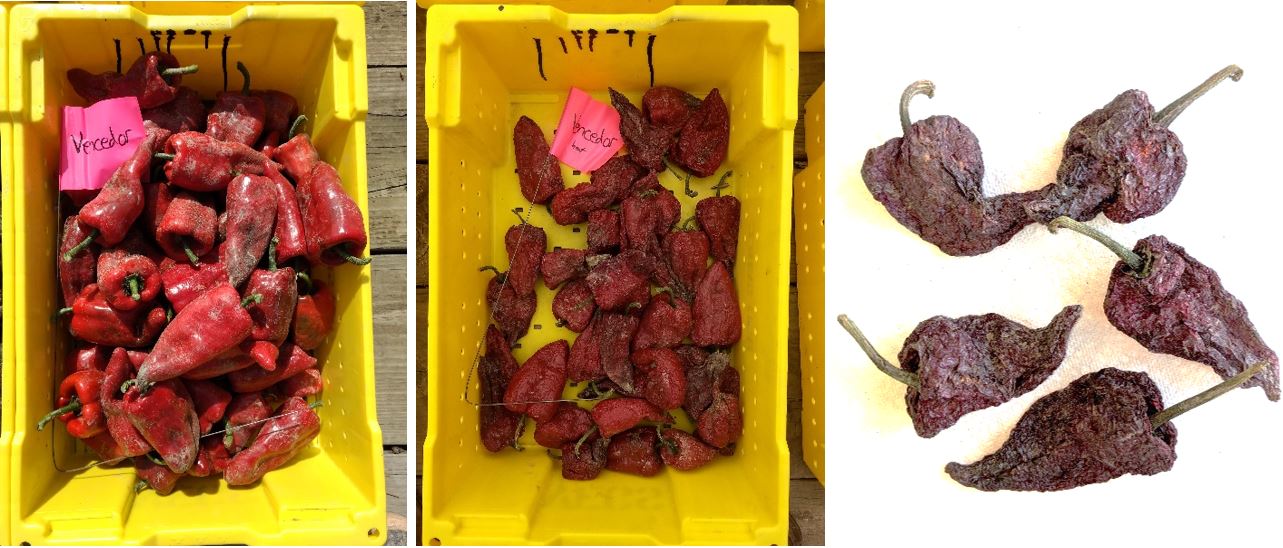 Can we dry chiles in Michigan?
We have industries that dry other fruits like blueberries, cranberries, cherries and apple slices. So, in theory, we can dry peppers. The standard treatment for drying peppers uses high heat to quickly reduce fruit moisture content to discourage fungal and bacterial rots. Dried fruit weight is one-eighth of their fresh weight. The industry refers to this as an 8-to-1 drying ratio, or an 8-fold reduction. Compared to more arid regions of the world, peppers grown here will have a higher water content going into the drying process and require more time and energy costs. With access to a high-efficiency heat source, or a waste heat source, the costs of performing this in Michigan can be brought down.
In our trial, we tried three low-tech methods to dry fruit. The first attempt was to dry 199.70 pounds of fresh fruit using forced air from a centrifugal fan at 85 degrees for three weeks, which resulted in a 7.49-fold reduction in water content, a high loss percentage (56.85 percent) and 11.50 pounds of marketable dried fruit at a cost of $317.50. The second attempt was to dry 321.05 pounds of fresh fruit using forced air from a centrifugal fan at ambient temperatures for five weeks after the first frost (45 degrees Fahrenheit), which resulted in a 1.2-fold reduction in water content, a high loss percentage (73.94 percent) and no fully dried fruit at a cost of $464.05.
The third attempt was to dry 69.85 pounds of the partially dried fruit from the second attempt using a commercial food warmer with an air temperature of 165 F for 24 hours and resulted in a 4.42-fold reduction in water content, no fruit loss and 9.54 pounds of marketable dried fruit at a cost of $129.33. This third attempt used fruit that had already experienced a 1.2-fold reduction in fruit weight from the second attempt and had a 5.62-fold reduction overall. The cost of attaining that 1.2-fold into the third drying attempt was not factored in.
Despite having a fold-reduction less than 8, the peppers that came out of the food dryer were fully dried by the estimations of a local sauce maker. The large number of culls in the first and second attempts was likely due to the fact that we did not arrange the fruit in a single layer to ensure good airflow around the fruit, and we did not inspect and remove rotting fruit throughout the process to slow and cross-contamination.
Table 2. Economics of three pepper drying methods. This does not include the cost of pepper production or the amortized cost of equipment. These measurements and calculations represent the bulk weight summed across all varieties. The third drying attempt reduced the weight of peppers from the second attempt by an additional 4.42-fold. Drying a similar load of fresh peppers for six more hours would cost little more.

Item or Process

85 F, three-weeks

45 F, five-weeks

165 F, 24-hours

Pounds of all fresh peppers

199.70

321.05

42.13

Pounds of all dried peppers

26.65

268.08

9.54

Water weight removed

173.05

52.97

32.59

Fold reduction

7.49

1.20

4.42 (+ 1.20 = 5.62)

Pounds of marketable dried peppers

11.50

69.85 (not dried)

9.54

% Loss from rotting

56.85%

73.94%

0.00%

Centrifugal Air Blower

Watts

500.00

500.00

N/A

Hours run

504.00

840.00

N/A

Kilowatt-hours (kwh)

252.00

420.00

N/A

Commercial Food Warmer

Watts

N/A

N/A

2000.00

Hours run

N/A

N/A

24.00

Kilowatt-hours (kwh)

N/A

N/A

48.00

Electricity cost at $0.15 per kwh

$37.80

$63.00

$7.20

Cost of peppers at $1 per lb

$199.7

$321.05

$42.13

Labor at $10 per hour

$80.00

$80.00

$80.00

Cost

$317.50

$464.05

$129.33

Breakeven price per dried lb

$27.61

not dried

$13.56
Can Michigan compete with the international spice trade?
The electricity-based drying resulted in a break-even price competitive with some online retailers packaging in 1-pound bags. However, it is not competitive against local ethnic stores that buy in bulk quantities from international brokers and repackage into 1-pound bags. If they are skillfully marketed in a hyper-local fashion using the absolute cheapest heat source available, selling Michigan-grown and -dried peppers can offer a unique shelf-stable item for winter or spring farm markets when few fruiting vegetables are available for purchase among easy-keeping hard squashes, root crops and cold-tolerant leafy greens. Their production may be supported by local food movements thriving in certain regions.
Drying and selling peppers may require following licensing, inspections, packaging and labeling regulations under state and federal Food Codes.
Table 3. Prices per pound for the types of dried peppers in this trial from two local ethnic-food retailers and three online retailers. Online bulk prices for 5- or 10-pound bags are closer to the prices seen at local ethnic retailers, who purchase in bulk and repackage peppers at the store.

Retailer

Ancho/Mulatto

Guajillo

Pasilla

Aji

Store 1, bulk repackaged

$6.00

$7.00

$7.00

-

Store 2, bulk repackaged

$7.99

$7.99

$7.99

-

Online 1

$17.92 - $18.89

$18.40

$22.10 - $39.49

$20.72 - $25.45

Online 2

$14.65 - $32.43

$15.42

$36.77 - $58.96

$25.96 - $36.77

Online 3

$17.07 - $19.53

$17.52

$19.73 - $21.05

$24.24
Conclusion
Keys to improve the success of this endeavor will include maximizing yield of fully ripened and unblemished fruit, drying them as soon as possible without piling them on top of one another, and drying them with an inexpensive heat source. Improving unblemished yields will rely on choosing varieties that produce ripe fruit early without blossom end rot or stip disorder. Though diseases were not prevalent in the field trial, choosing bacterial spot resistant varieties would be important. Growing peppers on black plastic with stakes and ties and/or in a hoophouse or greenhouse may push heat units to increase early yields but would also increase the cost of production.
Using a less expensive heat source and identifying minimum loads of peppers for efficiently heating discrete units of space will also bring down costs. Heated and unheated greenhouses and hoophouses could be converted into solar heaters late in the summer if vents and fans can be used to release condensation and increase airflow. An automated natural gas or wood/corn cob heat source and venting system could be beneficial on cool and cloudy days to maintain high temperatures.
Further, rather than add extra heat to an entire house for small loads of peppers, smaller sections can be heated by installing additional temporary structures within the warm ambient space that can multiply the solar radiation (more plastic layers) or be heated with some other fuel source. An additional heater would not need to run as hot with the ambient heat provided by the hoophouse structure, but extra care must be taken to avoid high humidity or fire hazards. More information on dehydrating in a hoophouse can be found in a 2014 report from a Michigan Sustainable Agriculture Research & Education Project FNC13-933, Food Drying and Preservation in a Greenhouse Solar Dehydrator.
New and used equipment considerations for this purpose could also include commercial dehydration units, or certain pieces of grain-drying equipment. One idea a local grower considered is to modify a refrigeration room, shipping container or some other structure to use indirect natural gas heat, much like bulk curing barns used for tobacco and peanuts. If considering investments in infrastructure for drying peppers, also consider spreading the investment across multiple products.
The full research report on yields, with variety specific analyses and crop management details, can be viewed in the 2018 Midwest Vegetable Trial Reports: 2018 Mole Pepper Variety Trial.
The full research report on dehydration, with variety specific comparisons, can be also viewed in the 2018 Midwest Vegetable Trial Reports: 2018 Mole Pepper Drying Trial.
A photo album from this trial can be accessed online through Dropbox here: 2018 chile pepper pictures. All photos were taken by Ben Phillips and Hilda McShane.