Making A Home In The Agriculture Industry
Agribusiness Management senior Katie Forro has taken advantage of the many opportunities available at MSU, and has created the ultimate undergraduate experience.
December 4, 2017 - Author: Samantha Ward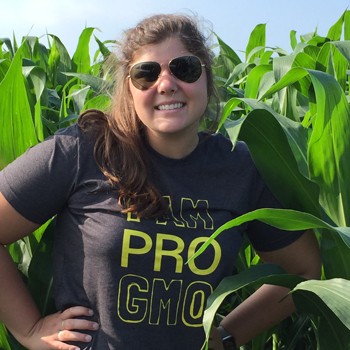 Farming runs through Katie Forro's veins. Born to a small corn and soybean farm in Romeo, Michigan, Forro couldn't stray far from her roots when choosing her major at MSU. Now a senior in the Agribusiness Management program, Forro has built a college career of meaningful experiences, from studying abroad twice, to serving as an Agriculture Future of America campus ambassador, to interning at not one, but two major players in the agriculture industry.
Making the Most of MSU
As a high school senior, Forro wasn't sure what she wanted to do career-wise, but was drawn to the passion and community of farmers. After deciding on the Agribusiness Management program at AFRE, she found a diverse set of classes that helped her narrow in on her aspirations.
"I tell people I like my major because I can do so much with it," says Forro. "Taking classes like sales, agricultural policy, commodity marketing and agricultural management allowed me to discover what I really liked in a job—and what I didn't."
In addition to her core AFRE courses, Forro has two minors in International Agriculture and Agronomy, and took advantage of one of MSU's biggest draws: studying abroad. Two trips to Costa Rica and Sri Lanka studying Sustainable Entrepreneurship and Business and Sustainable Tropical Agriculture helped Forro round out her time at MSU.
"My advice to other students is to make college about experiences, not just classes. Do study abroads, take internships and go to conferences."
Forro is also actively involved with the Young Farmer's Association, her home county farm bureau, and Sigma Alpha, the professional agriculture sorority where she currently serves as the student senate representative.
Finding Opportunities Outside Campus
Her junior year, Forro applied to go to the Agriculture Future of America (AFA) Leaders Conference through MSU. That year the university sent 14 delegates, and gave Forro an incredible experience. "I enjoyed the conference immensely for it's networking opportunities with not only industry professionals but also other agriculture students across America. And I knew a lot more MSU students could benefit from attending the conference."
Forro then became a campus ambassador for AFA, increasing interest in students to attend the conferences and get involved with the organization. This year, MSU was able to send 26 delegates to the conference, and allowed those students to expand their professional networks and build their skills.
"I truly appreciate the AFA Leaders Conference because it is a conference focused on existing leadership. It's an amazing group of students who are accepted to attend, and the goal of the conference is to build upon and shape the skills we already all possess."
Fully aware of what avenue she wanted to take after graduation, Forro knew to find her dream career, she'd have to look outside of East Lansing. Early on, she interned with Michigan Farm Bureau, working as a promotion and education intern. The summer after, Forro landed an internship at agriculture industry heavyweight, Monsanto. First in southern Illinois and then central, Forro worked for Monsanto as a row crop sales intern.
"I heard about the Monsanto Sales internship through a friend and I was a bit skeptical because I didn't think sales was for me," says Forro. "But I ended up there for two summers and loved it. I learned so much both years, even though it was the same company."
Now, Forro has accepted a District Sales Manager Trainee position at Monsanto, working for six to eight months before finding a full time opportunity in the company as a District Sales Manager.
And her plans don't stop there. After working for a few years and completing a Master's degree in agronomy, she hopes to someday work as an agronomist and oversee seed distribution in sub-saharan Africa.
"I've always been passionate about this industry, I learned that from my father and our neighbors growing up," says Forro. "I'll always be close to the family farm and to Michigan, but I also hope to apply my passion in a new, bigger way."
---