KBS Dairy Project Promotes Economic, Environmental Sustainability
The W.K. Kellogg Biological Station (KBS) dairy herd hoofed it to a new pasture-based facility featuring automated milking stalls and energy-efficient design in August.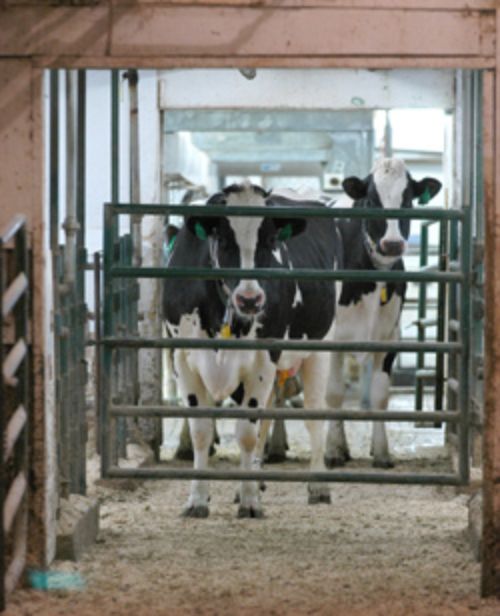 The W.K. Kellogg Biological Station (KBS) dairy herd hoofed it to a new pasture-based facility featuring automated milking stalls and energy-efficient design in August.
State-of-the-art milking robotics aside, economic and environmental sustainability are driving forces. Located in Hickory Corners north of Kalamazoo, the KBS dairy includes two pastures for 120 lactating Holstein cows, plus dry cows and heifers.
A grand opening and public open house for the new pasture-based dairy at KBS took place Aug. 19.
"Although the conventional dairy operation at KBS had been very successful over the years, we felt there was a need to establish a dairy research and education facility that would complement other sustainable agricultural research programs at KBS," project coordinator Mat Haan said. "We see transitioning to a pasture-based system as a niche market for us. It's something that's not being done in many places. We also want to develop a system that better addresses the needs of small and medium-sized dairy farmers."
Twin robotic milking systems, the second such installation in the state, will demonstrate labor-saving technology that promises to improve the quality of life on family farms by freeing owners from being tied down by strict milking schedules.
Likewise, the cows.
"Because the robot is a voluntary system, cows are free to come and go as they choose throughout the day," Haan explained. "If a cow decides she wants to milk at 2 a.m., she can, as opposed to the farmer bringing the whole herd together and working them through the parlor in one big group.
"The robot has sensors that take a lot of data on every cow," Haan added. "For example, it will measure the cow's body weight, eating behavior, milking time per quarter, total and quarter milk yield and milk quality. So every time a cow is milked, the farmer gets a lot of information that can be used to make management decisions."
The free-stall barn includes water mattress bedding and automatic manure scrapers. It also is the first working agricultural building to seek Leadership in Energy and Environmental Design, or LEED, certification, Haan said.
Among other energy efficiency and resource conservation features, it uses an automatic sidewall curtain system that rises or lowers to regulate temperature. The design also maximizes sunlight to reduce the need for electric lighting.
The dairy will anchor education and outreach programs showing how ecological, social and economic principles can be evaluated on a smaller scale than those associated with larger, more conventional dairy farms, KBS Director Kay Gross said.
"If you?re going to be working with dairy producers in the community, some of them will be doing pasture, some will be doing organic and some will be doing confinement. It?s important to be knowledgeable about the whole spectrum of options available to dairy farmers," she said.
"The creation of this pasture-based dairy facility is a logical extension of the strong tradition of ecological research at KBS," Gross added. "Integration of the row-crop and dairy production research programs at the station provides a unique opportunity to examine agriculture from an integrated, whole-system perspective."
Major support for the project came through a $3.5 million 2007 grant from the W.K. Kellogg Foundation's Food Systems and Rural Development program. MSU Extension, the Michigan Agricultural Experimental Station and the College of Agriculture and Natural Resources also contributed support. Kellogg Biological Station is one of 15 field stations in the MAES network.