Kris DeAngelo Appointed as Associate Director of MSU's Institute for Food Laws & Regulations
Long time lead instructor, Kris DeAngelo, takes on new role in advancing IFLR's strategic priorities. But don't worry, you'll still see her in your online classes!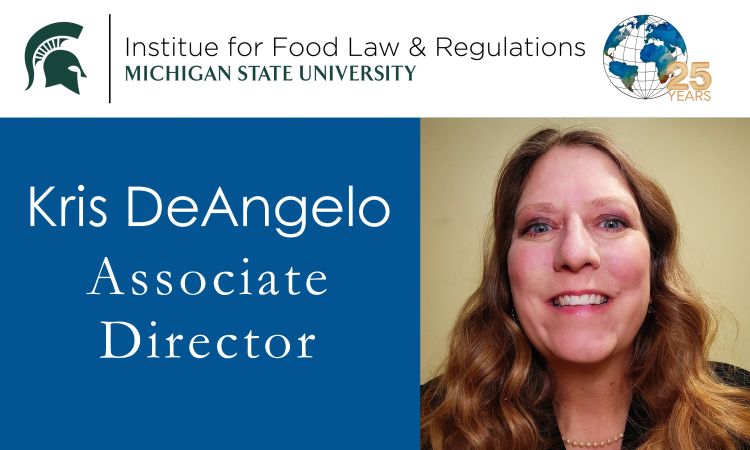 Introducing Kris DeAngelo as the New Associate Director of IFLR
[East Lansing, Michigan] – Michigan State University's Institute for Food Laws and Regulations (IFLR) is pleased to announce the appointment of Kris DeAngelo to the position of Associate Director, effective July 1, 2023. In this role, DeAngelo will work closely with the existing team to drive forward IFLR's mission of providing online graduate-level training in food laws and regulations to industry professionals and regulators.
Kris DeAngelo brings a wealth of experience and expertise to the position. She is an attorney with a master's degree in Educational Technology. She joined MSU's Institute for Food Laws and Regulations six years ago with a focus on delivering excellent legal education to food industry professionals. She uses her expertise in educational technology to integrate the latest interactive online learning tools to keep students engaged and increase their learning retention.
DeAngelo will also continue to lead a "Community of Practice" for MSU educators who test and introduce new interactive technology to online and hybrid courses, made possible with the catalyst innovation grant awarded earlier this year.
"We are thrilled to welcome Kris DeAngelo as our new Associate Director," said Neal Fortin, Director, IFLR. "Kris's knowledge of online pedagogy and proven leadership abilities will be invaluable as we continue to elevate IFLR's reputation as a trusted resource for food law professionals globally. We are confident that Kris will serve as a catalyst for innovation in the field of online education at IFLR."
Kris DeAngelo expressed her enthusiasm about taking on her new role, stating, "I am honored to be entrusted with shaping the direction of IFLR. I look forward to working alongside a talented team to drive forward IFLR's vision and deliver top-notch education that addresses the evolving challenges in the food sector."
Please join us in congratulating Kris DeAngelo on her new role as the Associate Director of IFLR. We are confident that her leadership and expertise will contribute to the continued success of IFLR and its commitment to excellence in online food law education.
About IFLR:
The Institute for Food Laws and Regulations (IFLR) at Michigan State University offers food law courses taught online by an international network of food science, academic, and legal professionals, who understand the complex nature of food laws and how they impact the flow of food and agricultural products across national boundaries.
Our graduate-level courses are fully accredited and are designed for food industry professionals and regulators. Students may take as few or as many courses as they desire. Students may earn a "Certificate in International Food Law" or "Certificate in United States Food Law" after completing twelve qualifying credits (usually four courses).
For inquiries, please contact:
Andrea Besley, abesley@msu.edu