Kroger Internships Past and Present build FIM Leaders
AFRE Alumna, Kristen Walker, and AFRE Senior, Ryann McDowell, discuss their experiences interning and working with The Kroger Co.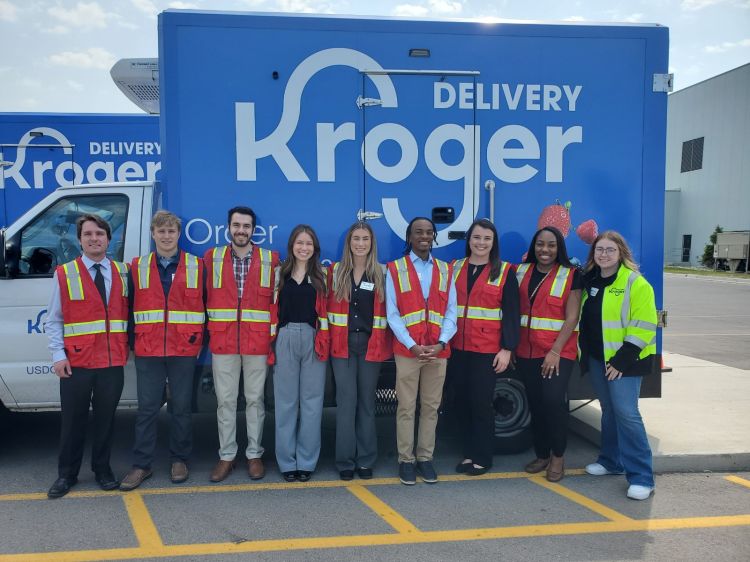 Summer 2017: Food Industry Management (FIM) major Kristen Walker interns with the Kroger Store Leadership Development Program. Fast forward to Summer 2023, and Walker is Kroger district Human Resources leader who mentors rising FIM senior Ryann McDowell along the same internship path.
The two met when Walker (FIM B.S. 2019) came to Michigan State University in the Fall of 2022 as a visiting speaker in Decision-making in the Agri-Food System (AFRE 100). Six months later McDowell was learning the leadership ropes with Kroger at the Heartland, Michigan location, while occasionally visiting stores in her region to assist with providing human resources training.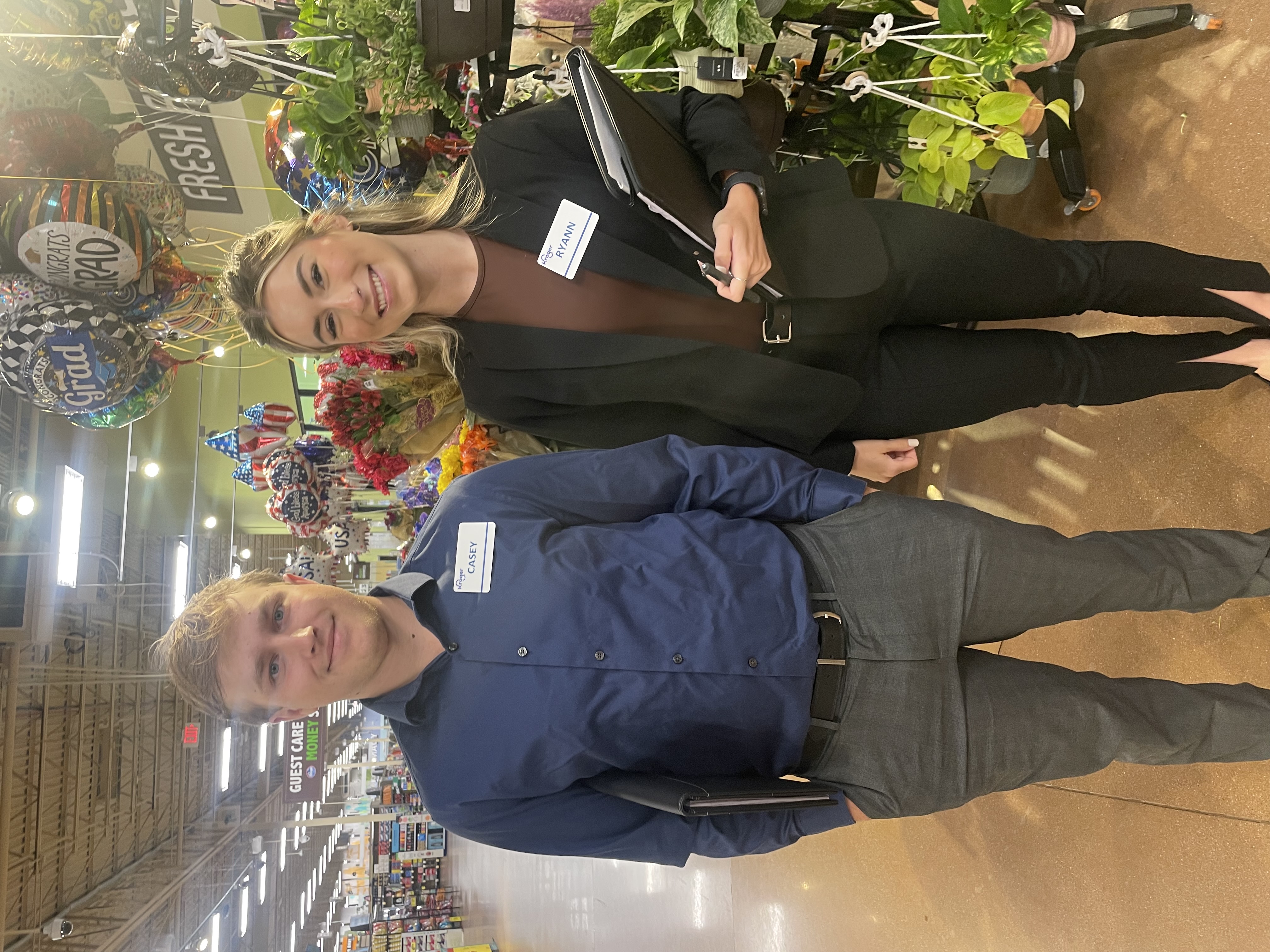 McDowell's romance with the food industry started in restaurants, which made the FIM program a logical choice. This summer, McDowell is finding common threads that connect management success in restaurants and supermarkets.
"I really like working with people. I'm very customer service friendly. I like to make people happy. And I have found that doing that through serving, waitressing, bartending, all of that made me feel good," McDowell shared. "It made me feel like I was helping a community. So, when I came to Kroger, it made me realize that I can help people through food beyond me serving them in a restaurant."
Kroger's Store Leadership Development Program (SLDP) allows interns to branch out in directions that include merchandising, human resources, supply chain, and distributing. McDowell's mentor, Kristen Walker, is a perfect example: She began her career in 2019 as an assistant store leader and was promoted to her current position as district human resource leader in 2021.
Through her internship, McDowell reports that, "Within the company, it's been really nice to learn how much they value their core values of honesty, respect, integrity, diversity, and inclusion. They implement them in everything that they do, and then it leads to [the company's tagline of] 'full, fresh and friendly'."
"I never realized how big being friendly is in a grocery store and just in life," McDowell continued. "You don't realize, until you do say hi to people and see them light up, how it makes them feel better. Working with a company like Kroger and learning how they really respect their values, and they use it every day has been really good for my life in general."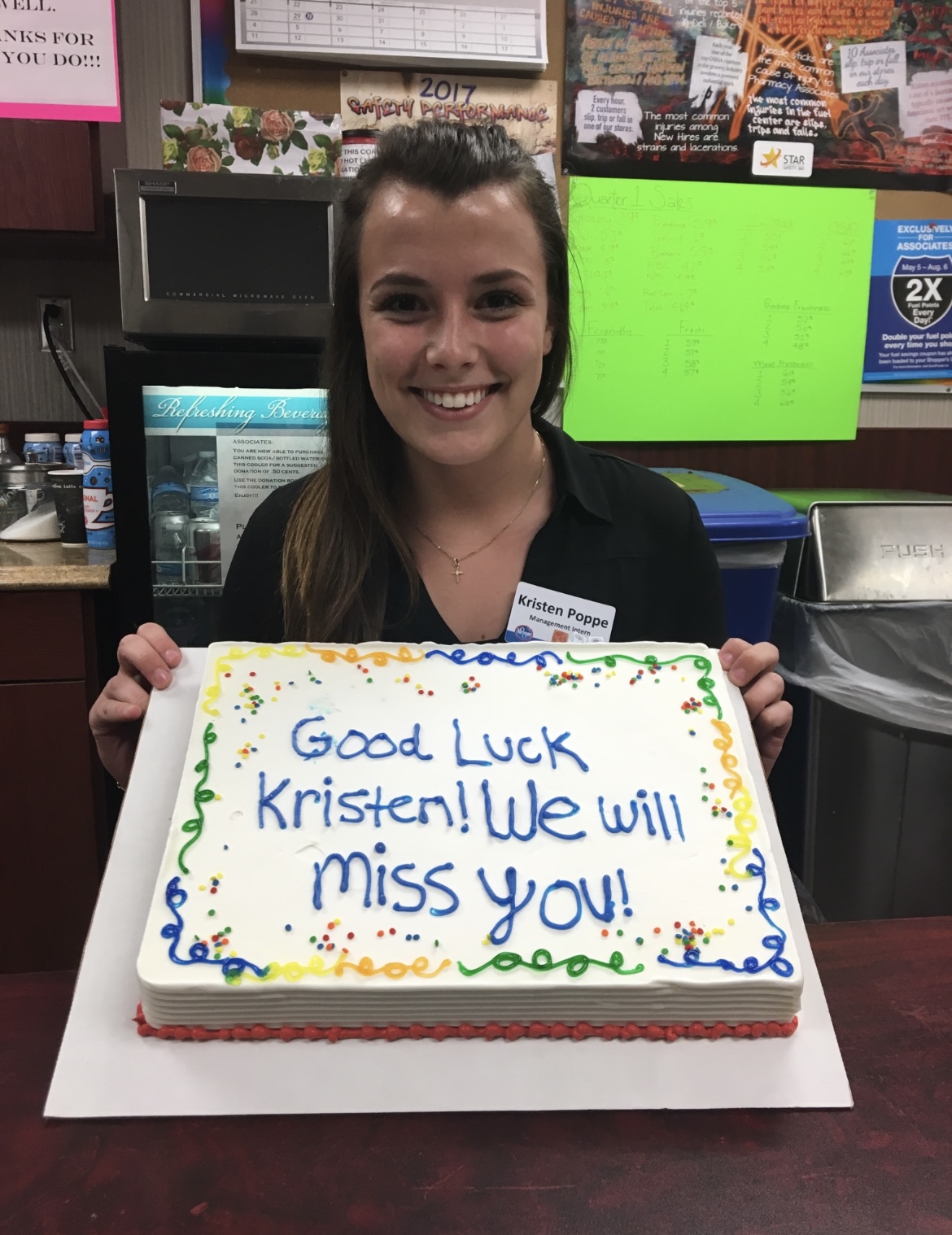 Six years since her own intern experience, Walker offers the Kroger recruiter perspective. She explains that, "I try to share with students many reasons why someone should consider working for the Kroger company. Some of those reasons include Kroger being a Fortune 500 company with endless opportunities for growth and experience, whether that is traveling outside of the state, working in our general office in Cincinnati, or being able to impact your hometown. The connections that you build and the overall store atmosphere, combined with knowing that people are always going to need to consume food, help to remind you that you'll always be able to serve your community."
As District Human Resource Leader, Walker is pulled in many directions. Depending on the week, she will provide in-person training, visit one of the 15 stores she oversees, handle disciplinary actions, and guide interns.
"Not only do we want to help the interns grow professionally, but also on a more personal level," Walker shares. "So I have weekly check-ins to see if they have questions, what can be improved, or even what struggles or opportunities are they seeing. My goal is to help them work through those."
Walker credits AFRE''s industry relations coordinator for sustaining her connection with MSU, "Larry Zink is an outstanding individual that's really helped me be able to keep my roots within Michigan State. I have been able to go talk to some of his classes, connect with students like Ryann, and also grow my career with Kroger."
After five years with Kroger, Walker's career is thriving. McDowell is excited by what Kroger offers, but with a personal twist:
"Once I graduate, I'd really like to get an offer from Kroger and expand my horizons here to see where I can go," McDowell said. "But I would like to own a restaurant and operate a business where I can leverage my degree and experience."
To hear more about Ryann's experience and hear from both Ryann and Kristen, watch their video here.