La Cosecha (The Harvest) celebrates the next generation of Latino farmers.
Participants in the La Cosecha (the Harvest) Program had an awards celebration at the Michigan State Federal Credit Union Club in Spartan Stadium on April 2, 2023

Participants in the La Cosecha (the Harvest) Program had an awards celebration at the Michigan State Federal Credit Union Club in Spartan Stadium on April 2, 2023.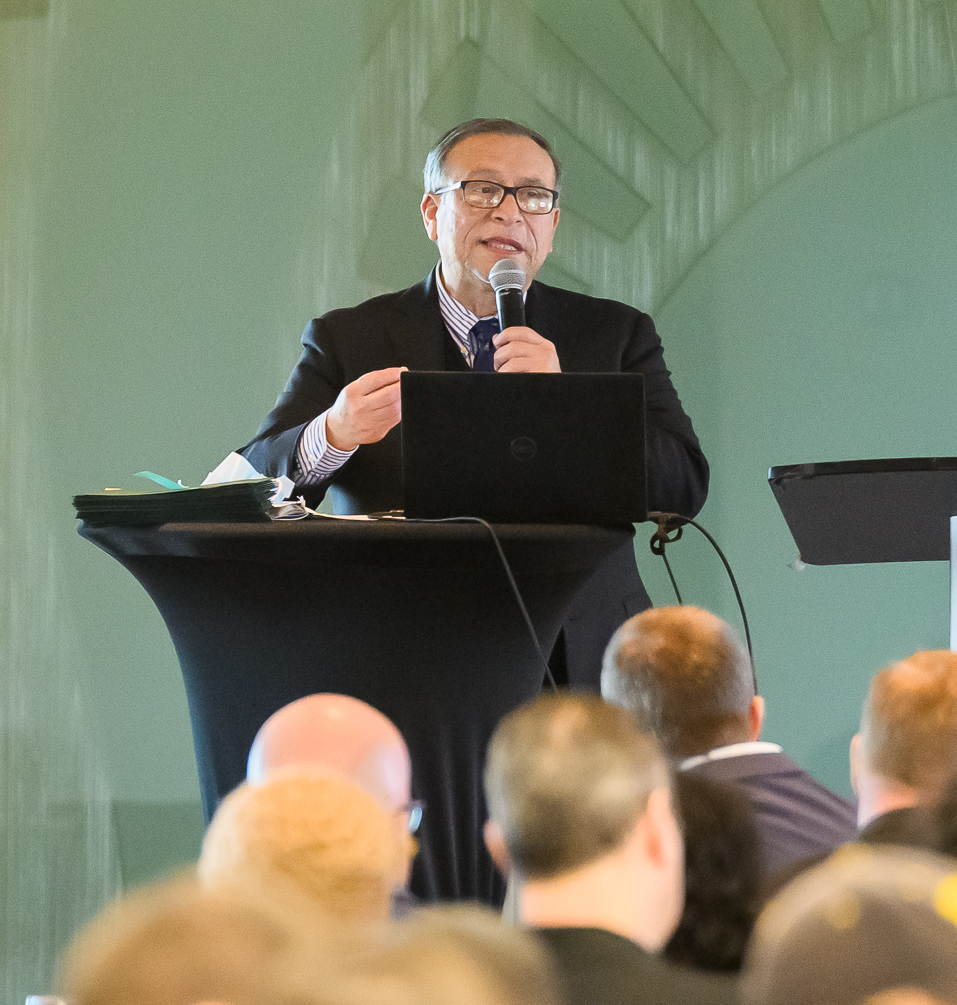 This event marked the culmination of a three-year effort to train the next generation of Latino/a farmers in Michigan. The project, supported by United States Department of Agriculture (USDA) National Institutes of Food and Agriculture (NIFA) Beginning Farmer and Rancher Development Program (BFRDP), was conceived and directed by David Mota-Sanchez, PhD, Associate Professor of Entomology at Michigan State University
Co-directors of the program include MSU Migrant Student Services Director Luis Alonzo Garcia, John Wise, Ph.D. Professor of Entomology, and Research and Extension Coordinator of the MSU Trevor Nichols Research Center, and Donald T Kuchnicki, Telamon Corporation.
"Latino/a Farmers are hardworking and driven to succeed.", according to Mota-Sanchez. "They are also a rising component of Michigan's agriculture sector, and they positively impact the economy of Michigan and the Great Lakes region."
According to USDA, the average farmer in the United States in 2007 was 57.1 years old and 56.3 in Michigan, with very few younger farmers. However, more than 58% of Latino/a farmers are 50 or younger. According to one study, (Lopez, 2007), the demographics of this group show that they can replace the old generation of farmers, and the next generation will likely continue farming as well if training, business, and marketing tools are provided to this new group of grower-entrepreneurs. (Santos and Escobar 2011).
At the same time, new farmers are facing serious challenges that affect their sustainability, such as lack of agricultural experience, stricter regulations in Good Agricultural Practices (GAPs), and destructive pests that can easily wipe out crop production if growers lack the education to properly combat them. In addition, cultural isolation, language barriers, and a lack of business and marketing skills put their longevity at risk and can seriously affect their business security.
"La Cosecha (the Harvest): Increasing the sustainability of Latino farmers" aims to assist and provide education and training tools to socially disadvantaged beginning Latino/a farmers, next generation Latino/a farmers (sons and daughters), farm workers, and Latinos from non-farming backgrounds that are transitioning to become beginning farmers.
The project objectives include:
Increase the participation of Latino/a farmers in USDA programs.
Improve crop farming practices of beginning Latino farmers by incorporating integrated pest management (IPM), GAPS, pesticide education, and nutrient management into their agriculture practices.
Provide farmers with the training to implement business management plans, marketing, and financial analysis.
Provide crop diversification education to Latino farmers.
Train the children of Latino farmers, farm laborers, and interested Latinos with non-farming backgrounds to become successful farmers.
"We are successfully increasing the participation of Latinos in programs that will enhance their sustainability, promote the farming livelihood, and develop a sense of environmental stewardship." Mota-Sanchez said. "We also believe that our program can be used as a role model for other groups across the nation. It really has been a great honor to work with these amazing people."
Read more about the La Cosecha program on MSU Today