Last Mile Café in Grand Rapids, Michigan recognized with the 2023 Young Innovator Award from the MSU Product Center
This award honors the company for its innovation in charitable giving and commitment to sustainability.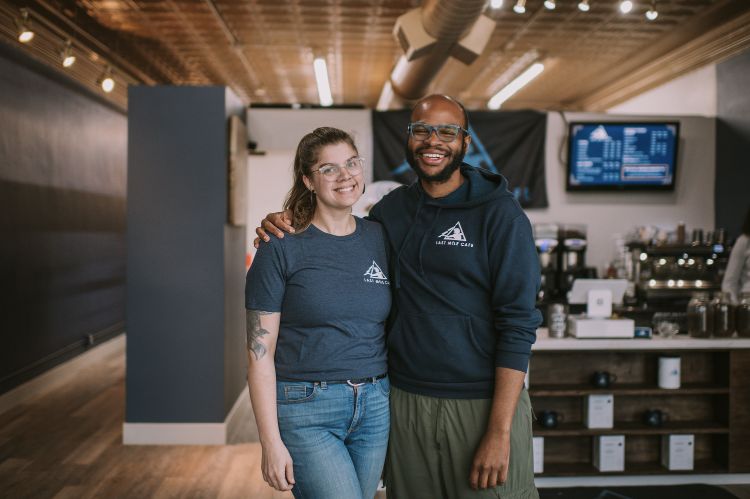 The 2023 Michigan State University Product Center Young Innovator Award was presented to Arick Davis and Sarah Laman, co-founders of the Last Mile Café based in Grand Rapids, Michigan. The award was presented by Natalie Chmiko, senior vice president of small business solutions for the Michigan Economic Development Corporation at the Making It In Michigan Conference and Trade Show held on April 20, 2023, at the Lansing Center.
"Arick and Sarah's team at Last Mile Café exemplify the innovative spirit that defines us all as Michiganders by seeing challenges as opportunities and turning their passion into positive impact," Chmiko said. "We're proud to celebrate Last Mile Café's commitment to sustainability and accessibility, while demonstrating what it means to be the change they want to see in their own community. We look forward to supporting their future success and impact in the Grand Rapids community and throughout the entire region over the years to come," Chmiko continued.
Arick Davis and his partner, Sarah Laman, are the co-founders of Last Mile Cafe, a new coffee concept based in Grand Rapids, Michigan, set out to redefine the narrative of coffee to be inclusive, sustainable, and transparent. Last Mile is a Black-owned and woman-owned business that sells roasted coffee beans to consumers and wholesale customers and launched a retail café in December 2022. The café is located in Grand Rapids' 49507 ZIP code, a historically underserved neighborhood and business district.
Last Mile Café has an innovative charitable giving model where 10% of the revenues of each purchase are donated to a charitable cause selected by the customer. The four areas the company focuses its giving are: environmental justice, clean drinking water, criminal justice reform and youth at-risk. The company is working to become a B Corporation in 2023.
When asked about support from the MSU Product Center, Davis and Laman stated, "The MSU Product Center has been such a valuable resource to Last Mile Café. Their team helped us learn more about getting the appropriate licensing for our business and how to properly label our products."
"Michigan State University Extension and the MSU Product Center are pleased to honor the Last Mile Café with this year's Young Innovator Award," said Mollie Woods, director of the MSU Product Center.
"Last Mile Café brings innovation to the food and beverage industry through their charitable giving campaigns that engage customers as well as their sustainability practices," commented Woods.
You can follow Last Mile Café's journey on social media:
MSU Product Center
MSU Extension and the MSU Product Center assist entrepreneurs and businesses to develop products and services in the food and agriculture markets. Its team of experts consults with clients on a one-on-one basis, helping new entrepreneurs navigate from concept development to launch and beyond. The MSU Product Center also offers specialized services such as labeling, packaging, and nutritional analysis. If you are interested in business counseling from the MSU Product Center, please visit our website.