Latest agricultural research demonstrated at AgBioResearch field days
MSU AgBioResearch announces its 2012 summer field days at research stations across the state.
June 7, 2012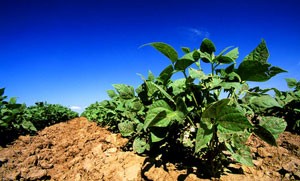 The latest in agricultural research -- on topics ranging from rotational crops and fruit, vegetable and livestock studies to hybrid poplar trees being grown for biofuel production and organic insect control for vineyards -- will be featured throughout this summer at various Michigan State University (MSU) AgBioResearch center field days.
"Field days are a wonderful opportunity for the public to interact with AgBioResearch scientists," said MSU AgBioResearch director Steve Pueppke. "These events provide an opportunity for the agricultural community to learn about and provide feedback on the latest developments in agricultural production and alternative energy."
AgBioResearch has on-campus facilities and 14 outlying research centers located across Michigan that support the work of more than 300 scientists in six colleges at MSU: Agriculture and Natural Resources, Communication Arts and Sciences, Engineering, Natural Science, Social Science and Veterinary Medicine.
This summer's AgBioResearch field day schedule is:
July 25 – Southwest Michigan Research and Extension Center Viticulture Day. This center supports research in fruit and vegetable breeding and variety operations. Other projects include cherry rootstock testing, peach production, and establishment and production practices for table and wine grapes.
August 9 – Montcalm Research Center Potato Field Day. Scientists at this center study beans and potato varieties, fertility, and weed, insect and disease control.
August 11 – Lake City Research Center Field Day. The center examines beef production systems and forage-based livestock and potato production.
August 21 – Saginaw Valley Research and Extension Center Field Day. The focus of this center is on dry bean and sugar beet production. The center also hosts studies on rotational crops such as corn, wheat and soybeans.
August 21 – Forest Biomass Innovation Center Wood Biomass Field Day. Research at this center focuses on sustainable use of wood for the biobased economy, forest genetics, silviculture and forested wetland management.
August 23 – Northwest Michigan Horticultural Research Center Open House. Scientists at this facility are exploring pest management, value-added processing and marketing for wine grapes, apples, plums, sweet and tart cherries, and hops.
September 25 – Trevor Nichols Research Center Field Day. Research at this center focuses on finding the best ways to keep fruit pest-free in Michigan while preserving the environment and ensuring economic viability for the state's fruit growers.