Lignin from Wood and Agricultural Waste to be used in Automotive, Mass Timber (CLT) and Construction Applications
MSU and Michigan Tech researchers study using lignin from wood and agricultural waste to replace petroleum-based polyols in polyurethane foams and adhesives.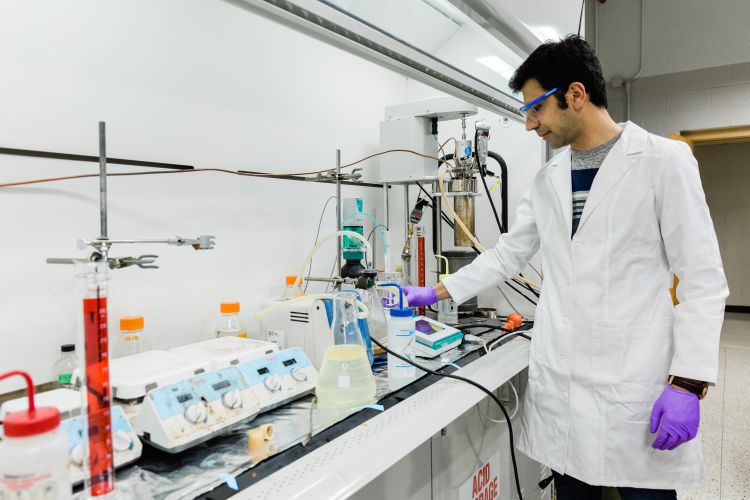 EAST LANSING, Mich. – Mojgan Nejad, an assistant professor in the Department of Forestry at Michigan State University (MSU) is using her years of experience working with lignin to support multiple industries and create more sustainable bioproducts.
Nejad has been working with adhesive manufacturers for several years in pursuit of alternatives to petrochemicals. She previously worked with manufacturers in the construction industry and is now aiming her efforts at the automotive industry.
In a partnership with Michigan Tech, Ford Motor Company has funded a project to replace petroleum-based polyol in polyurethane foams with lignin. Lignin, which is a byproduct of paper and biofuel production and formerly thought to be a waste product, is an under-utilized raw material with potential to replace petrochemicals.
Using lignin could provide a positive impact on the environment and creates a more sustainable product that is potentially biodegradable. Replacing just 20% of petroleum-based polyol with lignin provides a significant improvement to the fire performance and flame retardancy of the flexible foams.
In addition to environmental benefits, adding lignin to foam creates an antimicrobial and antibacterial product to be used in vehicle interiors.
The goal is to increase the incorporation of lignin into flexible foams (up to 40%) using unmodified lignins, while meeting the high standards of the auto industry. This project will develop lignin-based flexible foams for seating applications such as cushions, armrests and head restraints in Ford vehicles.
The foam Nejad is developing is very similar to what is used in the furniture industry. Advancements made in this project could lead to larger scale application for foam used in cushion or seating materials, including furniture or mattresses. A lignin-based foam mattress would have improved biodegradability and could greatly reduce overflowing landfills.
"I don't know how long it's going to take us to get there, but that is the goal," said Nejad.
One obstacle in working within the automotive industry is meeting their very high standards.
"Meeting those specific standards makes this project very unique," she said. "I hope by using lignin isolated by our collaborators at Michigan Tech. we will be able to increase the percentage of sustainable raw materials used in polyurethane flexible foams. This is a very new project and we are very pleased to be working with Michigan Tech and Ford."
Nejad hopes, if successful, other auto manufacturers will also adopt using lignin-based foams in their vehicles in the future.
In addition to the project with Ford, Nejad's team is also working with Fortum, a lignin producer from Finland. Nejad's work with Fortum is focused on developing lignin-based polyurethane adhesives for engineered wood products and lignin-based polyurethane rigid foam for insulation applications.
The project involves using wheat straw oragosolv lignins to replace petroleum-based polyol in adhesives. Presently, after harvested, wheat straw is burned. Nejad's team is able to obtain lignin from discarded wheat straw to create value-added products that will be used for cross laminated timber (CLT) applications and other engineered wood products.
Nejad's team have a patented technology in which they replaced 100% of the petroleum-based polyol with lignin and formulated a lignin-based polyurethane adhesive that contains more than 50% lignin on a weight basis, zero volatile organic content (VOC) and can be cured at room temperature. Initial cost analysis showed that the newly developed lignin-based adhesive would be five times cheaper than the adhesive currently used for CLT applications.
Going beyond cost benefits, replacing petroleum-based polyol greatly improves the fire performance.
"There was a study that showed replacing 2% of petroleum-based lignin significantly improved the flame retardancy. Imagine if we have a lignin-based polyurethane rigid foam with more than 50% of polyol replaced by lignin. That means flame retardancy and fire performance will be so good, you don't need to add any flame-retardant additives to the foam. The rigid foam is designed to be used as spray insulation for ceilings and walls. This increase in flame retardancy even by 15 minutes can save so many lives during a fire accident in a building. Our goal is to make sustainable greener foams that can also save lives by improved fire performance," said Nejad.
In her work with Ford Motor Company, Nejad is collaborating with Professor Xiefeng Xie at Michigan Tech.
Dr. Nejad's current graduate students working on these lignin-based projects at MSU are Mona Alinejad, Sasha Bell, Christian Henry, Akash Gondaliya, Saeid Nikafshar and Mohsen Siahkamari.