Local conservation issues tackled by couple through skills and knowledge gained in Michigan Conservation Stewards Program (CSP)
Find out how you can learn more about Michigan's ecosystems and apply your expertise to volunteer opportunities in your community
The Michigan Conservation Stewards Program (CSP) is a course designed for individuals interested in Michigan ecosystems and sharing this knowledge with others. Conservation Stewards practice community-based volunteer conservation management activities.
In 2018, a husband and wife duo completed CSP together in Washtenaw County. Husband Demos said, "This program has something for everyone. Whether you're an old retired fossil like me, or an undergrad yearning to get closer to nature, you shouldn't miss this."
Wife Patty's motivation to take the class stemmed from a desire to learn more about the natural wonders of Michigan. She said, "The Conservation Stewards Program accommodated my relative lack of scientific training. The only science class I have had since high school was a geology class in college nearly 50 years ago. The program also introduced me to many natural areas and organizations near me with whom I can volunteer."
Participation in CSP allowed each to make a significant contribution to conservation efforts in their local community. Each identified a project they wanted to work on as part of their capstone project, a requirement all participants have to complete as part of the program. Their experiences accelerated their desire to seek out additional training opportunities in their community to continue to build their knowledge and skills, and to get involved as volunteers for local conservation organizations.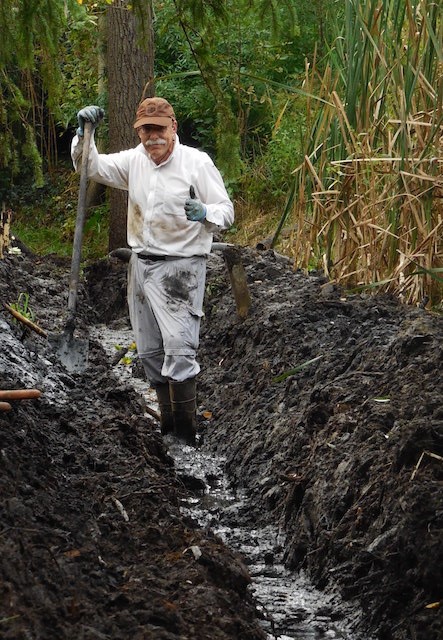 Demos' capstone project was entitled, "Helping the Huron: A Demonstration of Citizen Action," He worked with guidance from Jason Frenzel from the Huron River Watershed Council. Demos enlisted the help of Water Quality Specialist Catie Wytychak with the Washtenaw County Water Resources Commissioner's office. He also worked with Livingston County Drain Commissioner's office's Chief Deputy Drain Commissioner Kenneth Recker, and Brian Cenci, Stormwater Management Specialist with Eng, Inc. who consulted on the project. Together, they developed a special drain district to abate toxic runoff into the Huron River. His interest in this project began after noticing that a local drainage catchment pond within the Huron River Watershed was being impacted over time by increasing development. He noticed this pond was being overburdened to the point where it was becoming increasingly clogged, resulting in harmful stormwater runoff overflowing from the sediment catch basins and into the River, negatively impacting water quality.
His project ultimately led to the creation of a how-to guide on working with local governments to create a drainage district. His work helped to create a road map an ordinary person could follow to work through the complexities of governmental bureaucracies. Demos shared, "This new project will help to clean our river for decades. Without the Conservation Stewards Program, I never would have been able to get this done."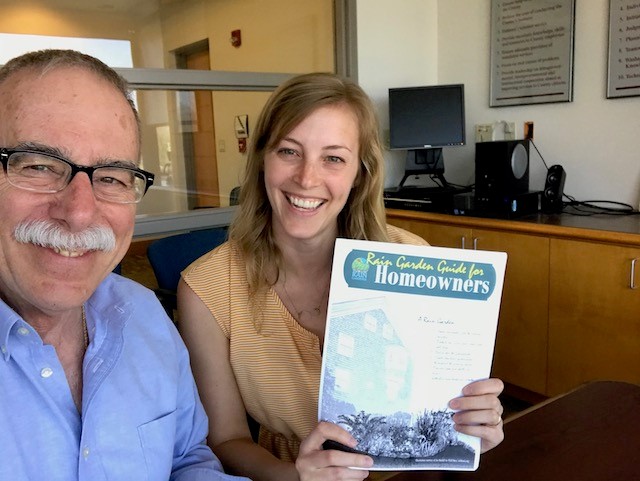 Patty's Capstone project, "Citizen Scientist Coyote Scat Collectors for Coexistence," was born out of her awareness of nearby neighbors' increasing concern regarding coyotes near Huron Meadows Metropark. She was interested in learning more about how humans and coyotes might be able to coexist in a more harmonious fashion. She researched methods for determining coyote density that a citizen scientist could employ. With the help of Ryan Colliton, the Director of Natural Resources at the Huron Clinton Metroparks, Dr. William Dodge, a wildlife biologist, and Michael Huntzinger, a citizen scientist, she enacted a procedure that any citizen scientist could employ to provide local land managers with useful information about the density of coyotes on the lands they manage.
Interested in becoming a Conservation Steward? Participants are asked to complete the following program requirements:
classroom and field-based trainings, as well as self-paced online learning

40 hours

volunteer service

(including an

in-class

volunteer

Capstone project)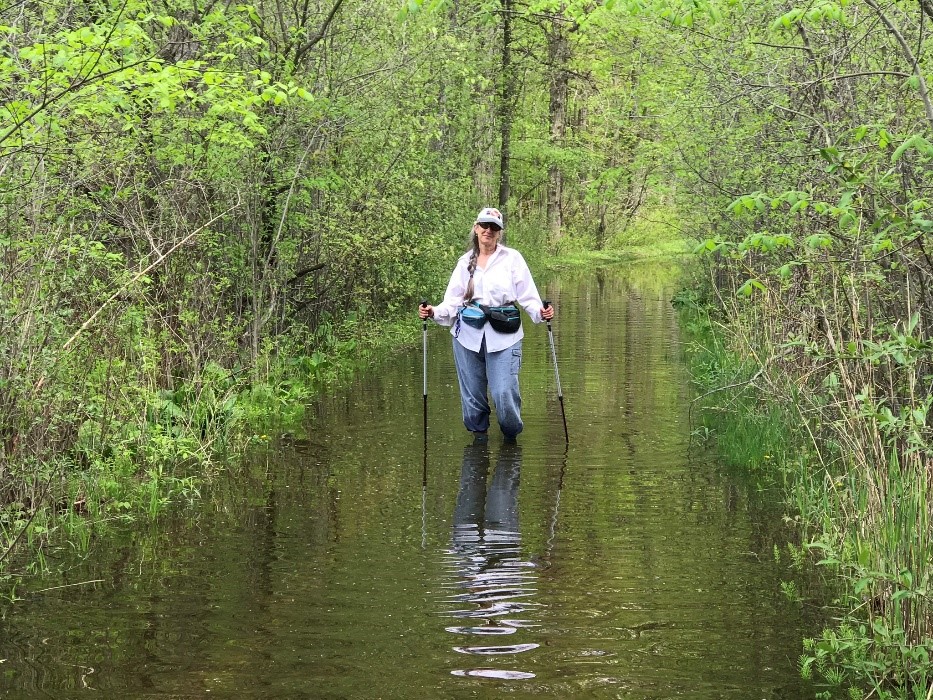 CSP will be offered in three locations this Fall:
Washtenaw County- September 4 – November 13, 2019 (evening classes held on Wednesdays)
Capital Area- September 10 – November 5, 2019 (evening classes held on Tuesdays)
Northern Michigan- September 10 – October 22, 2019 (evening classes held on Tuesdays)
Professional level instruction is provided by Michigan State University (MSU) Extension, Michigan Natural Features Inventory, Michigan Department of Natural Resources, as well as local conservation organizations. Sessions are offered in a variety of locations which highlight local natural areas. Registration fee is $250. Scholarships are available. Deadline to register is August 20, 2019.
Visit the CSP program page for complete program and registration details: https://www.canr.msu.edu/conservation_stewards_program/