Looking forward to a great summer on your lake? Get ready at the Michigan Inland Lakes Convention
Learn the latest information and skills April 28-30 in Boyne Falls.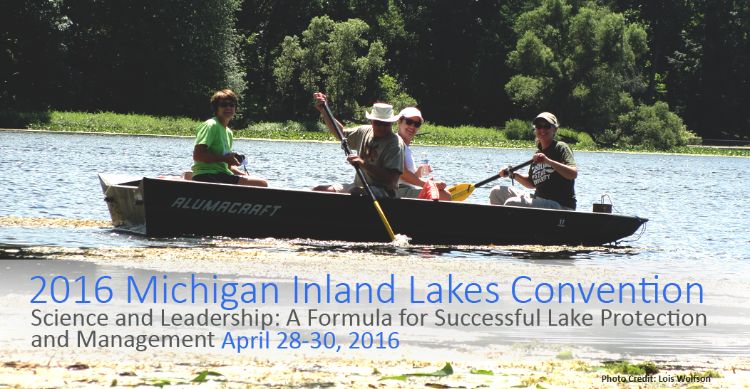 Spring is here, and summer is just around the corner. That means time for fun and relaxation on Michigan's beautiful inland lakes. To get the most of your lake experience, and to learn how you can help keep your lake healthy and enjoyable for generations to come, consider participating in the Michigan Inland Lakes Convention, April 28-30, at Boyne Mountain Resort in Boyne Falls.
Save time by registering online. Online registration for the Convention closes at 5 p.m. on April 21. Walk-in registrations are welcomed if space is available.
Are you interested in the fish and wildlife of Michigan's lakes? Take part in the Fish Ecology and Management workshop presented by biologists from the Michigan Department of Natural Resources, followed by an afternoon field trip to find and identify amphibians and reptiles in their natural habitats. On Friday and Saturday, select from a variety of sessions that match your interests, including how to protect shoreline habitat, the value of nearshore fish spawning habitat, and steps anglers and boaters can take to prevent the spread of invasive species. Stick around through Saturday to have a chance to win a fish finder or birding journal in the free door prize drawing.
Are you involved in making decisions about lake management for your community? Consider participating in the "Lake and Wetland Protection Tools for Local Government" workshop, or learn how you can collect valuable water quality data as a volunteer in the Cooperative Lakes Monitoring Program. Sit in on a Q&A session on riparian rights and water law. Learn from top scientists about what impacts a changing climate may have on lakes in your region. Take advantage of opportunities to talk with professional lake managers about the latest options for lake restoration and nuisance plant control during their presentations and during networking time with exhibitors.
Do you want to improve your ability to communicate about lake issues with your neighbors and within your community? If so, you will want to hear the presentation by Michigan Radio's Rebecca Williams, of The Environment Report, on ways to share your passion and communicate science without putting people to sleep. Share your love of your lake by honing your photography skills in a half-day workshop. Learn how to help your association or community work through conflict with an expert from Michigan State University Extension.
The Michigan Inland Lakes Convention is brought to you by the Michigan Inland Lakes Partnership, a coalition of organizations and agencies, including Michigan State University Extension, working together to promote stewardship of our lakes. Lead financial sponsors of the 2016 Convention include the Michigan Department of Environmental Quality, the Michigan Department of Natural Resources, Michigan Lake and Stream Associations, Inc., Progressive AE, Restorative Lake Sciences, and Vertex Water Features. Questions about the Convention or the Partnership can be directed to me at latimor1@msu.edu or 517-432-1491.