AgBioResearch Scientist Honored for Contributions to Entomology
Decades of outstanding research and dedication to the field of entomology have netted MAES scientist Edward "Ned" Walker a top national award.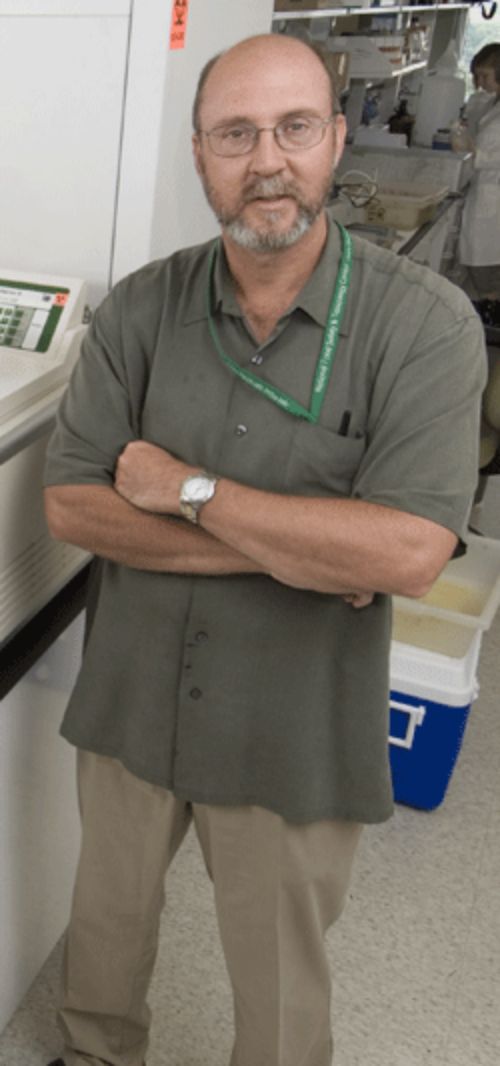 Decades of outstanding research and dedication to the field of entomology have netted MAES scientist Edward "Ned" Walker a top national award.
Walker received the 2009 Founders' Memorial Award from the Entomological Society of America (ESA) at its annual meeting on Dec. 13. Established in 1958, the award -- ESA's most prestigious -- honors scientists whose lives and careers have enhanced entomology as a profession and who have made significant contributions to the field. Walker, a medical entomologist and microbiology and molecular genetics scientist, was honored for his research on how infectious diseases such as malaria, West Nile viral encephalitis and Lyme disease pass from mosquitoes to people.
The recipient of the Founders' Award addresses conferees during the opening plenary session to honor the memory and career of an outstanding entomologist. Walker spoke about the contributions and legacy of George B. Craig, Jr., an entomology researcher at the University of Notre Dame, who pioneered studies on genetic methods for the control of Aedes aegypti ? an invasive mosquito species that transmits dengue fever and yellow fever to humans -- and for whom Walker worked as a postdoctoral student before coming to MSU in 1986.
"Craig's research, which spanned almost 40 years, revealed much about the challenges faced in trying to control and reduce the incidence of disease transmission by mosquitoes," Walker said. "Today, those who work at the molecular level are trying to reinvent and reapply his ideas, and they are running into the same issues he did, which is that it?s a complex problem that doesn't, even with better tools, readily resolve itself."
Walker also spoke about how Craig?s career demonstrated the importance of accommodating both tradition and transition during the course of a single career.
"Craig was a transitional figure in the entomology field in this regard," Walker said. "He was very traditional, but his career was so long that he worked through several transitions in both practice and methodology. When significant changes occur, such as the arrival of molecular biology or even computers, it?s important to figure out how to accommodate both tradition and transition as new opportunities and scenarios arise. The young people in the field need to be aware of these transitions."
In recent years, Walker?s research has focused on malaria control in Kenya ? coincidentally, the same country where Craig worked on controlling A. aegypti. According to statistics from the World Health Organization, malaria kills approximately 3,000 children in Africa each day.
"We're studying how insecticide-treated bed nets can disrupt the population dynamics of the parasite that causes malaria, as well as the mosquito, Anopheles gambiae, that transmits the parasite," he said. "Bed nets are an inexpensive, easy-to-use method to control the disease, and they cost only about $10 apiece to get into the homes of users. This research is international in scope and will help us help people ? a key aspect of MSU?s land-grant principles."
"We are very pleased to see Ned recognized for his outstanding research and leadership," said MAES associate director John Baker. "He is a testament to the high caliber of researchers with whom we are privileged to work. His participation in ESA increases the credibility and visibility of the innovative, leading-edge research conducted by MAES and MSU."
An ESA member since 1978, Walker said he feels honored to have been selected for the award.
"I never thought that I would be in line to be nominated for, much less offered, this award, so I was very humbled when I received notification of the honor," he said.