Mapping the Cause of Tropical Disease Improves Lives
An MSU AgBioResearch geographer reaches around the world to help eradicate a disease and bring measurable improvements to the lives of the poorest people of Africa.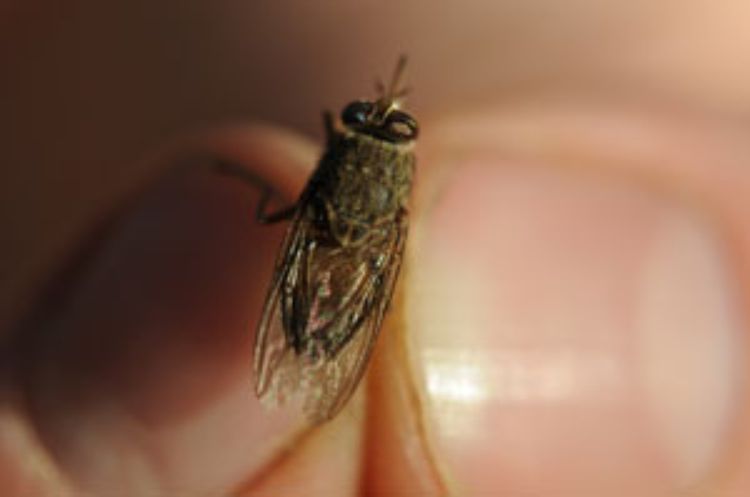 MSU AgBioResearch geographer Joseph Messina calls it a eureka project – a wow!
Messina, who specializes in disease ecology, land use modeling and spatial sciences, and an interdisciplinary team of MSU researchers developed ecological modeling and control strategies for a disease called African trypanosomiasis, or sleeping sickness, in Kenya.
"We came up with results that can make a difference in people's lives," he said. "This is something that we could immediately expand over all of East Africa and eventually into southern and West Africa. The science behind it is much more cost effective than any other protocol that people have come up with."
African trypanosomiasis is spread by tsetse flies and occurs in both humans and livestock. Despite public health campaigns to control the tsetse fly and stop human and animal infections, successful eradication has remained out of reach.
"It is a neglected tropical disease and is lethal if left untreated," Messina said. "Even the treatments are risky."
In regions where the disease is present, livestock productivity decreases substantially, costing livestock producers and consumers in sub-Saharan Africa an estimated $4.5 billion annually, according to the Food and Agriculture Organization of the United Nations. Efforts to control the disease have been hampered by a lack of information about where the flies are and the high costs associated with controlling infested areas.
Messina was inspired to use climate and land cover data to model tsetse fly distributions after attending a workshop in Nairobi, Kenya, four years ago that discussed various diseases in Africa that needed solutions.


Although sleeping sickness is a problem in most of Africa, Messina chose to work first in Kenya because the country is relatively developed and has a history of research and established partners who could collaborate on the project. In addition, tsetse flies are estimated to inhabit more than a third of Kenya, and climate change and human activities have modified the environment for tsetse flies in ways that current ecological models fail to capture.
Messina and the other researchers constructed the tsetse ecological distribution model using many new technologies, such as satellite-based imagery, remote sensing and spatial models. These data were combined in a dynamic simulation model that predicts fly movement in space and time.
"We did not have the technology or the data to do this 10 years ago," Messina said. "The old maps predicted where the tsetse flies might be. We are able to predict where they are every 16 days over the whole country."
Messina hopes to effectively marry climate projections with the spatial simulation modules, and then predict where the tsetse flies will be before they ever get there.
"We can put the traps in place before the first fly ever shows up and kill off an epidemic before it happens," he said.
The research was recently featured in a publication of the National Institutes of Health called Inside Life Science and on the Web site LiveScience.
Four weather stations located in strategic locations in the Great Rift Valley of southern Kenya are adding to the success of the project. The stations give information on the moisture content of the soil as well as minimum and maximum temperatures. This helps to localize the information and provides more specifics about where the tsetse flies may be.
The reason that Messina is so interested in expanding the project to other countries is that the 37 sub-Saharan African countries infested with tsetse flies are home to about 70 million people with exposure risk.
Though all of this is happening in a faraway place, Messina believes the project has value for Americans, especially from a national security standpoint.
"Unrest in many locations is often the product of food or economic instabilities," he said. "If we can reduce one source of the instabilities by wiping out or reducing sleeping sickness, the people are going to do better. They can sell that cow and have better lives, instead of losing the animal or their own lives to the disease. If we are successful, we are going to see a meaningful, measurable improvement in the lives of the poorest people of Africa, and it also will bring improvements in economic stability to these countries."