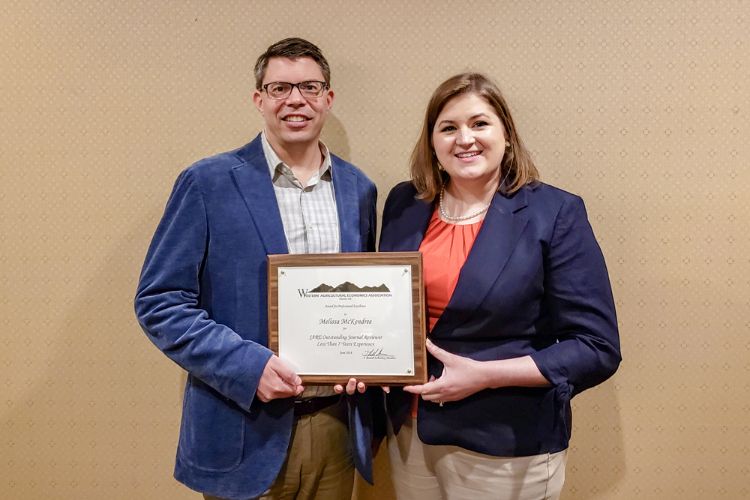 Department of Agricultural, Food, and Resource Economics (AFRE) assistant professor Melissa McKendree has been awarded an Outstanding JARE Reviewer Award from the Western Agricultural Economics Association (WAEA) and the Journal of Agricultural and Resource Economics (JARE). McKendree received the award and was recognized at the 2018 WAEA Annual Meeting in Anchorage Alaska, on June 26.
"I was shocked and honored," said McKendree. "Reviewing academic journal articles is a common activity in academia, but due to the often double blind review process, reviewers are not recognized and you think your efforts go unnoticed, so it's incredible to be recognized for doing a thorough job."
The Outstanding Reviewer award recognizes excellent reviewers of the Journal of Agricultural and Resource Economics, selected by the JARE editors, and recognized at the annual WAEA meeting.
"This award speaks to Melissa's overall work ethic and collaborative nature," said AFRE faculty member and colleague of McKendree's, David Ortega. "She is a rising scholar in our profession and this award reflects her commitment to improving the quality of research in our field. She is well-deserving of this recognition."
Instead of racing through reviews like just another mundane task, McKendree takes a more focused approach. "Overall, I am a very thorough person," said McKendree. "Therefore, my reviews are likely more complete than most and I try to provide constructive feedback, including points I like and areas to improve."
Article review is an important part of the research process in academia, and the JARE and WAEA take this opportunity every year to acknowledge the hard work put into good reviews.
"If we all work together and do a good job, the entire industry will benefit from faster-paced, better quality research coming out," said McKendree.
WAEA is a nonprofit organization made up of members who study agricultural economics and its application to problems in the western United States and Canada. Their annual meeting is held to honor the year's award recipients and bring researchers together to collaborate and present their work.