Michigan grape scouting report – June 24, 2020
Grape bloom has started in northern Michigan. Summer insect and disease management programs are starting in southern Michigan.
Weather
The past week has been hot. Southwestern Michigan had highs in the 80s and low 90s. Southeastern and northern Michigan were 5 to 10 degrees cooler, respectively. A cold front brought a half inch to an inch of rain to most of the state on Monday and Tuesday and cooler air with highs in the 60s and 70s continuing through Thursday. Highs in the 80s will return by the weekend. Most of the state will see a decent chance of rain on Saturday into Sunday.
With the hot week, we picked up a lot of growing degree days (GDD) last week: 185-215 GDD base 42, and 130-160 GDD base 50. The southwest region is 405 GDD base 42 and 285 GDD base 50 ahead of the northwest region.
Northwest Michigan GDD summary from March 1 - June 22 2020

Northwest stations

GDD 42 F

GDD 45 F

GDD 50 F

Petoskey (Petoskey)

857

700

481

Traverse City (NWMHRC)

945

777

543

Old Mission (Old Mission)

890

726

500

Average for the NW region

920

754

522

Average last week

737

591

394
Southwest Michigan GDD summary from March 1 - June 22, 2020 and Southeast Michigan GDD summary from March 1 - June 22, 2020

South region stations

GDD 42 F

GDD 45 F

GDD 50 F

Benton Harbor (SWMREC)

1347

1134

825

Lawton (Lawton)

1346

1129

817

Fennville (TNRC)

1212

1006

711

Average for the SW region

1327

1113

805

Average last week

1111

919

646

Romeo (Romeo)

1225

1017

722

Average for the SE region

1251

1041

743

Average last week

1042

853

590
Vine growth
Early hybrid varieties and juice grapes in southwestern counties are at buckshot berry. Vinifera grapes are finishing bloom. Some growers have begun early leaf removal on some vinifera varieties.
In northern vineyards, most vinifera are in bloom. See this chart for grape growth stages.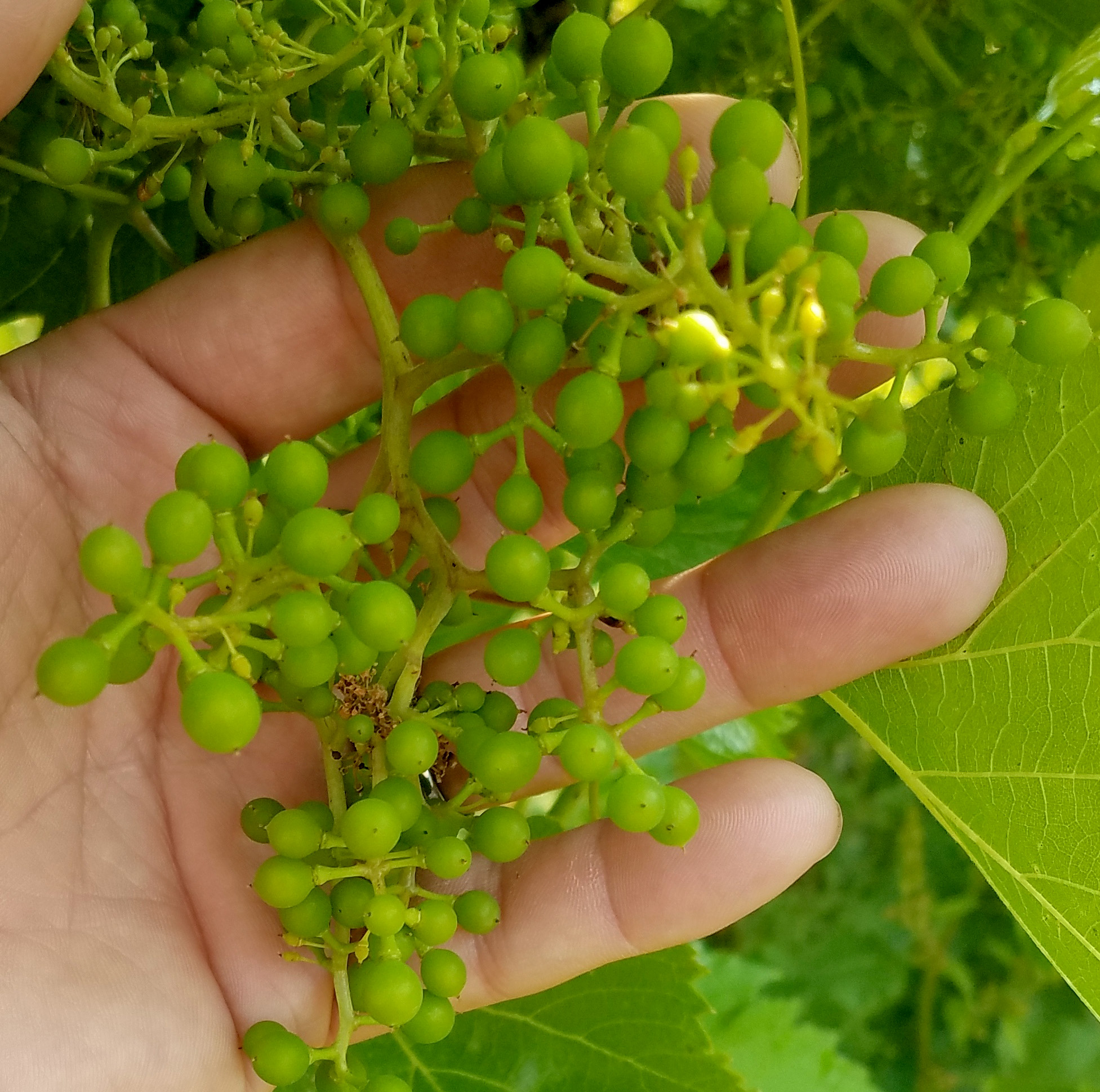 Diseases
At bloom, choose fungicides that control downy mildew, phomopsis, powdery mildew and black rot. These diseases all infect new green tissue as it is exposed. Protecting clusters from downy mildew, powdery mildew and black rot is critical at this time. With rains from Monday and Tuesday the infection risk is high, and more is expected this coming Saturday and Sunday. The first few fungicide applications until three weeks post-bloom are the most important.
Phomopsis is still an issue in vineyards and damage on canes and leaves has been reported by several scouts around the state. For phomopsis on canes, look for necrotic lesions that are dark brown to black. On leaves, look for small spots with small chlorotic yellow halos. Black rot has been seen at the Clarksville Research Center in hybrid grapes and at Michigan State University's Plant Pathology Farm in East Lansing, Michigan.
Downy mildew has been seen on leaves and infesting clusters in southwestern areas. Downy mildew can cause fruit infection and late season defoliation. During this time of year, we are most concerned with fruit infection and sprays should be timed prior to bloom and at bloom for optimal control. Fungicides applied more than one week post bloom will help protect against defoliation but have limited control over fruit infections. Systemic fungicides for downy mildew include QoI-fungicides (FRAC 11 a component of Tanos), QiI-fungicides (e.g., Ranman/FRAC 21) phosphonates (e.g., Phostrol/FRAC P07), CAA-fungicides (e.g., Revus/FRAC 40) and QoSI-fungicides (FRAC 45 a component of Zampro). Other contact materials (e.g., Captan, oils and copper-based products) and biological fungicides (e.g., Lifegard and Stargus) also have efficacy on downy mildew.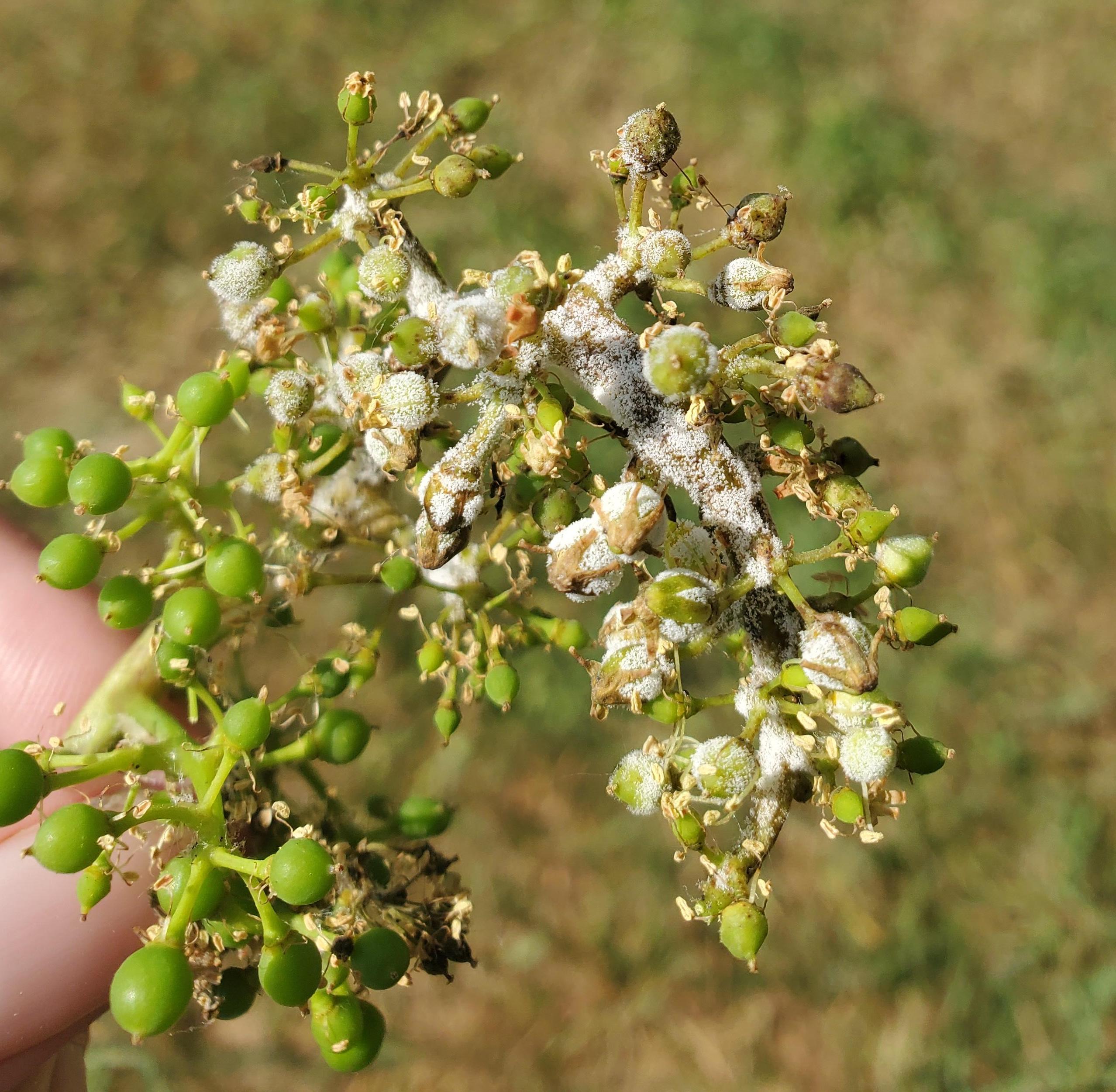 While the MSU grape team hasn't spotted powdery mildew yet this year, powdery mildew is a major concern in warm, humid weather. Infection can occur at temperatures from 59 to 90 degrees Fahrenheit, but 68 to 77 F are optimal. Unlike the other fungal diseases listed above, powdery mildew doesn't need leaf wetness to infect, just humid conditions. Even if the ambient humidity is low, in the shaded canopy it is likely higher. Opening up the grape canopy to air movement helps reduce powdery mildew while also allowing better spray penetration. Shoot positioning and cluster zone leaf removal can help once bloom has finished.
Chemical products are also important tools for managing powdery mildew. Some of these include demethylation inhibitors (FRAC 3), succinate dehydrogenase inhibitors (FRAC 7), quinone outside inhibitors (FRAC 11), quinolines (FRAC 13), phenyl acetamide (FRAC U6) and benzophenone (FRAC 50). Also, biologicals and contact materials like sulfur show efficacy against powdery mildew if applied before the infection occurs. Growers of hybrids vines should be cautious using sulfur (e.g., Microthiol Disperss) but for V. vinifera growers it can be a great resistance management tool. Juice grape growers should avoid sulfur due to phytotoxicity (especially Concord grapes).
To reduce the development of resistance with systemic fungicides:
Do not make more than two applications per season of the same FRAC code.
Do not make two consecutive applications of the same FRAC code.
Rotate with unrelated fungicides in a different FRAC code that have efficacy on the target pathogen.
Include a contact multisite fungicide into a program (e.g., Sulfur, Captan, oils or biological fungicides).
For an overview on the general diseases and management options, see early season vineyard disease management and the importance of bloom applications. A complete list of fungicides for all these diseases with efficacy and other details can be found in the E154 Michigan Fruit Management Guide from Michigan State University Extension. Check the guide for potential phytotoxicity of certain sprays on Concord grapes especially (this has been particularly noted for fungicides like Revus Top). Phytotoxicity risk is higher with high temperatures and quickly growing vines.
Insects
Note: Scout thoroughly before assuming insects are an economic problem.
Grape berry moth catches are up sharply this year in southwest Michigan. Spraying for this first generation is generally not recommended because the populations are low. However, growers that had a difficult time managing grape berry moth last year should be scouting their vineyards to look for larvae in clusters. Several sites in southwest Michigan already have larvae feeding in the clusters, some with multiple larvae per cluster. At sites like this, growers might think of adding an insecticide with one of their post-bloom sprays. If you had a difficult time with grape berry moth last year or are seeing high levels of cluster infestation already, contact your local Extension educator to discuss whether an early management program is right for you.
Grape berry moth scouting can also be used to prepare for the later spray timings for generations two and three in July and August. Wild grape bloom is used as biofix for the grape berry moth model predicting timing for these applications. This biofix is recorded as 50% of the clusters on wild grape are at 50% bloom. For 2020, approximate wild grape bloom dates are June 2 in Berrien County, June 4 in Van Buren County, June 5 in Allegan County and June 11 in Ottawa County. The date can be entered into the grape berry moth model in Enviroweather to predict when egglaying will start for the second generation of berry moth.
Rose chafer and potato leafhopper have both been reported in southern and northern vineyards. Rose chafers can be found feeding on leaves and young clusters. Potato leafhoppers feed on leaves. Some sensitive grape varieties can get yellowed and cupped leaves, and stunted growth in young vines. Most mature vines are very tolerant of their damage and control isn't often warranted. Treatment recommendations for these insects can be found in the MSU Fruit Pest Management Guide (E154).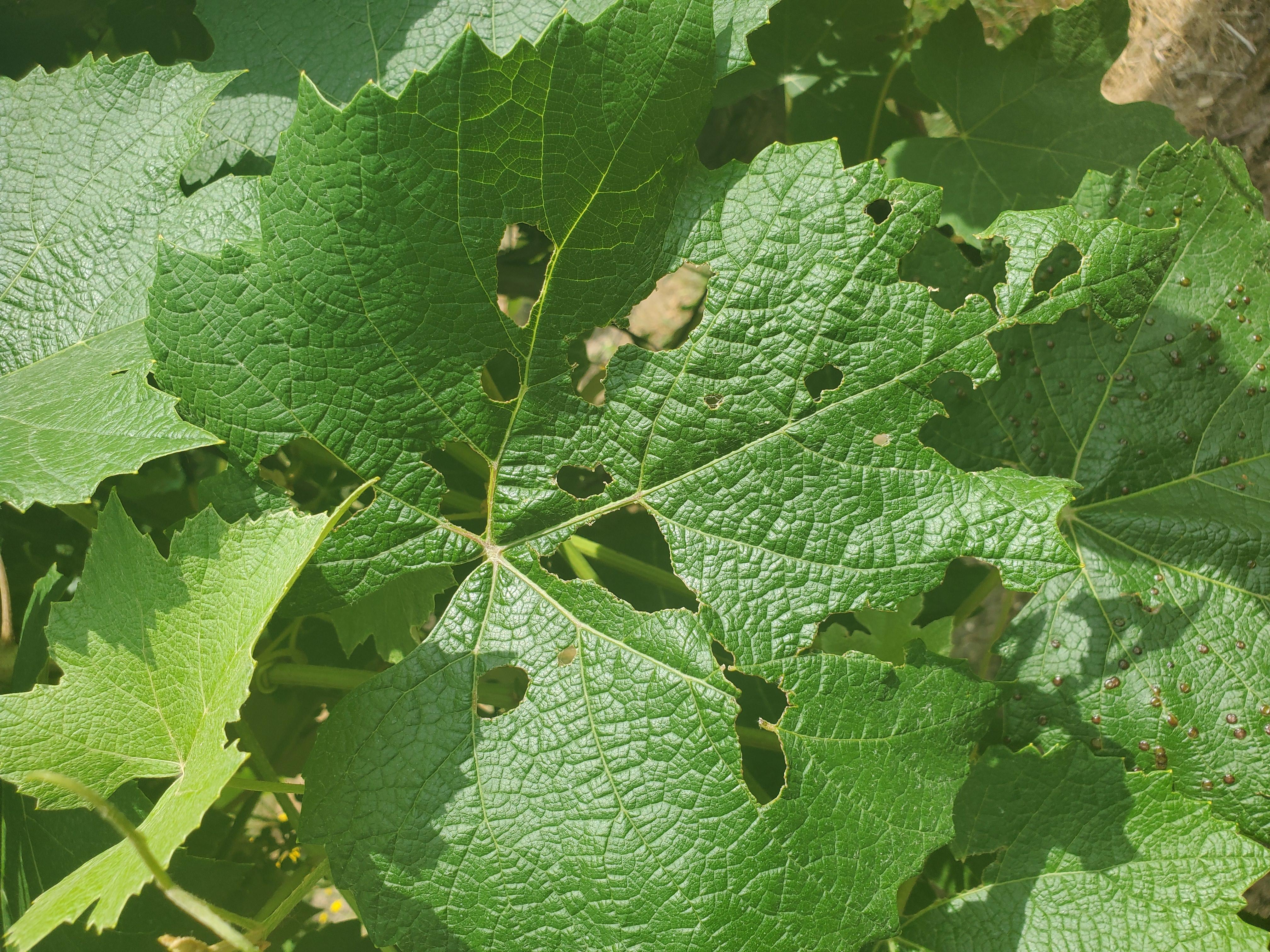 Japanese beetles have been seen on grapes at the MSU Plant Pathology Farm in East Lansing. They feed on leaves, causing a lacelike skeleton on heavily damaged leaves. Since they usually do not feed directly on clusters, they are generally only considered a pest of new vineyards where vines are more sensitive to leaf feeding.
Tumid gallmaker symptoms have been apparent in southern Michigan for a couple of weeks. It is now becoming more noticeable at sites in northern regions. Some emergence has been seen in these galls in southern Berrien County. They are more common in hybrids, but have also been found in Concord in Berrien and Van Buren counties. For small vineyards, hand picking and removing infestations before the flies have emerged can be an effective management technique.
Grape erinium mite has been observed on young leaves at a few vineyards in the Traverse City, Michigan, area. Established infestations are moving slowly onto the new leaves. These mites rarely reach economic infestation levels, but can be confused with disease symptoms. Grape plume moth larvae have also been found on Old Mission Peninsula. These light yellow, hairy caterpillars fold leaves and create webbing between leaves and stems. Grape plume moths are rarely an economic pest, but localized infestations can occur when near a lot of wild grape.
Upcoming meetings
Our grower meetings have moved online. We are using Zoom for our meetings. Here is more information on Zoom.
In place of Viticulture Field Day, we are having Viticulture Field Week online. This will be a week of webinars from 12-1 p.m. during July 27-31. More information to come.
See also