Michigan grape scouting report – June 29, 2022
In southwest Michigan, a first-generation grape berry moth larva has been seen, while majority of clusters are in full bloom in northwest Michigan.
Weather
The weather is going to be around the mean experienced in July in the different Michigan AVAs. It will be mostly sunny with temperatures in the mid-80s to upper 70s F with a few chances of precipitation. The majority of the state will see a warm day on Thursday with highs in the mid-80s and low 90s.
On Friday and Saturday, temperatures will return to normal with a chance of scattered rain and T-showers in the north and Saturday in the south. No significant rain amounts are expected. Soils are drying out, especially in southern Michigan.
Last week was a warmer week than average in southeast and northwest Michigan, and southwest Michigan had cooler days and picked up an average of 151 GDD, 19 GDD less than the previous week. Southwest Michigan was the warmest grape growing region in Michigan, with an average of 162 GDD, 12 GDD more than the previous week.
Southwest Michigan GDD Summary from March 1 through June 27, 2022
Southeast Michigan GDD Summary from March 1 through June 27, 2022
Northwest Michigan GDD Summary from March 1 through June 27, 2022

Enviroweather station

Current GDD 50 F

GDD 50 F last week

Collected the past week

Benton Harbor (SWMREC)

1027

870

157

Fennville

910

768

142

Lawton

1030

873

157

SW Average

1010

859

151

Romeo

905

746

159

SE Average

962

800

162

Old Mission

684

550

134

Petoskey

645

515

130

Traverse City (NWMHRS)

724

582

129

NW Average

684

552

132
Vine growth
In southwest AVAs, wine grapes have finished blooming, and some late-blooming vinifera are nearing the end of their bloom. Early hybrid varieties such as Brianna (Photo 2) are at berry touch and mainly juice and hybrid grapes at buckshot berry and larger at the Southwest Michigan Research and Extension Center.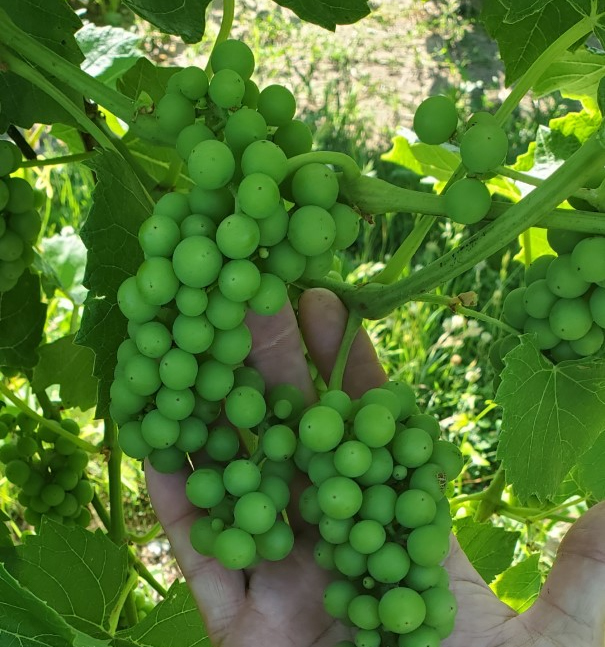 In northern Michigan, all the vinifera wine grapes are in full bloom or close to finishing. Clusters are still expanding, initial berries are distinguishable, and fruit set in early varieties such as Chardonnay, Cabernet Franc, and Pinot noir is beginning (Photo 3). For the majority of vinifera cultivars, the shoots have already reached the top wire (Photo 1). In the Tip of the Mitt AVA, most hybrid cultivars are at the fruit set stage and cap fall is just about to be completed (Photo 4), while flowering is beginning for vinifera cultivars.
See this chart for grape growth stages.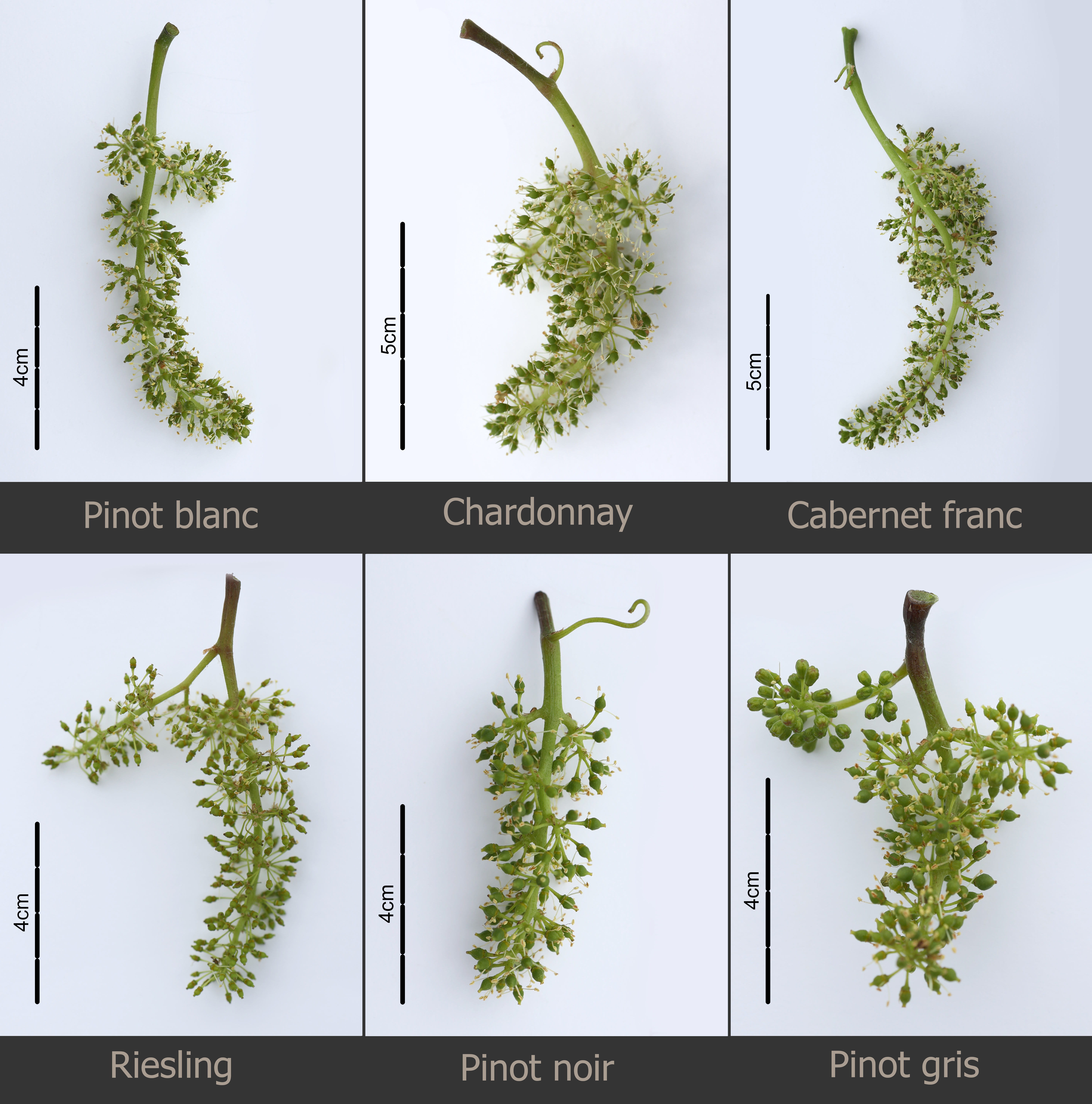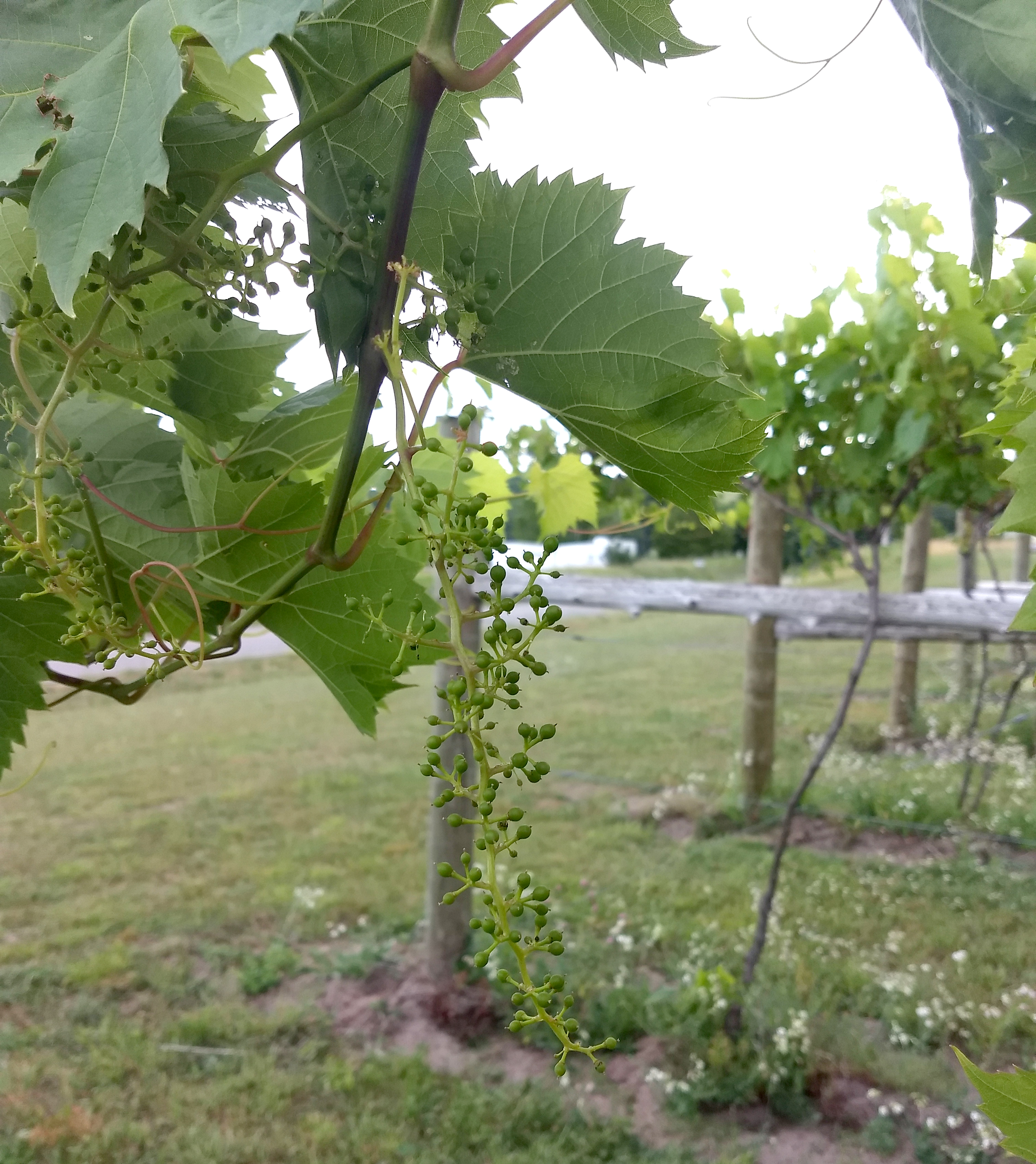 Horticulture
At this time of the season, shoot thinning should be completed throughout Michigan as well as suckering and trunk cleaning (removing extra shoots from the trunk that can emerge from buds hidden beneath the bark or from the rootstock). Suckering is an important early season operation and also fully mechanized for several grape growers.
Early leaf removal (Photo 5) continues to be performed in most Michigan vineyards, almost complete in southwest Michigan and ongoing in all the other AVAs. In brief, early leaf removal is the removal of basal leaves from main shoots and lateral shoots developed from basal nodes and performed between bloom and fruit set as an effective way to control yield, cluster compactness, cluster rot and harvest, and improve overall fruit quality (Photo 5). See this article on Early Season Vineyard Management for more information on leaf removal.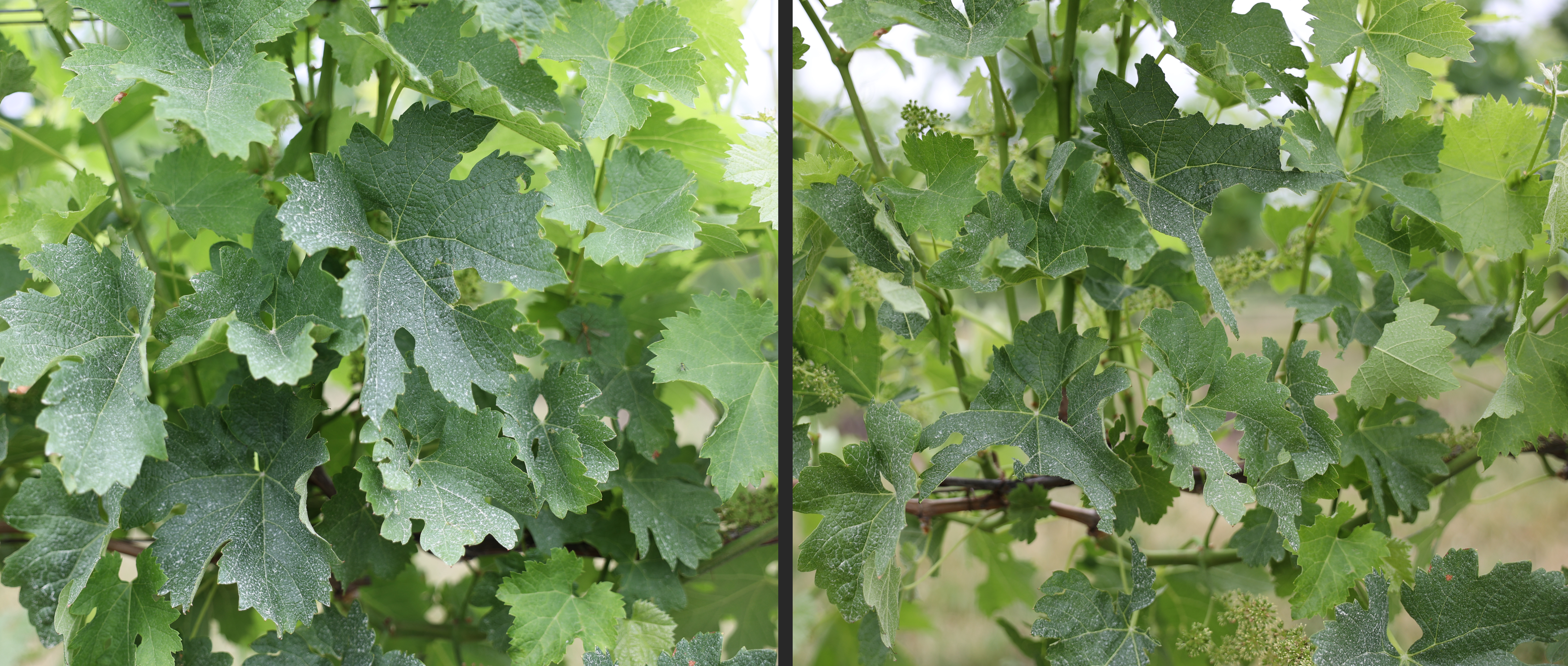 Diseases
This week, most of the grape-growing areas have been relatively dry with mild airflow. Disease pressure has remained low and only in the southwest. In some spots, black rot has been observed.
At this time of year, the disease focus is on phomopsis, black rot, anthracnose and powdery mildew. For more information on pre bloom fungicide options and the impacts of rain on disease spread, check out this previous grape scouting report or this article on early season disease management. This week some growers have been finding sparse downy mildew and downy mildew infections on flower clusters in vineyards.
As bloom continues in the northwest Michigan and gets close to finishing in southwest Michigan, early season viticultural practices must be considered. This is because the practices can significantly reduce canopy wetness and increase airflow, consequently reducing disease pressure later in the season.
In this growing stage, consider choosing fungicides that control all the fruit diseases. For example, with downy mildew we are most concerned with fruit infection at this time and sprays should be timed prior to bloom and at bloom for optimal control. Downy mildew is caused by a fungal-like organism, so many site-specific systemic fungicides that target other spring diseases do not work on downy mildew. Effective fungicides for downy mildew include products in FRAC codes 4, 11, 21, 40 and 45 as well as phosphorus acid salts and some biologically-based products.
Except for powdery mildew, these spring disease infections typically require rain events. It only takes 0.1 inches of rain above 50 degrees Fahrenheit to trigger a possible infection. Viticultural practices that reduce canopy wetness such as good irrigation timing, leaf removal and good weed management can reduce many of these diseases in a vineyard. Typically, DMIs (FRAC 3), captan and EBDCs (FRAC M3) are effective for phomopsis, black rot, and anthracnose.
Insects
Southwest Michigan continues to have a larger flight of the grape berry moth (GBM). On average, 70 moths were caught in monitoring traps over the past week, which is down from last week indicating the end of the first flight. Berry damage from larval feeding is beginning to become visible on clusters at some high pressure farms (Photo 6). Many locations in the southwest Michigan grape growing region will reach 810 GDD this weekend, based on a 5/28 date for 50% wild grape bloom which will mark the start of egg laying. Growers must plan for a lengthy period of protection from the second generation, as egglaying by this pest continues through July. In the high-pressure sites, additional sprays after the spray at biofix will be needed to keep coverage intact and infestations in check.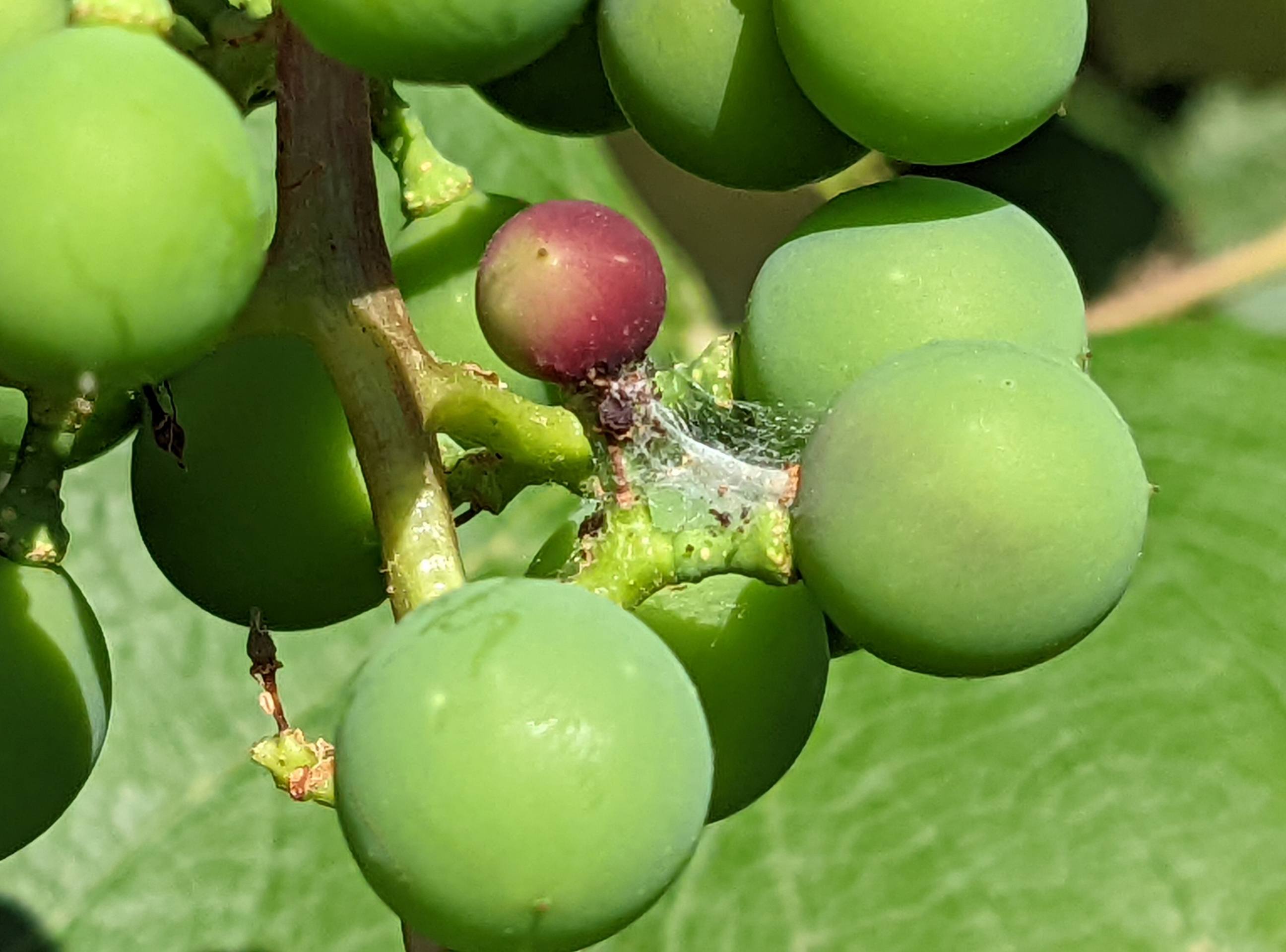 Some thrips damage is also appearing now on berries from feeding on clusters earlier in the season. As soon as fruit-set occurs, thrips can damage very young berries. Later, the scars may inhibit berry growth, resulting in berries with unusual shapes or scars.
Emmet County has reported a medium to large population of rose chafers this week. Feeding rose chafers can damage the leaves, flowers, and buds of grape, blueberry, raspberry, blackberry, and strawberry plants. Because adults can consume large amounts of plant tissue, the rose chafer beetle has the potential to harm Michigan's small fruit crops. This light tan beetle with a darker brown head and long legs emerges in June and has been observed feeding on most small fruit and tree fruit crops recently. Sightings of these insects have increased in recent weeks throughout Michigan's fruit-growing regions, and growers should be especially cautious if they have crops on sandy soils, where this pest is more common.
Tumid gallmaker and grape cane gallmaker infestation is also more evident now in some isolated spots in southwest Michigan. Once the galls are developed it is too late to control these, so if they are at economic levels, put a note in your calendar for June 1, 2023, to keep a close eye on the hotspots for pest activity next spring.
Upcoming events
The Southwest Michigan Viticulture Field Day will return to the Southwest Michigan Research and Extension Center for 2022. As tradition holds, the event will be the last Wednesday of July (July 27, 2022) and will include presentations of ongoing research in southwest Michigan. The event will once again conclude with a steak dinner and local wine tasting. Registration for the Viticulture Field Day is online through the Michigan Grape Society's website.
Register for Dirt to Glass 2022: Elevating Michigan Wine from the Ground Up. Michigan State University Extension is hosting a new conference for the Michigan grape and wine industry. Dirt to Glass 2022: Elevating Michigan Wine from the Ground Up is the first ever of its kind in Michigan and this year it will take place in Traverse City on August 25-26. This year's Dirt to Glass conference will focus on soil health, soil identification and soil fertility. Each year, the conference chooses a specific area of study based on the results of an annual educational needs assessment survey. Registration by July 10 is required.
Tile Drainage Field Day 2022. Linking Soil Health, Nutrient Management, and Water Management for Improved Water Quality. The event will be hold on Thursday, Aug 25, 2022 at 13000 Bird Lake Rd., Camden, MI 49232
Related articles
---
This work is supported by the Crop Protection and Pest Management Program [grant no 2021-70006-35450] from the USDA National Institute of Food and Agriculture.