Michigan State University creating tools to train veterinarians in honey bee medicine
MSU Department of Entomology's Meghan Milbrath, Ph.D., was awarded a $250,000 grant to create training and tools for veterinarians to increase access to care for beekeepers.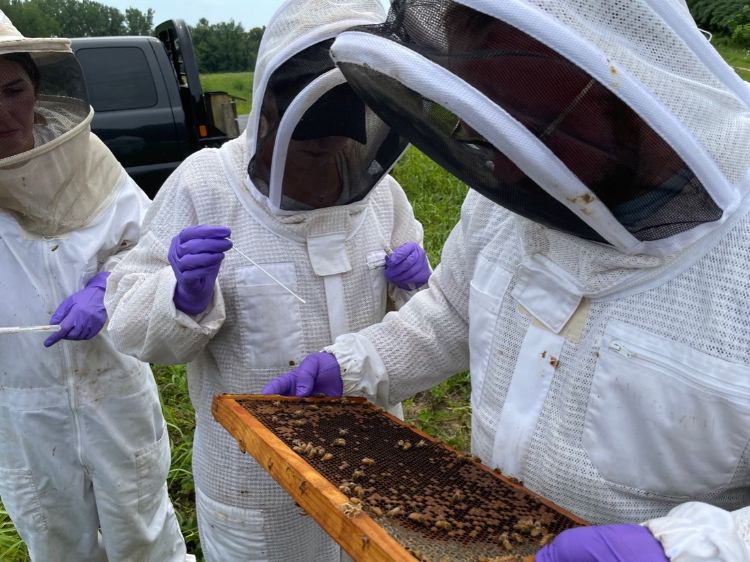 Meghan Milbrath, Ph.D. , of the Michigan State University (MSU) Department of Entomology, was awarded $250,000 through an Education Extension and Training grant as part of the U.S. Department of Agriculture National Institute of Food and Agriculture's Veterinary Service Grants Program for the project 'Taking the sting out of honey bee medicine: Training and tools for veterinarians to increase access to care for beekeepers.'
Working with the University of Florida and Texas A&M University, the multi-state project focuses on improving educational materials and training for veterinarians, veterinary technicians, and veterinary students in honey bee medicine and is part of a larger initiative to develop certifications in honey bee medicine. Also on the grant is Ana Heck, MSU Extension educator for apiculture, who will be leading hands-on training sessions, as well as assisting in the creation of an online course.
"Veterinary care is often essential to maintain commercial honey bee hives, but honey bee health has not traditionally been part of veterinary training," said Hannah Burrack, MSU Department of Entomology chair. "Dr. Milbrath is using her deep expertise in honey bee health to develop innovative programs to build the capacity of veterinarians to be proactive partners with beekeepers. This partnership is critical for continued pollination services and food security."
In 2017, changes in the federal code required that beekeepers receive an order from a veterinarian to access needed honey bee medications – treatments that used to be directly available from bee supply companies.
According to Milbrath, "It was designed mainly for pork and poultry producers, but bees and aquaculture got caught up in it because they technically fit the definition. Bees are more like dairy cattle than any other animal, because you have herds and you move them around, and you feed them different diets when you need them to produce food for you."
"Real commercial beekeeping is migratory. For example, beekeepers who are based in Michigan bring their bees to California for almonds in February, then they go back down south to Georgia or Florida for citrus, then they bring them up to Michigan for blueberries, apples and cherries. And then they go to a honey production yard and make honey. So, they're constantly getting trucked around," Milbrath explained.
Honey bees, like other animals, can be affected by viral, fungal, and bacterial diseases, but finding good care can often be difficult, as honey bee medicine is not covered by most standard veterinary schools. Trained veterinarians are needed to provide access to needed antibiotics, but in time can also help to address other issues with the bee crises, including optimizing nutrition, and managing parasites.
MSU already leads the way in training future veterinarians in honey bee medicine. Since 2018, Milbrath has instructed a three-week rotation in honey bee health for veterinary students in the MSU College of Veterinary Medicine (CVM), and she is the faculty advisor to the CVM honey bee medicine student club. Milbrath sits on the education committee of the Honey Bee Veterinary Consortium, and MSU hosted its virtual and in-person conference of veterinarians in August 2022.