Michigan State University to celebrate Agriculture and Natural Resources Month
March is Agriculture and Natural Resources (ANR) Month at Michigan State University. ANR Month (formerly ANR Week) has served as a platform for enterprising new developments in agriculture and natural resources in Michigan since 1914.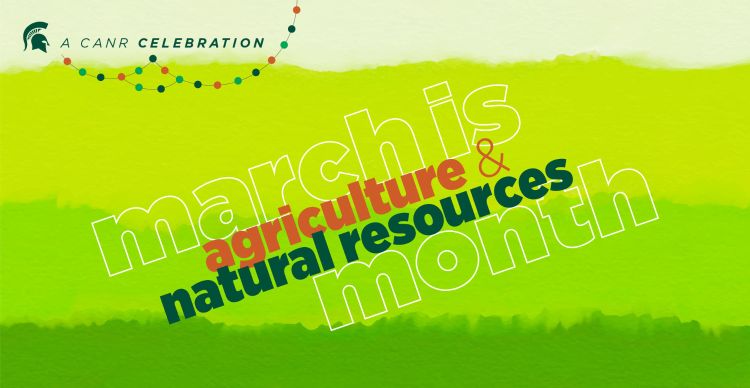 EAST LANSING, Mich. – Michigan State University (MSU) will celebrate Michigan's impact and contributions to agriculture and natural resources during Agriculture and Natural Resources (ANR) Month.
Jointly sponsored by the MSU College of Agriculture and Natural Resources (CANR), MSU AgBioResearch and MSU Extension, a series of events will be offered throughout March. In prioritizing the health and safety of our faculty, staff, students, and the public, each of these events will be held in an online format.
Event offerings include:
Quiet Adventures Symposium – Allows for both novice and experienced outdoor enthusiasts to learn about outdoor clubs, friends' groups, watershed protection activities, boat-building skills, outfitter services, and equipment suppliers. This symposium will take place over five evening sessions and culminates with a virtual concert by avid paddler and singer and songwriter Jerry Vandiver.
Michigan Chapter of the Soil and Water Conservation Society – At this virtual conference, attendees will discover practical and common-sense ways to measure and quantify changes in soil health on their farms.
Great Lakes Lavender Growers 6th Annual Meeting – The Great Lakes Lavender Growers organization highlights the best practices in lavender production. The virtual conference features keynote speakers, training for growing by providing production advice, networking opportunities, and creative marketing ideas to innovate your business. It is open to any level of lavender grower. There will also be a virtual lavender photo contest. Photo submissions may display Beauty on the Farm or Lavender Farmers Life.
Better Process Control School – The U.S. Food and Drug Administration has selected MSU as one of the authorized schools to present the Better Process Control School. Students who successfully complete this course will meet FDA certification requirements. This course is for supervisors in retort operations, processing systems operations, aseptic processing and packaging systems operations, and container closure inspections.
Great Lakes Food Webs, Invasive Species and Fisheries: An Interactive Conference – This virtual conference features three theme areas with three speakers per theme: Food Webs, Invasive Species, and Recovery of Great Lakes Whitefish and Cisco Fisheries. Participants will have ample opportunity to ask questions after the presentations. Sponsored by the MSU Department of Fisheries and Wildlife, MSU Institute of Water Research, Michigan Sea Grant Extension, and the Water Resources Division of the Michigan Department of Environment, Great Lakes, and Energy (EGLE), it is free to attend, but registration is required.
ANR Awards Program - Join us in celebrating our outstanding CANR faculty, partners and alumni! The ANR Awards recognize supporters of the MSU College of Agriculture and Natural Resources and those who have made outstanding contributions to Michigan agriculture and natural resources. The awards include the presentation of the 2021 CANR Distinguished Service Awards, Faculty Awards and the Alumni Association Awards. This event will be hosted virtually on Zoom
Give Green Day – The MSU day of giving, Give Green Day, provides an opportunity to make a difference to impact current and future Spartans. This is an opportunity for supporters to give back to support students.
Celebrating Intercultural Awareness – Intercultural CANR: Celebrating Global Perspectives is a panel discussion showcasing ways our researchers and their work makes a difference around the world. Open to the college, MSU and local communities.
CANR Keynote: Trust in Science – Cary Funk, Ph.D., Pew Research Center, kicks-off a year-long theme where CANR will explore the public trust in science.
ANR Month (formerly ANR Week) has served as a platform for enterprising new developments in agriculture and natural resources in Michigan since 1914. For over a century, attendees have networked, learned about new developments in their fields and looked toward solutions for the future.
For a complete list of events and times, visit https://www.canr.msu.edu/schedule.
For updates follow ANR Week on Twitter at @CANRatMSU using hashtag #ANRMonth.