Michigan vegetable crop report – May 26, 2021
Much needed rain arrived this week and cooling temperatures should allow more transplanting to occur this week.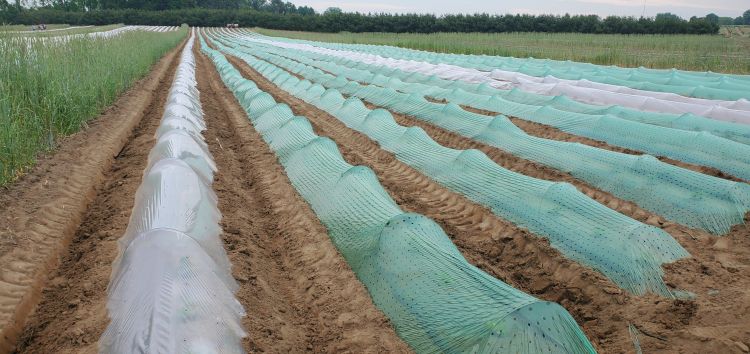 Weather
Watch Michigan State University state climatologist Jeff Andresen's weather forecast, or see highlights below.
An abnormally warm week racked up a lot of heat units over nights. A large and slow weather system should drop at least 0.25 inches of rain across most of the region today as it moves across the southern part of the state. The same system will be bringing in some cool weather for the rest of the week with overnight lows in the high 30s and low 40s.
Interior low-lying areas in the northern Lower Peninsula and Upper Peninsula may see freezing conditions again Thursday, Friday and Saturday mornings. Typical spring weather will return next Sunday with highs in the 70s and lows in the 50s through next week.
MSU's network of over 100 weather stations can be accessed at MSU Enviroweather.
There are several pest prediction models based on temperature accumulations at the new Enviroweather website: seed corn maggot, cabbage maggot, and European corn borer. Click on any of those pests to be taken to the model. Once there, change the Station to the one nearest you.
Crop updates
Asparagus
Common asparagus beetle was active again this week in some west Michigan fields, though as of early this week there have been no major reports of issues with beetle eggs. Carbaryl and acetamiprid (one-day PHI) are labelled for control. Asparagus beetle tends to hide out during cool weather, which is frustrating as this is just the time when control becomes easier to fit in!
As young fields get shut down, make sure you have an indemnified label for Dual Magnum on hand if you use this herbicide. To do this, visit Syngenta's website. Create an account tied to your farm, select Michigan as the state and choose Dual Magnum as the label. You can then print it for your spray records, and it will be tied to your farm through the Syngenta website.
As young fields fern out—and all hands are on deck as harvest continues—remember to make a cover spray of fungicides once cladophylls (leaves) begin to expand.
Carrots and celery
Aster leafhoppers have been present in larger than normal numbers in Allegan and Van Buren County celery, and were also present in an Oceana County carrot field visited Monday. Infectivity was 7% and 16%, respectively, for Allegan and Van Buren County celery samples taken May 17. For comparison, in 2020, infectivity did not exceed 7% until Aug. 10. Please contact Zsofia Szendrei at szendrei@msu.edu if you would like to receive text alerts on leafhopper infectivity. The text service that's used allows for texts to U.S. numbers only.
There are two common post-emergence herbicides that can go over the top of the carrots, celery and celeriac that offer weed control activity on both emerged and unemerged weeds. Caparol (prometryn) and Lorox (linuron) are similar chemistries and have comparable performance. They can be weak on some of the composite weeds like marestail, and knotweeds like ladysthumb. A complete efficacy table can be viewed through the Midwest Vegetable Production Guide.
Lorox can do more damage to celery, Caparol can do more damage to carrot. Celeriac can be more sensitive to it all, especially on mineral soils.
Cole crops
Imported cabbage worm eggs were visible at one west central farm this Tuesday, May 25, but no caterpillars were present. This is not an uncommon situation, so keep an eye on your cole crops but treat based on when caterpillars appear.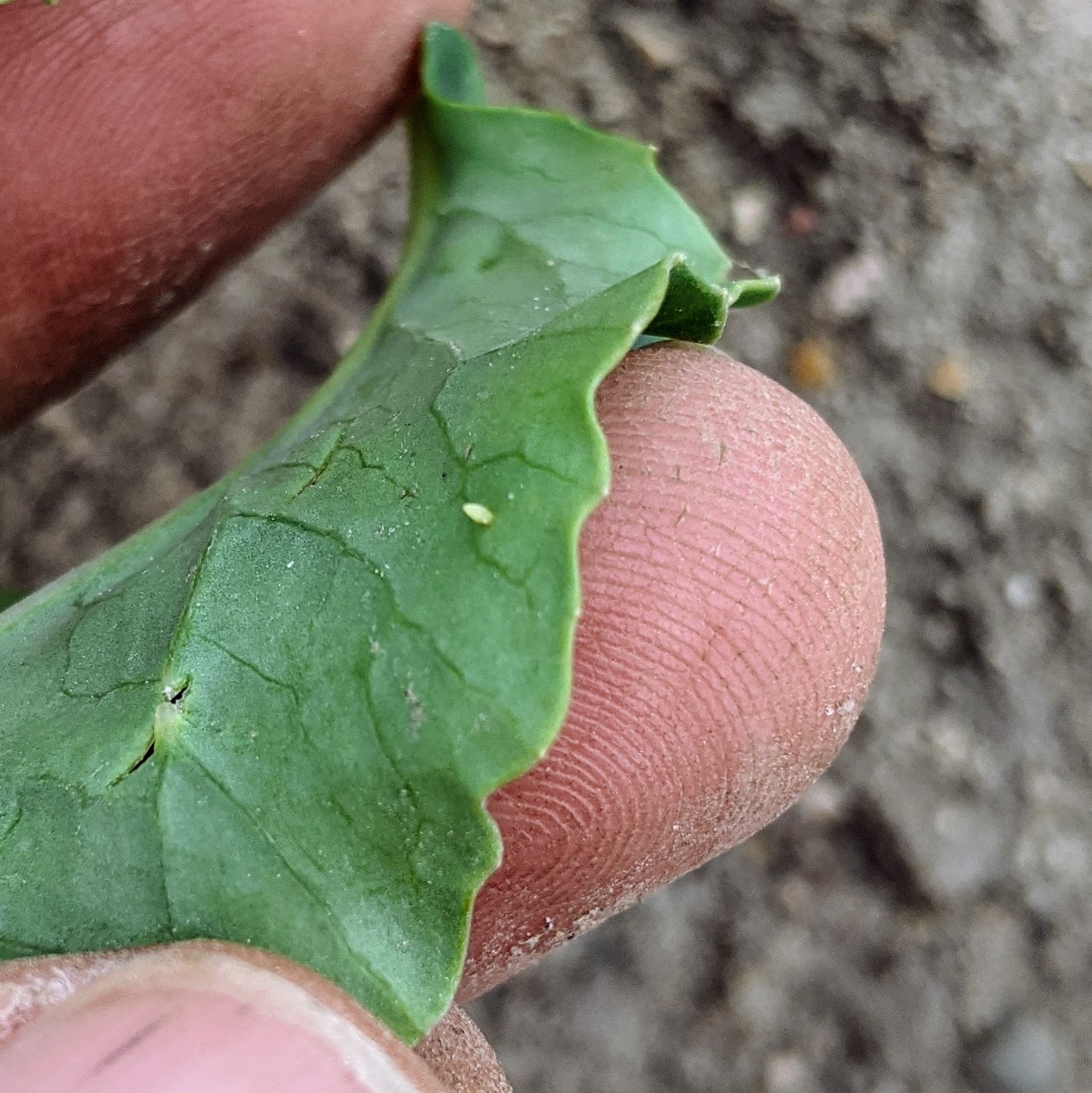 Cucurbits
Contracted pickling cucumber seedings began last week in the Saginaw Valley and Bay areas, watermelons and melons were transplanted, and winter squash seeding was just beginning in earnest at some west central farms this week. Striped cucumber beetles were out and active on volunteer squash in an Ottawa County location on May 25. Carbaryl and pyrethroids can provide effective control in fields not protected by the FarMore FI400 seed treatment.
Don't forget you can apply a neonicotinoid such as imidacloprid or thiamethoxam for direct-sown and transplanted squash; this can be helpful for niche varieties that don't have treated seed. Row covers are highly effective for smaller-scale growers, and can be removed at bloom to allow bees access.
In hoophouse production, your insecticide options are a little more limited. Purdue University has a fantastic bulletin that covers hoophouse cucumber production from stem to stern, and includes a nice table of insecticides on page 13. The Midwest Vegetable Guide interactive website now features filters that can be used to further parse out product uses as well, including greenhouse use.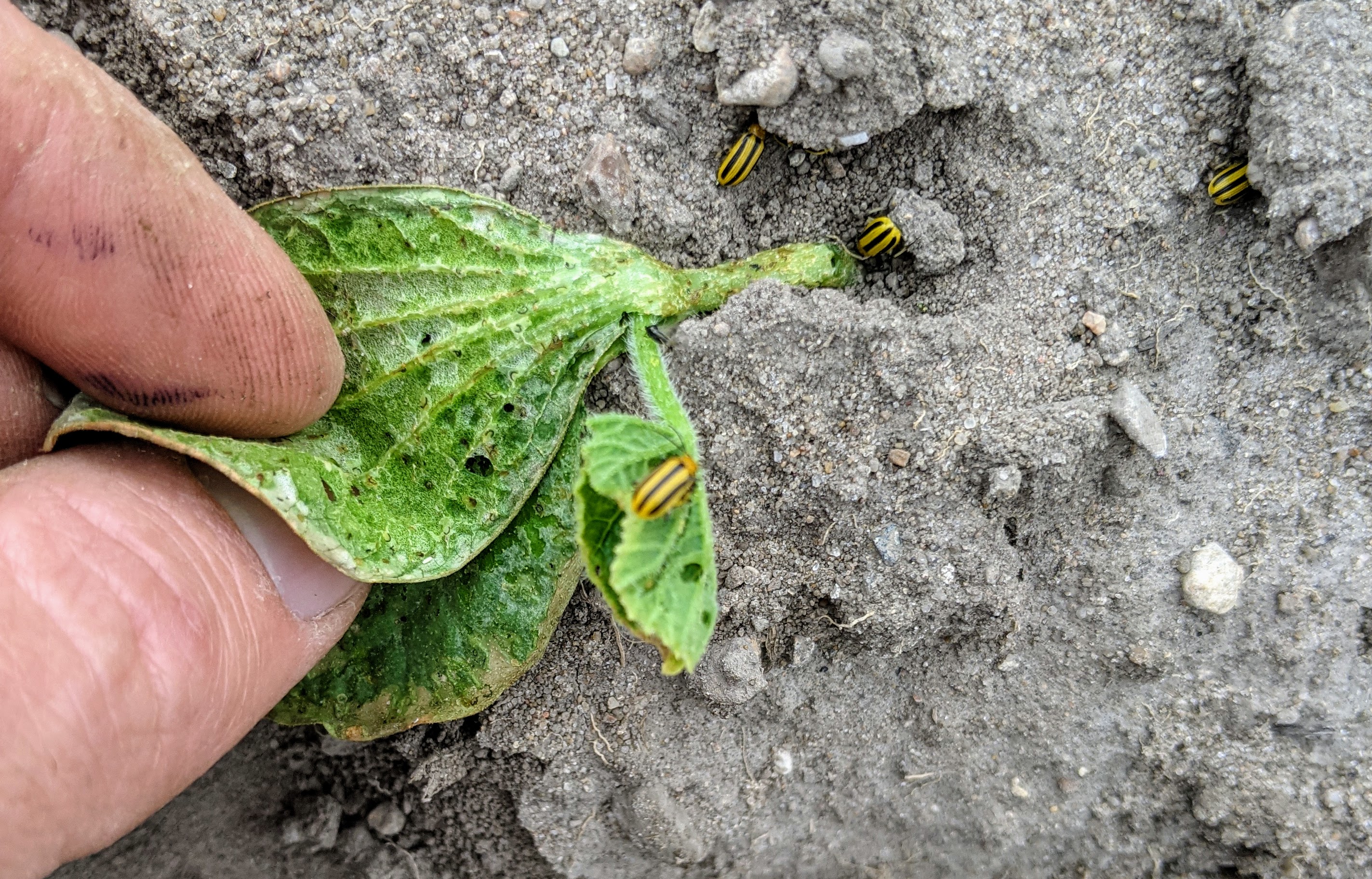 Consider using the herbicide Reflex this year via Michigan 24(c). Make sure you have an indemnified label for Dual Magnum on hand if you use this herbicide. To do this, visit Syngenta's website. Create an account tied to your farm, select Michigan as the state and choose Reflex as the label. You can then print it for your spray records, and it will be tied to your farm through the Syngenta website.
Onions
Onion thrips were present in a transplanted onion field in west Michigan this Monday, though in east Michigan none were reported or found. The majority of thrips were adults, but some reproduction was occurring on scattered plants. Thankfully, cool weather is coming, so consider waiting to pull the trigger on Movento. This will allow the "momentum of Movento" to carry you a bit further into the season.
Movento is also most active against immature thrips, which are small and white. Make sure to apply it with a penetrating surfactant and avoid tank mixes with fungicides that have a spreader sticker. Keeping thrips limited can also have positive impacts on foliar diseases including those caused by bacteria and the fungus Stemphylium based on recent MSU research.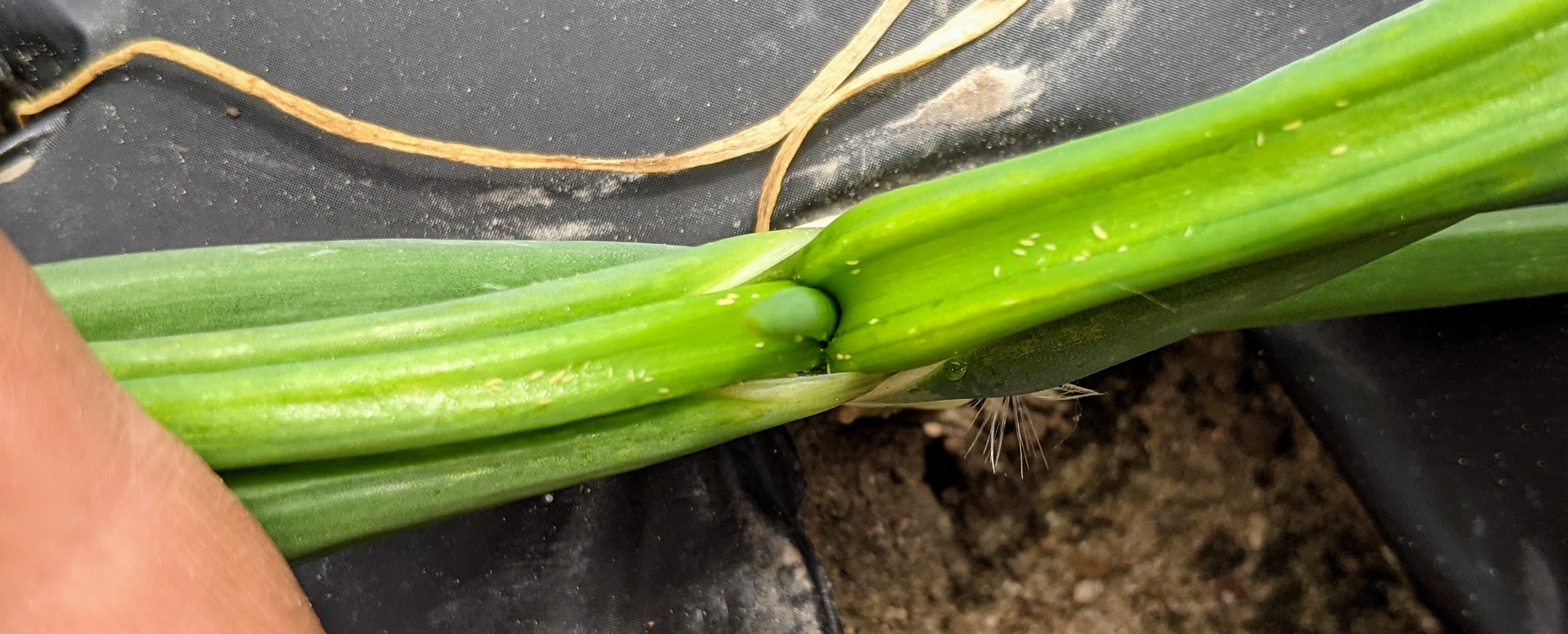 Peas
First planting of peas are blooming.
Potatoes
Rhubarb
New plantings of rhubarb were breaking through this week. Field pickings have been underway since the beginning of the month, and workers were removing flower stalks in older plantings this week. After pickings are done, it is recommended to scatter another 50-60 pounds of nitrogen to get a strong flush of new growth going into the summer and fall.
Strawberries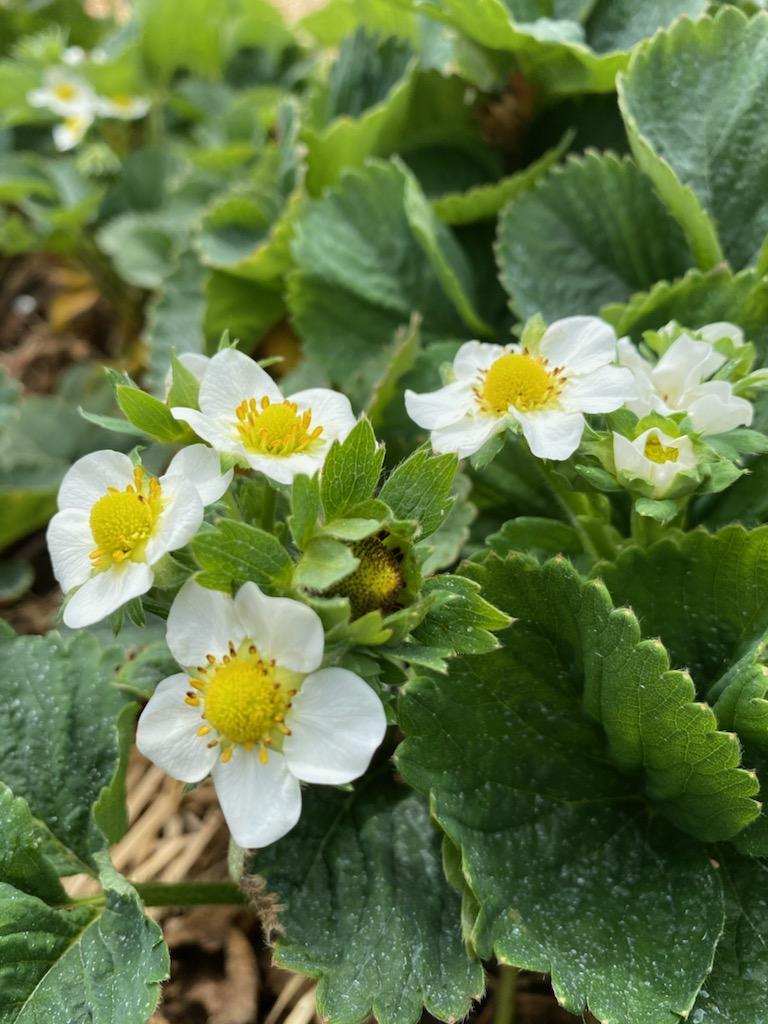 Tomatoes, peppers and eggplants
Tomato, pepper and eggplant transplanting continues across the region. Growers were waiting for the end of the freeze events a couple weeks ago. With the large temperature swing to the upper 80s, many growers continued to wait to plant for worker safety and to reduce transplant stress.

Hoophouse tomato pickings have begun in many places, including Clare, Cass City, Bay City and in southwest Michigan. The trend to keep growing tomatoes in the same structure year after year can generate a white mold problem. There are not many effective fungicide treatments for this issue in tomatoes, and fewer options for hoophouse usage. The one labeled fungicide that could have some small suppression effect is Luna Sensation, but reliance on this would be unwise.
The main thing here is to vent as much as possible by opening the sides and ridge vents and using fans. Cover the soil as much as possible or move to bag-culture and lay down a semi-permanent barrier on the entire floor to limit the pathogen from overwintering in soil. Other preventative measures for white mold in the hoophouse start in the late summer.
Contans is a biological control product that can be incorporated into the soil to infest the overwintering structures of the white mold pathogen in the fall. Another technique is called anaerobic soil disinfestation, which essentially drowns and cooks plant pathogens, but takes some careful pre-planning. Read more about that through Ohio State University's publication, "Anaerobic Soil Disinfestation for Management of Soilborne Diseases in Midwestern Vegetable Production."
Beginning farmer mentorship
Get paid $15/hour for the time you spend charting a path to your farm's success with insights from one of seven amazing Michigan farmer mentors! You will be paired with a farmer whose farm experience matches your farm goals as closely as possible. The mentors include urban and rural growers and small and large-scale farmers raising pastured livestock, and sustainably-grown vegetables, cut flowers and fruit. Beginning farmers will focus on understanding and improving financial viability, environmental sustainability, work-life balance and community connections. Aspiring farmers will focus on how to find land, credit and skills to get started.
Sign up ASAP for the first June 17 and June 24 Mentee-Mentor Meet & Greet dates. Space is limited to 14 mentorship participants at this time. Visit the Michigan Sustainable Farm Mentors website or email brandtk7@msu.edu for more information.
Events
Food Safety
Need your water tested for the Food Safety Modernization Act (FSMA)? Check out the Michigan Ag Water Lab Map.
On-Farm Readiness Reviews are designed to help fresh produce growers feel prepared and ready for a full implementation of the FSMA. They allow growers to walk through their operation with a small team of food-safety experts and discuss how to meet the new FSMA Produce Safety Rule requirements. Sign up for an on-farm readiness review.
Farm Supervisor Produce Safety Courses are being hosted through the MSU Online Learning Portal - D2L. They are self-paced and free. It will be available for farm supervisors starting July 19. Register here.