Michigan youth bring home team and individual ribbons from the 2021 National Junior Dairy Management Contest
Two teams represented Michigan 4-H at the contest held during the All-American Dairy Show in Harrisburg, Pennsylvania.
Two teams representing Michigan 4-H traveled to Harrisburg, Pennsylvania to compete in the Junior Dairy Management Contest on Sept. 21, 2021 during the All-American Dairy Show. The contest, in its 35th year, was created by the Pennsylvania Dairy and Allied Industry Association as an educational event for youth in 4-H or FFA. Participants in the contest demonstrated their dairy cattle management knowledge by answering questions at a variety of stations. Topics for the 2021 contest included feed identification, dairy cattle evaluation and linear scoring, farm finance, farm safety, animal welfare, and reproduction.
There was record turnout for the Junior Dairy Management Contest this year with 28 total teams and 114 individuals competing. Michigan 4-H Team White placed second overall at the contest with team members Adalee Thelen, Landon Thelen, and Oliva Black from Clinton County. Michigan 4-H Team Green was third overall with members from Isabella County, Lydia Deters, Abbie Wilson, Emily Wilson, and Cristin Theisen. Three Michigan 4-H members also earned individual honors with their scores, placing them in the top ten. Landon Thelen was third high individual overall, Adalee Thelen was fourth, and Emily Wilson was eighth.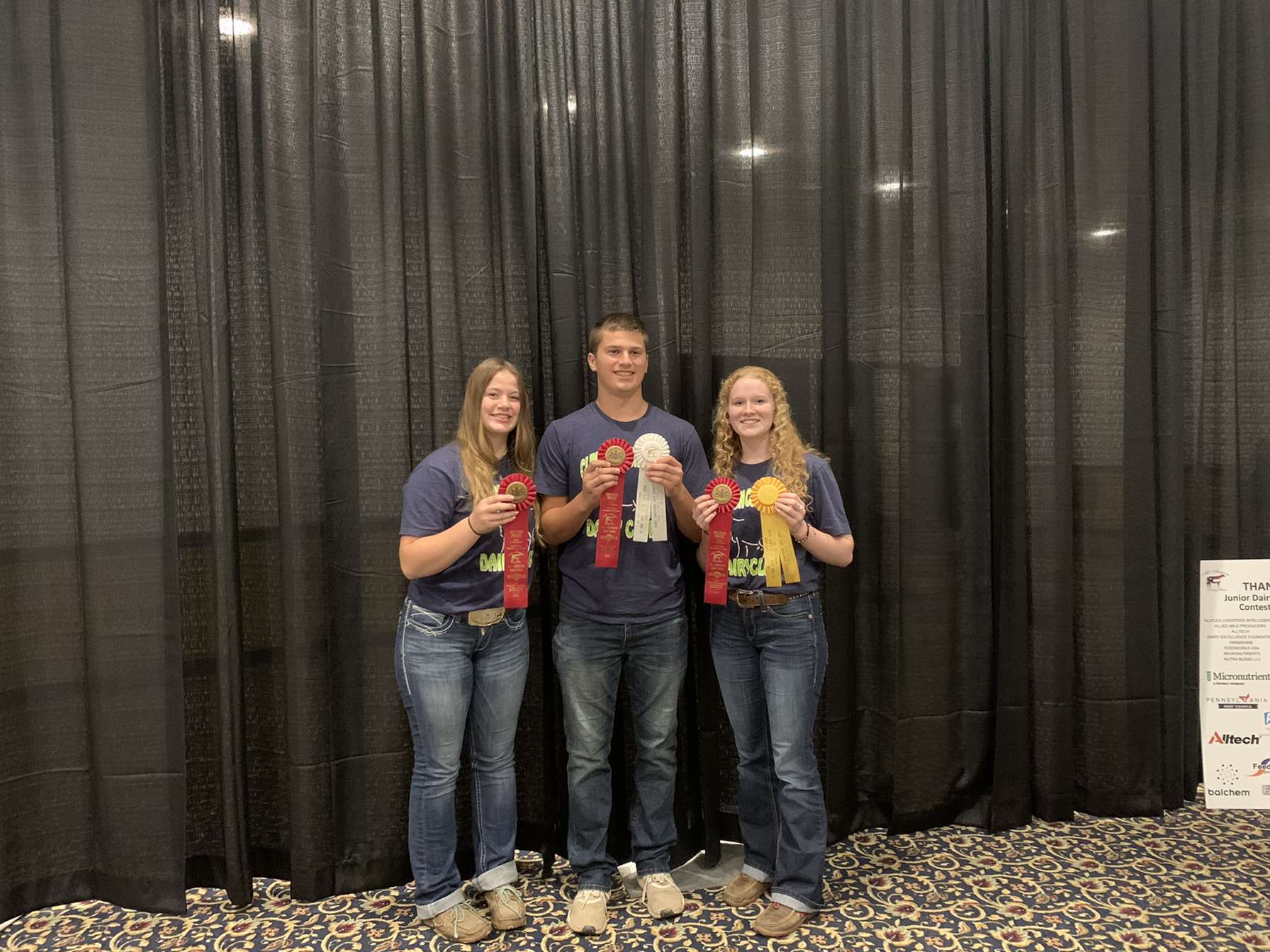 Rodney Pennock, one of the coaches for Clinton County said, "I have taken teams to the contest for several years and each year the youth improve. I am very proud of how hard the youth from Clinton County worked to get there and how well they did this year."
Adalee Thelen, from the Clinton County Team said, "It was fun to be able to do the contest again. Making it to the interview was an exciting experience. It was interesting to talk to people in the dairy industry."
The top five individuals overall in the contest were invited to interview with a panel of dairy industry representatives to earn a $1,000 scholarship if they placed highest among their peers.
Abbie Wilson from Isabella County said, "It was a really neat experience. I would definitely want to go again if I got the chance. I was nervous about going at first, but once we got there, it was just fun." Teammate Cristin Theisen added, "It was a great learning experience."
The 4-H youth development program of Michigan State University Extension is growing current and future leaders. The largest youth development organization in Michigan, 4-H provides more than 200,000 young people with experiential learning opportunities to explore new interests and discover their passions.