Michigan Sea Grant presents exemplary partnership award to ISEA founder
Inland Seas Education Association founder, Thomas Kelly, is recognized for nearly forty years of advocacy toward Great Lakes education and stewardship.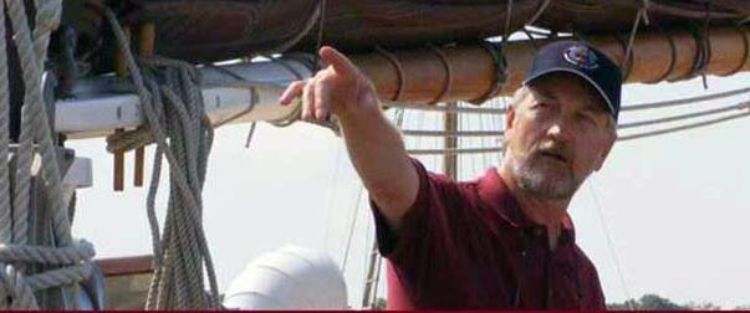 At the April 8, 2014 special session "Sailing the Inland Seas Education Association into the Future", Michigan Sea Grant presented founder and recently retired Inland Seas Education Association (ISEA) Executive Director, Thomas Kelly, with the Michigan Sea Grant Van Snider Partnership Award 2014 in recognition of exemplary partnership. Kelly has been a passionate advocate for Great Lakes education for almost 40 years.
When Michigan Sea Grant first started in the late 1960s, the program existed only at the University of Michigan, with all of the research and programs focused in the Grand Traverse Bay area of Lake Michigan. Tom Kelly was completing his graduate studies at the University of Michigan and was hired as the first Michigan Sea Grant Extension educator, serving in Traverse City in the mid-1970s. He participated in a variety of research, outreach and communications programs, and then left Michigan Sea Grant to work on fisheries issues in the Grand Traverse region in the 1980s.
In the late 1980s, Tom's passion for exposing and educating the next generation of students on the waters of the Great Lakes led him to charter a schooner and begin taking school classes out on Grand Traverse Bay. He founded the Inland Seas Education Association and was successful in fundraising and obtaining a key matching grant to design and build a science schooner, the Inland Seas, which was delivered in 1994. This ship has been a platform from which many students have launched lives devoted to stewardship of the Great Lakes, and many have gone on to graduate school and science careers because of their exposure from the schoolship experience.
Tom not only started and captained the Inland Seas Education Association, but he also shared expertise and collaborated with Michigan Sea Grant on schoolship education since 1991. His expertise helped in the development of the Great Lakes Education Program in southeast Michigan. He and ISEA have continued to work with Michigan Sea Grant since that time on a number of educational fronts, including coordinated promotion of our educational opportunities, joint presentations at professional conferences, and collaborating on a number of successful regional proposals supporting vessel-based education throughout Michigan.
Inland Seas, as an educational organization, celebrates several notable milestones in 2014, including:
the 25th anniversary of the founding of ISEA;
the 20th anniversary of the launching of the schooner Inland Seas;
the 10th anniversary of the construction of the ISEA science building/boat building shop and museum (a Suttons Bay landmark); and
the celebration of the expected "100,000 student" in May 2014.
On top of the students educated about the Great Lakes, a perhaps relatively unknown fact about vessel-based education is the thousands of adult schoolship instructors trained in Great Lakes ecology over these many years. In order to volunteer on the schoolship as a station instructor, volunteers are required to take a rigorous set of courses, taught during the winter months, to learn Great Lakes biota, physical processes, navigation, safety and general freshwater biology. These adults have been turned into thoughtful, passionate, science-based advocates for Great Lakes stewardship and have helped shape a tremendous Great Lakes ecological ethic in the Grand Traverse Bay region and beyond.
In the fall of 2013, Tom Kelly completed a well-planned transition from Executive Director to part-time boat captain, assisting with some fundraising duties for ISEA, and perhaps writing a book on Great Lakes ecology. The new Executive Director of Inland Seas, Mr. Fred Sitkins, is one of the people that Tom exposed to education and sailing in the early 1990s. Fred served as Principal of Boyne City Elementary School for many years, and will be the first to tell you he went into education because of his exposure to the tremendous programs Tom championed.
One final story on Tom's impact comes from Michigan Sea Grant Director Dr. James Diana. Recently, the US Army Corps of Engineers conducted two formally recorded public meetings (January 2014) on the Great Lakes and Mississippi River Interbasin Study on Asian carp and other invasive species. One meeting was held in Ann Arbor, Mich and one in Traverse City, Mich. At both meetings, with well over 100 in attendance, many citizens and organizations testified on the importance of the Great Lakes and keeping invasive species out. At the Ann Arbor meeting, Director Diana observed person after person testifying on the Great Lakes and crediting Tom Kelly and Inland Seas with their knowledge of the Great Lakes.
Congratulations to Tom on this well-deserved award. Michigan Sea Grant encourages all groups to come do a summer or school-time program with the Inland Seas Education Association.