Michigan Wheat Program becomes funding partner in MSU research at Richville
The Michigan Wheat Program board announced its commitment to provide $700,000 in support over the next five years to assist Michigan State University (MSU) in purchasing additional acreage for wheat research.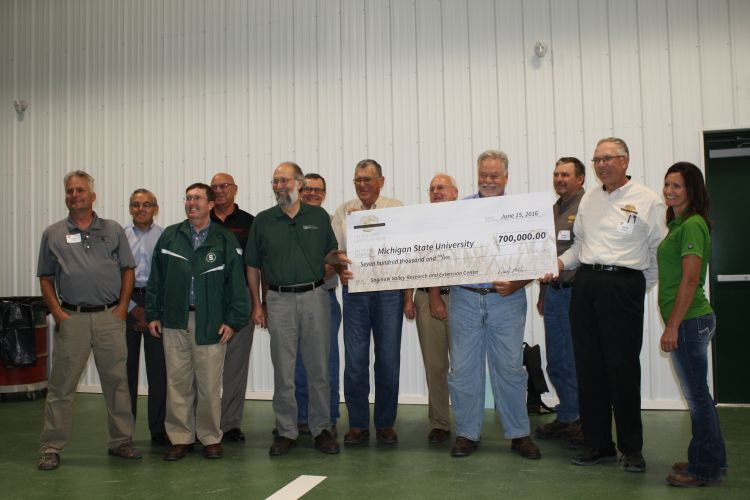 Lansing, Mich. – The Michigan Wheat Program board announced its commitment to provide $700,000 in support over the next five years to assist Michigan State University (MSU) in purchasing additional acreage for wheat research.
The commitment – announced during the Michigan Wheat Program's 2016 Field Day in Frankenmuth yesterday – is the next major step by the wheat check-off in advancing its research platform: To make Michigan known for world-renown wheat research that makes a difference in a farmer's bottom line.
"This has been an exciting time! Building the infrastructure for Michigan wheat research through the check-off program will benefit wheat farmers for decades to come," said David Milligan chairman of the Michigan Wheat Program and farmer from Cass County.
We have come a long way over the past five years and the board was eager to grab an opportunity like this to ensure there is wheat research well into the future. Not only are we excited about the chance to do more wheat research, but we are also pleased to be building even stronger partnerships with the sugarbeet and dry bean farmers."
The Michigan Wheat Program was voted in by Michigan's wheat farmers in 2011, in large part to fund and direct research that would focus on quality and yield issues in winter wheat. The check-off has also worked to ensure that MSU developed a strong wheat research program from breeding and genetics to disease and nutrient management, high management, crop rotation and weed control.
The first step in the Michigan Wheat Program's wheat research strategy began in 2012 when the first research projects were funded. Every year since, the program has funded more projects and addressed more wheat issues. To date, the MWP has invested more than $1.5 million in nearly 75 wheat research projects, most at MSU.
The second objective of the wheat research program was to secure a high-quality research team at MSU, through new positions and dedicating existing staff positions to wheat needs. MSU Extension wheat educator Martin Nagelkirk and MSU wheat specialist Dennis Pennington, hired last summer, now complete the team to oversee field trials and communicate results to wheat farmers.
"They work in conjunction with MSU researchers as we build a top-notch, world-class wheat program," added Milligan.
With a top-notch team in place, it became obvious that there was also a need for more land to conduct additional long-term wheat research in strategic locations.
"If we want wheat to be included in crop rotation research in locations that are near major wheat production areas, we need to ensure that MSU has both the land and a commitment to serve the wheat industry going forward," said MWP executive director Jody Pollok-Newsom. "The board has worked out an agreement that achieves this.
"By adding land to the Saginaw Valley Research and Extension Center (SVREC), we are ensuring a commitment to wheat research by the growers through the Michigan Wheat Program, the University and researchers. The Michigan Wheat Program board is thrilled to join with the long-standing commitments of sugarbeets and dry beans."
The SVREC is one of 13 outlying research centers operated by MSU AgBioResearch and MSU Extension. Doug Buhler, director of MSU AgBioResearch, said he is pleased to see the support of the Michigan wheat producers in expanding the focus of research at SVREC.
"We work in close partnership with the commodity organizations throughout Michigan to ensure we're meeting their research and outreach needs," Buhler said. "This generous contribution exemplifies the trust and reliance that producers here in the state have come to expect from MSU."
The Michigan Wheat Program's commitment allows MSU to purchase 150 acres adjacent to the current bean and sugar beet research farm in Frankenmuth, which will allow dedicated crop rotation trials with other key agricultural crops, Milligan added.
The MWP is a check-off organization funded by nearly 8,000 wheat farmers who grow wheat in 50 of Michigan's 83 counties. The Michigan Wheat Program focuses on research and grower education while partnering with input suppliers, seed producers, millers, end users and consumers.