Mr. Potato Prof
David Douches, who leads MSU's Potato Breeding and Genetics program, will spend September, and most other months, traveling around Michigan helping Michigan potato growers.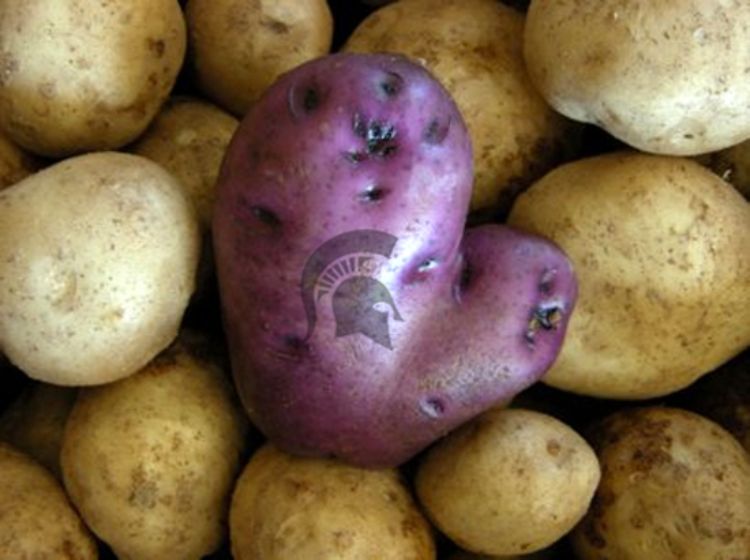 September is National Potato Month, but one Michigan State University potato researcher is too busy to celebrate.
David Douches, who leads MSU's Potato Breeding and Genetics program, will spend September, and most other months, traveling around Michigan helping growers and inspecting research farms, teaching international students how to grow pest- and drought-resistant varieties, creating eye-catching potatoes to entice finicky consumers and leading groundbreaking genome research that has enhanced the future of potato breeding.
"Potato consumption in the United States is changing; Baby Boomers aren't eating as many potatoes, people are eating fewer french fries, and the younger generation is cooking differently from their parents," said Douches, an MSU AgBioResearch scientist whose office is filled with Mr. Potato Heads. "They want a more convenient potato, something special. We have created varieties with colors and size that capture the interest of the Millennial lifestyle."
These highly marketable potatoes come in a many colors and have dazzling names, such as "Raspberry," "Purple Haze" and "Spartan Splash." Another is simply called MSQ558-2RR. Its milquetoast moniker, however, is outshined by its colors, which resemble fireworks. They give consumers colorful cooking options and fill meals with foods that are full of vitamin C, potassium and no fat, he added.
In addition to inventing saleable spuds, Douches' team has created varieties that are drought- and pest-resistant. These potatoes have the potential to fight hunger and improve food security in countries around the globe. Douches' lab has students from Kyrgyzstan, Brazil, Iraq, Columbia, Bangladesh and more who are hoping to take what they've learned at MSU and improve their home countries.
"In Kyrgyzstan, potatoes have become so important, they're called, 'second bread,'" Douches said. "Internationally, it's the third-largest food crop, comprising 310 billion tons annually. So our team is committed to developing new varieties, finding potatoes that result in reduced pesticide use and more sustainable growing methods, and exploring ways to enhance the nutritional value of the potato."
Recent successes in Douches' lab can be attributed to the mapping of the potato genome, an international team effort led by Robin Buell, MSU plant biology professor. Before the genome was sequenced in 2011, potato breeding remained largely unchanged for the last 100 years. The discovery truly kicked the field wide open and mimics the advances in medicine based on the mapping of the human genome, Douches said.
"Our team is combining genetics and breeding; so having a map of the genome has helped us find genetic markers for desirable traits, which has made breeding more precise," he said. "It's allowed us to do things we've been dreaming about for more than 20 years."
So while some folks will celebrate National Potato Month, Douches will be living it.