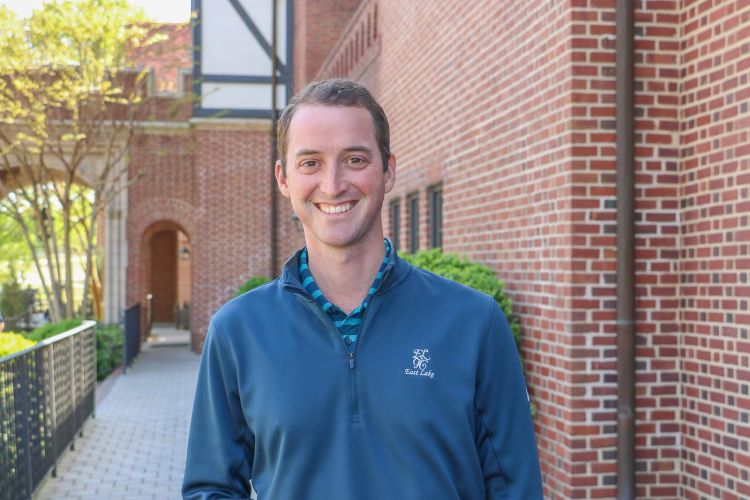 When Charles Aubry learned the PGA Tour FedEx Cup was being moved in 2019 from late September to the end of August, he immediately wanted to involve students from his alma mater, Michigan State University (MSU). Aubry is superintendent of East Lake Golf Club where the golf tournament kicks off today.
Seventeen MSU turf students arrived at the Atlanta golf course Aug. 19 to prepare the course for the FedEx Cup tournament, which runs through Aug. 25. Students are part of the crop and soil sciences program through the Department of Plant, Soil and Microbial Sciences, as well as the sports and commercial turf management and golf course turf management certificate programs through the Institute of Agricultural Technology (IAT).
To involve MSU students in the volunteer program, Aubry connected with turfgrass faculty member John "Trey" Rogers III from the Department of Plant, Soil and Microbial Sciences.
"I immediately thought of my alma mater," Aubry said. "It's a really good opportunity for the students to come out and see what it takes to host a nationally televised event. It's the Super Bowl of the golf world."
Professional experiences
Rogers volunteered alongside MSU students during the first part of the week in Atlanta as they help in the daily preparation of the golf course for the tournament.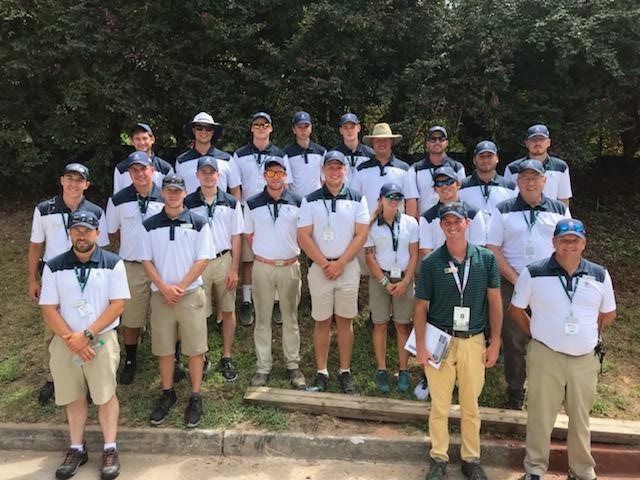 "All turfgrass experiences, big or small, help out our students," Rogers said. "This opportunity is a 100% tie-in 100% of the time and a great follow-up to their turf classes. It's exactly what they came to school to learn."
Turfgrass faculty member James Crum will be at East Lake Golf Club with the MSU students during the latter part of the week.
"Most of the MSU students will just be finishing their internships where they have spent the summer working on a golf course to produce the best turf conditions possible," Crum said. "This experience will be invaluable to them when they see and experience just how much effort and coordination is needed in such an event."
Career networks
Crop and soil sciences senior Nicholas Worley became interested in studying turf management after a job at The Fortress Golf Course in his hometown of Frankenmuth, Michigan. He interned this summer at Quaker Ridge Golf Club in Scarsdale, New York, and has also interned at Ballyneal Golf and Hunt Club in Holyoke, Colorado, and Sand Hills Golf Club in Mullen, Nebraska.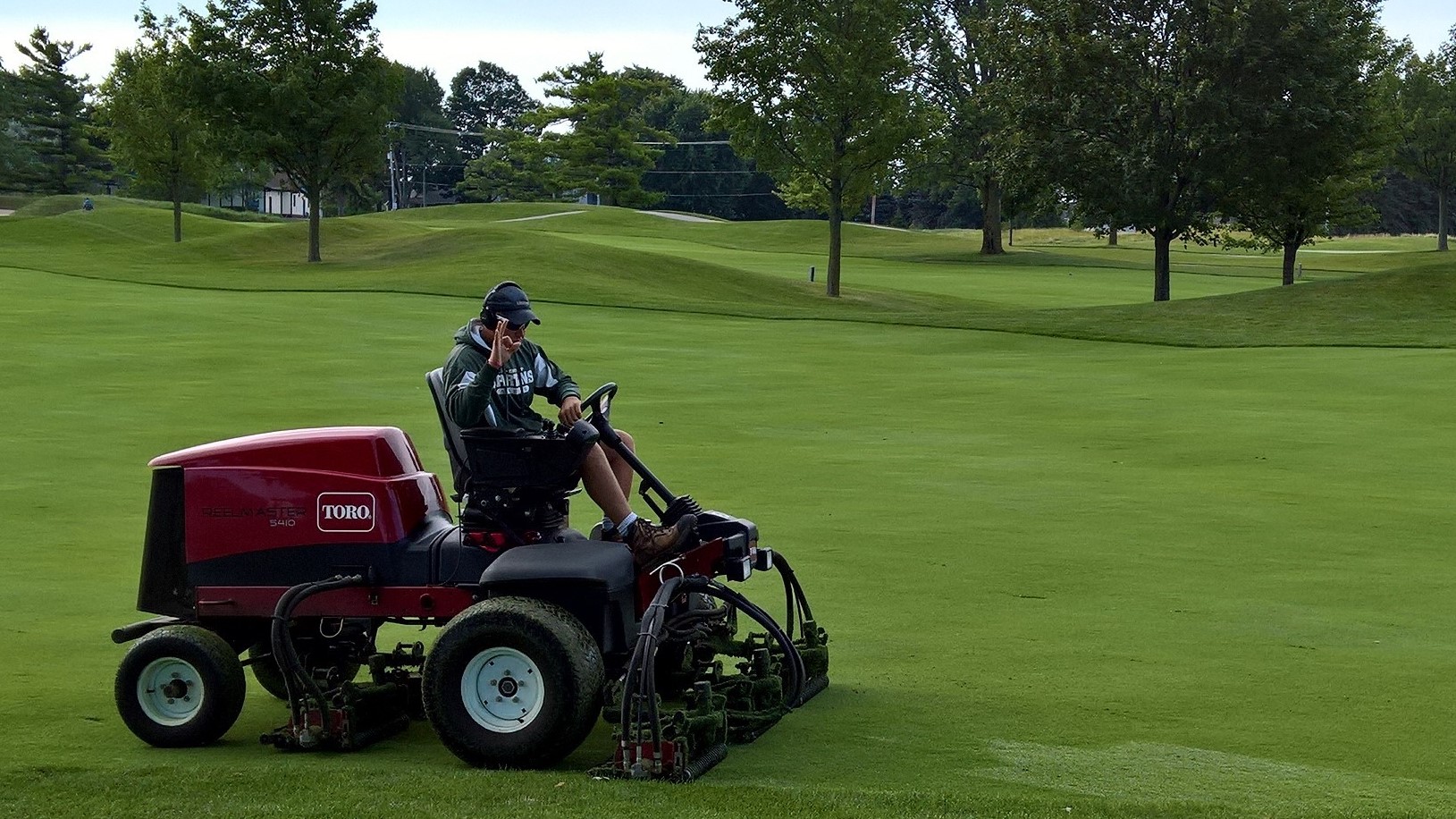 "This is my first opportunity to work at a PGA Tour tournament, and to be able to see some really big name players is also pretty exciting," Worley said. "The main thing I want to learn from this is tournament preparation and seeing how to manage a large crew."
Worley said he expects the volunteer experience to help him professionally following graduation from MSU.
"Every person in the industry that I have talked to that has volunteered at a championship event has said it is a great way to meet people and increase my industry network," Worley said.
Cameron Wyatt is an IAT student in the sports and commercial turf management certificate program. When he was looking to make a career change, the turf program seemed like an easy choice for him, even when it involved moving from Brisbane, Australia, to Michigan.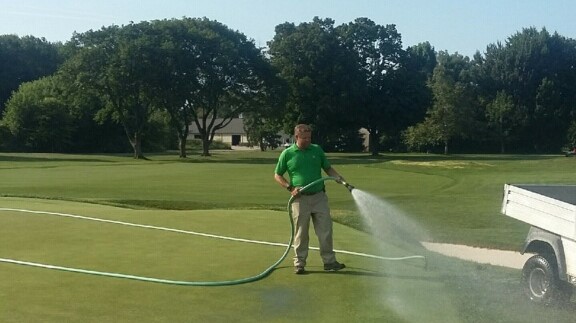 "I have always loved a well-kept lawn and admired the skill that golf course crews had to maintain a high-quality surface," Wyatt said. "Volunteering at East Lake Golf Club will give me the chance to work alongside an experienced golf course crew and see firsthand what it takes to present a golf course to tournament standards, as well as getting to watch some of the best golfers in the world play."
Jonathan Siler is an IAT golf course turfgrass management student who became interested in the industry as a 16-year-old working for a lawn care company. He interned at National Golf Links of America in Southhampton, New York, this summer and previously was a ground crew employee at MSU Forest Akers Golf Course.
"Going to a PGA Tour event is always a great experience. Just being able to walk the grounds that the pros will be playing on and meet new people from around the industry really make it special," Siler said. "I hope to learn about tournament preparation and all the fine details it takes to host an event like the Tour Championship."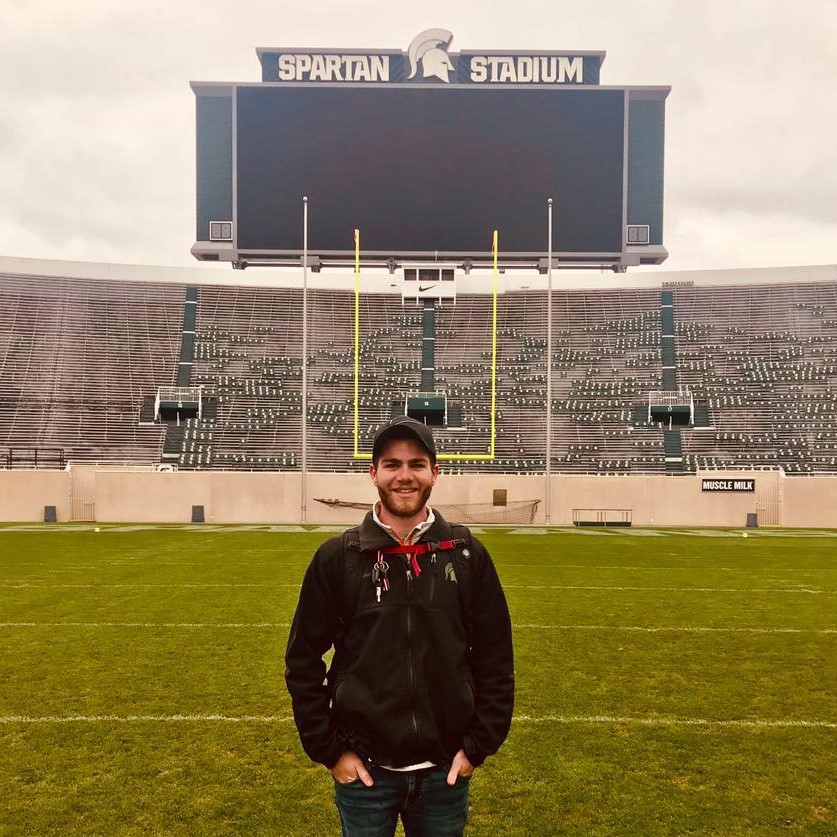 Lifelong connections
Aubry first worked on his uncle's golf course in Macomb, Michigan, when he was a teenager. He graduated with a degree in crop and soil sciences from MSU in 2009 and worked at golf courses in Idaho and Arizona before becoming golf course superintendent at East Lake Golf Club last year.
"As part of the volunteer program, students are exposed to multiple facets of setting the course up, including maintaining the turf quality. Multiple jobs are required to prepare for a large tournament like the FedEx Cup," Aubry said. "They will see some of the practices on our course and implement them on their golf courses in the future."
Student volunteers are mowing greens, raking bunkers, filling divots, cutting cups and checking for proper soil moisture, Aubry said.
He added, "We're hoping we can build a strong relationship with MSU and have this program continue yearly."