MSU Dairy Challenge third national title in a row
Learn more about the path it took to reach MSU Dairy Challenge Team's third consecutive national championship.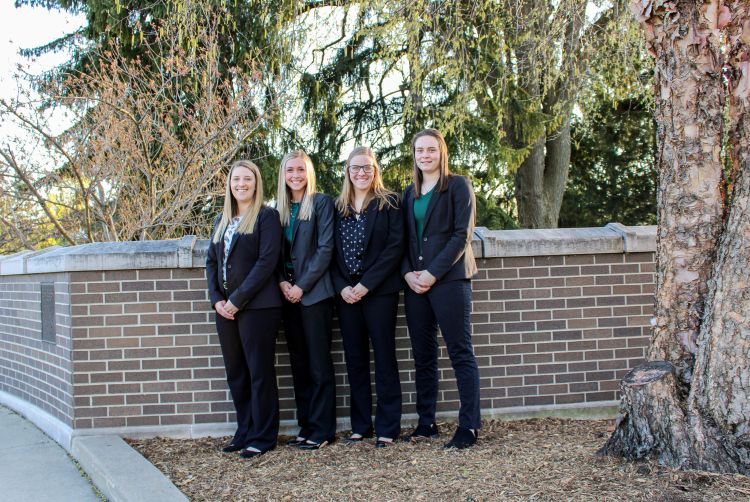 Coach Roger Thomson, DVM, describes below how the MSU Dairy Challenge team prepared to successfully compete in a national contest. In particular, he noted, Michigan State University's run of three straight first place ratings is an exciting accomplishment and a first for MSU. Remembering that this unique, holistic dairy farm evaluation contest was created in the Department of Animal Science at Michigan State over 20 years ago makes these recent successes even more satisfying.
Dairy Challenge is an extracurricular event. It does not happen in a vacuum and is not the result of a single individual's efforts. There are numerous local and regional opportunities for MSU students to participate in Dairy Challenge. Advanced dairy courses in both the dairy management certificate program through the Institute of Agricultural Technology (IAT) and animal science B.S. program through the Department of Animal Science include evaluating dairy operations.
The four students who accept the invitation to be on the national team spend hours and hours all spring semester practicing the skills necessary to analyze a dairy farm and condense their findings into a 20-minute, oral team presentation to five dairy industry professionals.
Preparing students to compete at a high level in this competition requires a solid knowledge foundation that they receive in the Department of Animal Science. This year's team members included Miriah Dershem, Kristen Burkhardt, Beka Kriger and Lynn Olthof. They were all graduates of the IAT dairy management program and are completing bachelor of science degrees in agribusiness management through the Department of Agricultural, Food and Resource Economics.
They have taken a wide range of courses across the College of Agriculture and Natural Resources that help them develop a foundation of knowledge needed to evaluate a dairy operation. Only then can coaches add tools into the students' toolbox necessary to perform a deep dive into a specific dairy farm's performance. Co-coaches Joe Domecq, animal science academic specialist, and Don Martel, animal science assistant instructor, are experts in teaching these evaluation skills. Thomson, Domecq and Martel bring over 110 years of professional experience in their given specialties.
A group of volunteers also help to prepare the team. Brian Troyer (ANS Alumnus) and Allison Pung (IAT Dairy/Agribusiness Management and 2017 Dairy Challenge Alumna) both mentored the team on farm financial analysis. Nate Elzinga (IAT Dairy/MSU Alumnus) mentored on feeding management and presentation skills.
New this year at MSU is a library created of previous national teams' presentations. The 2021 team could get ideas for slide formats and watch previous first place presentations. The team also received invaluable mentoring on presentation skills, handling question and answer sessions, and coping with the pressure from previous first place team members including Alycia Burch (Dairy Challenge 2018), Jared Sanderson, Monika Dziuba, and Ellen Launstein (all Dairy Challenge 2019).
Last but not least, dairy producers in Michigan generously allow the team to use their operations for practice, including Jim Good and his team (MSU Dairy Cattle Teaching and Research Center), Craig Green (Green Meadow Dairy), Merv Seiler (S&T Dairy), Steve Cary (Cary Dairy), Kevin Lettinga/Aubrey Lettinga-VanLaan (Walnutdale Dairy), and Jordan denDulk and his management teams (Willow Point and Meadow Rock dairies).