MSU entomology professor receives 2023 CANR Distinguished Faculty Award
Christina DiFonzo, Ph.D., a professor in the MSU Department of Entomology, will receive a 2023 CANR Distinguished Faculty Award during ANR Week.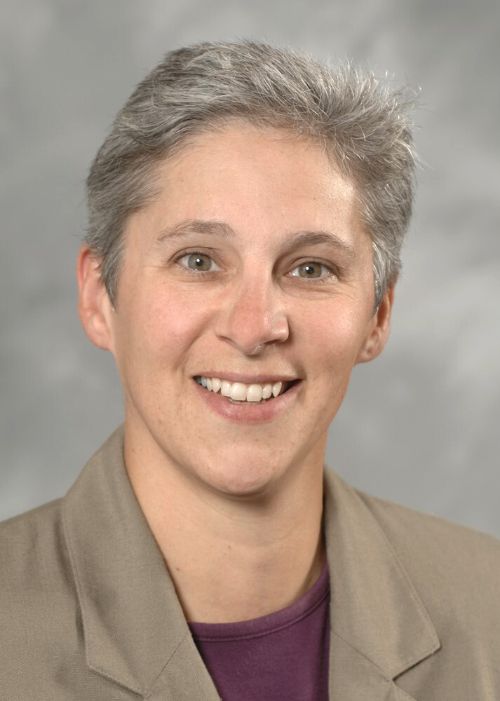 Christina DiFonzo, Ph.D., will receive a Michigan State University (MSU) College of Agriculture and Natural Resources (CANR) Distinguished Faculty Award at the March 10 ANR Awards Program.
The Distinguished Faculty Award recognizes faculty members who have brought distinction to the CANR through teaching, research and/or outreach and provided leadership that has helped students, faculty members and/or citizens reach their potential for excellence.
DiFonzo is a professor in the MSU Department of Entomology. Her appointment at MSU includes research, extension and teaching with specific crop responsibilities for insect pest problems in corn, soybean, dry beans, small grain, forages, sugarbeets and hemp. She also provides expertise in aphid biology and identification.
DiFonzo has earned a deep respect for her research perspectives from her entomological peers throughout the U.S. and abroad and is a sought after collaborator and an intellectual leader on the role of genetically modified organisms in agriculture. A review of her recent publications highlights her collaborative nature. DiFonzo is often the most senior-tenured-author on most recent publications. This serves as direct evidence of her mentorship of faculty peers at many other institutions—she has helped to guide the careers of young entomologists.
She grew up in northwestern Pennsylvania and attended Mercyhurst College in Erie, Pennsylvania, where she earned a bachelor's degree in biology and a minor in English literature. She earned master's and doctorate degrees from the University of Minnesota with a focus on the epidemiology and management of aphid-vectored viruses of commercial and seed potato. After graduation, she was a BARD Postdoctoral Fellow at the Volcani Center, the agricultural research organization for Israel, where she researched plant viruses and aphids. In 1996, she started as the pesticide education coordinator and field crops entomologist at MSU, transitioning to full-time in field crops 2002 after the discovery of soybean aphid in North America. Her fondness for aphids earned her the nickname 'Aphid Queen.'
DiFonzo is a highly dedicated teacher and has been responsible for providing the academic instruction for the past 26 years and since 2006 has taught the fundamentals of entomology for MSU's undergraduates and graduate students. While DiFonzo's activities in Extension, research, academic instruction and service are all outstanding, it is the integration and totality of these initiatives that make her a truly distinguished and model faculty member in Land Grant Institution philosophy. Her activities have had a major positive impact on the Michigan's agriculture, MSU's students and the overall health of our environment.
DiFonzo received the 2020 Distinguished Achievement Award in Extension from the Entomological Society of America recognizing scientists, educators and students who have distinguished themselves through their contributions to entomology for her regional and national leadership. She was recognized for her leadership in extension matters critical to growers, despite potential push-back from industry.
She is the author of a popular annual publication, The Handy Bt Trait Table, considered one of the most useful corn entomology Extension publications in the country, it is a two-page summary of which traits are in each corn hybrid, what species they control and which species have displayed literature-documented resistance. It is an invaluable reference for entomologists, seed dealers and growers alike and has become the industry-standard reference.
In letters supporting her award application, colleagues noted she is an outstanding presenter, mentor and communicator whose insights are valued by her agricultural clientele, peers and students. She is known for sticking to her science-based facts to advocate for farmers in her region.