MSU honors Wilson Centennial Farms as 2023 Dairy Farm of the Year
The MSU Department of Animal Science recognizes Brent and Nancy Wilson's commitment to dairy research, herd health, milk quality and support of the Michigan dairy industry.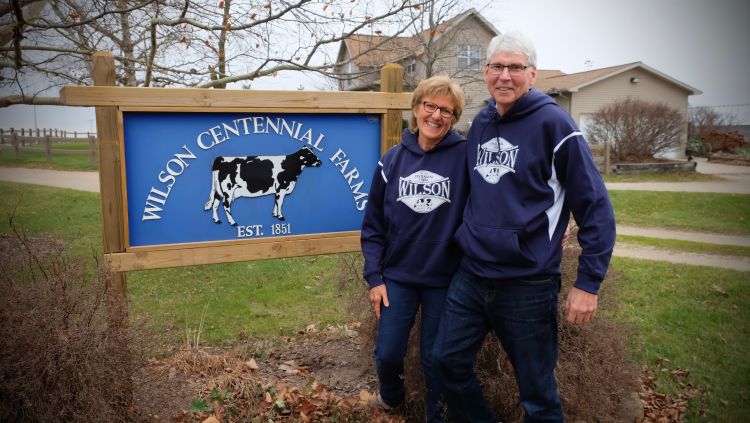 EAST LANSING, Mich. — The Michigan State University (MSU) Department of Animal Science recently named Brent and Nancy Wilson of Wilson Centennial Farms in Carson City as its 2023 Dairy Farm of the Year.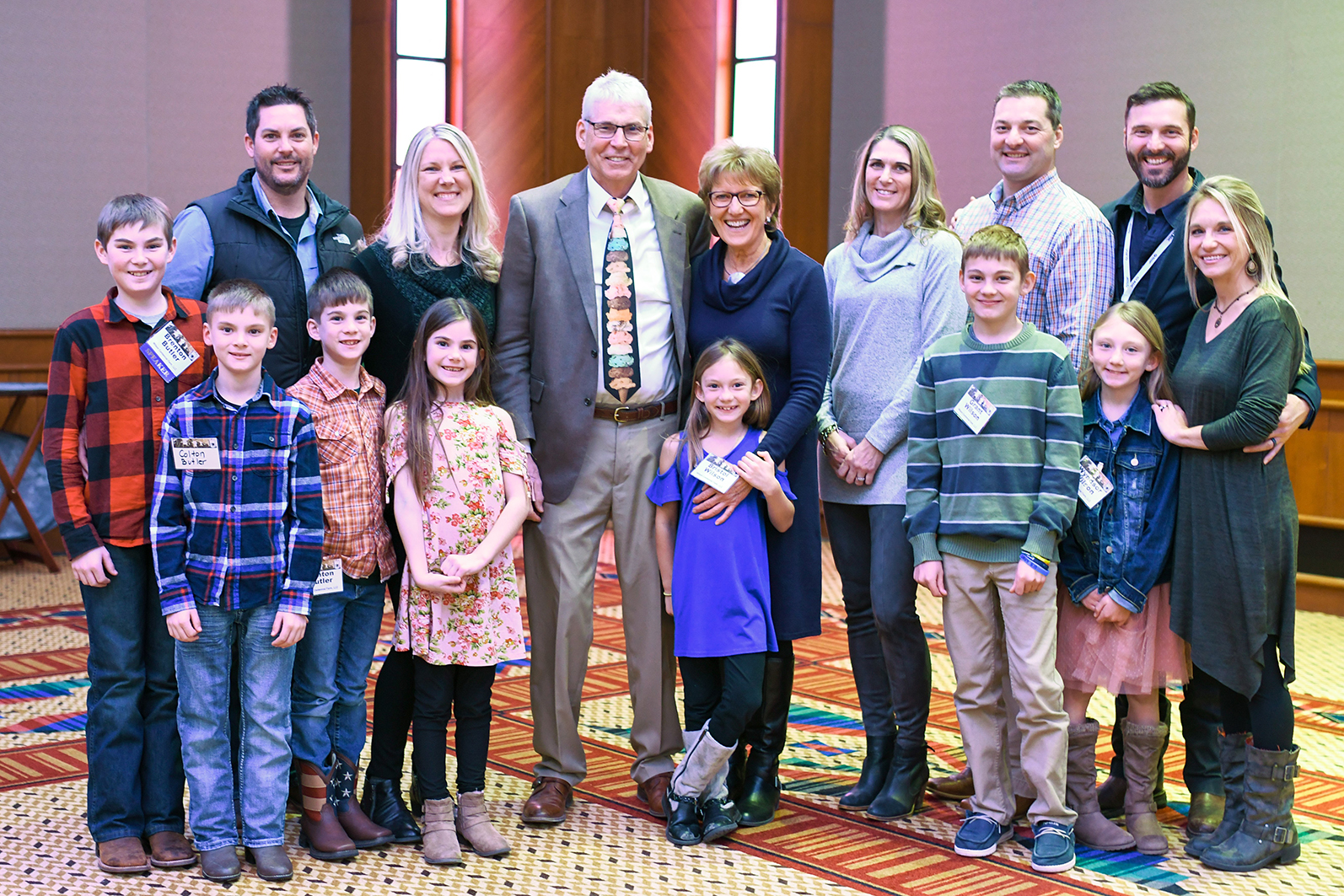 Since 1958, MSU has awarded the Dairy Farm of the Year Award to farmers who exhibit outstanding management of their dairy farm business and leadership in the Michigan dairy industry or their community.
"Brent and Nancy Wilson's commitment to excellence is demonstrated by the consistent outstanding achievements in production and milk quality of the herd at Wilson Centennial Farms," said Cathy Ernst, Ph.D., chair of the MSU Department of Animal Science. "They are at the cutting edge in applying new technologies and using novel management strategies. We especially value the relationship they have with MSU including participation in on-farm research trials and his willingness to host students at their farm. We are excited to recognize Brent and Nancy Wilson as the 2023 Dairy Farm of the Year."
Established in 1851, Wilson Centennial Farm is a seventh-generation family farm outside of Carson City, Mich. The farm is a partnership between Brent and Nancy, and their two sons, Tyler and Ben. They milk approximately 1,000 Holstein cows on approximately 5,000 acres in Montcalm and Gratiot counties. They currently have a rolling herd average of 32,780 pounds per lactation, with 1,394 pounds of fat and 1,105 pounds of protein. In 2020, they averaged over 97 pounds of milk per cow per day.
An MSU alumnus, Brent earned a bachelor's degree in dairy science and a master's degree in adult and continuing education. He served as the MSU Extension agricultural agent for Gratiot County from 1970 to 1990, when he decided to farm full-time. Today, Brent is responsible for overall herd health and milk quality at Wilson Centennial Farms. He has maintained a close relationship with numerous faculty members in the MSU Department of Animal Science, hosts MSU student interns and classes, and remains at the forefront of novel management strategies and technologies by participating in research trials. Additionally, Brent was a district board member for the Michigan Milk Producers Association (MMPA) and served on the boards of directors for Isabella Bank, GreenStone Farm Credit Services, Montcalm County Farm Bureau, Gratiot County Development and as board chair of the Sparrow Carson Hospital. He is also active in the Men's Group at the United Methodist Church in Carson City.
Nancy was born and raised in Alma, Michigan, and earned a teaching degree in special education from Central Michigan University (CMU). She taught in both public and Christian schools before she decided to be a stay-at-home mom. She soon stepped into the role of farm financial manager and dairy herd record keeper. Additionally, she teaches Sunday School, facilitates a Women's Bible Study group, runs an afterschool youth program once a week and volunteers for the local Youth for Christ program.
Tyler is a dual MSU graduate with a bachelor's degree in agribusiness management and a certificate in dairy management from the Institute of Agricultural Technology. With prior work experience as a dairy nutritionist, he now handles the farm's nutrition program and feeding for high-component milk. Ben has a business management degree from Colorado Christian and oversees the cropping enterprise where they grow corn, alfalfa, soybeans, wheat and sugar beets. They also employ two main herd managers as well as other employees to help milk cows and perform various day-to-day tasks on the farm.
The farm has grown gradually to gain efficiency and stay viable in the dairy industry long-term. To mitigate the challenges of today's dairy economy, they have diversified crops and now have a successful sugar beet operation. Each year they add 30 to 50 cows and plant more corn and hay to accommodate increased cow numbers. They built a new heifer barn to reduce overcrowding thus improving heifer health and growth, and plan to construct a new rotary parlor to improve milking efficiency.
"We were impressed with their creative approaches to strengthen the business for the next generations and address problems as they arise," said Miriam Weber Nielsen, Ph.D., chairperson of the Dairy Farm of the Year selection committee at MSU. "They lead by example with excellent farm management and through service in their local community and in the dairy industry. We are pleased to recognize Brent and Nancy for their commitment to sustainability in all areas."
Brent understands the importance of components and milk quality, which is evident in the numerous awards they have received. Wilson Centennial Farm has been awarded the National Platinum Milk Quality Award by the National Mastitis Council (NMC) for each of the past six years. The farm has been featured in Hoard's Dairyman, Michigan Farmer, Michigan Farm News, and MSU Extension publications, including MSU Extension's Virtual Coffee Break episode, Achieving Excellence in Milk Quality with Phil Durst, senior MSU Extension educator.
In 2020, the farm was number six overall in CentralStar Cooperative, Inc.'s annual list of Top Dollar Value Herds (combining milk production with combined fat and protein) and topped the list in herds with 1,000 or more cows. They are consistently in the top 10 of CentralStar's monthly report of top Energy-Corrected Milk (ECM) herds and were number one in July 2021. These placings are out of approximately 1,400 herds enrolled in Dairy Herd Information (DHI) services at CentralStar from Wisconsin, Michigan and regions of Indiana and Ohio.
The farm regularly utilizes DHI to help keep production records and identify cows with high somatic cell count (SCC), an indication of a mastitis infection which can cause a decrease in milk yield and affect milk composition.
"To own and manage a 1,000-cow dairy with a goal of less than 75,000 SCC, and consistently achieve it, is amazing to me…Brent walks the barns twice a day with his stethoscope and thermometer, focusing closely on the fresh pen, looking for any signs of frailty or sickness," wrote the nominator. "I have worked with Brent for almost 10 years since he volunteered to participate in a Johne's Disease research trial. He is the reason that I became passionate about helping improve profitability for dairy producers and has been an inspiration to me."
Wilson Centennial Farms regularly participates in research trials with both CentralStar and MSU and frequently hosts MSU student interns. Currently, the farm collaborates with CentralStar in researching bovine leukemia virus (BLV) or leukosis. Together, they have developed a diagnostic testing strategy for the herd, identifying areas to improve management and ways to reduce the risk of transmission of this bloodborne disease. In addition, the farm is participating in a $500,000 USDA-funded grant to follow BLV infection dynamics starting in neonatal calves out of BLV-infected dams, with graduate students taking weekly blood samples at the farm.
The award was presented Feb. 3 at the Dairy Industry Recognition Banquet during the Great Lakes Regional Dairy Conference Feb. 2-3 at the Soaring Eagle Casino and Resort in Mt. Pleasant.