MSU Interior Design's Kristy Kellom wins Best Student Design Poster Award at EDRA50
Kristy Kellom, graduate student in environmental design won the first place for the Environmental Design and Research Association (EDRA) Student Design Poster Award at the EDRA50 conference in Brooklyn, NY, May 22-25, 2019.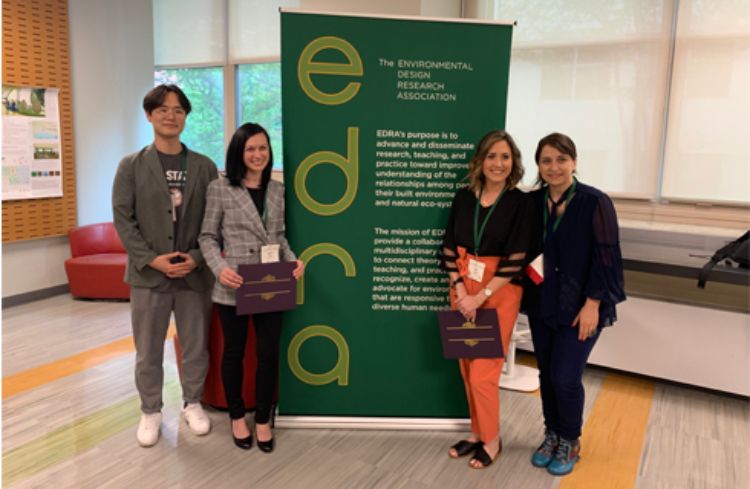 Kristy Kellom, graduate student in environmental design, also instructor of interior design in the School of Planning, Design and Construction (SPDC), tied for first place for the Environmental Design and Research Association (EDRA) Student Design Poster Award at the EDRA50 conference in Brooklyn, NY, May 22-25, 2019. Erin Colwell was the other winner. This is the second time Kristy has received this award from EDRA.
The association's mission is to advance and disseminate behavior and design research toward improving understanding of the relationships between people and their environments and seek to recognize student projects that demonstrate excellence in the design of humane environments.
Projects are judged onsite by the Awards Committee in four categories: 1) Quality of the design project and demonstrated links between design and a body of research literature, 2) quality of graphic communication and representation, 3) comprehensive quality of the submission, and 4) alignment of the design with EDRA's mission.
This award is distinguished by its recognition of environmental designs that respond to human factors in the conception of the full range of environmental scales through the infusion of research findings and users' inputs on the needs of human's in the built world.
Kellom's poster on the topic of, "A Design-oriented Approach of Preparedness against Active Shooters: A Case of Evaluating a University Student Lounge" was a summation of research about recent high-profile incidents have spurred increased discussion surrounding preparedness against active shooter impact.
Other poster authors include Jun-Hyun Kim, associate professor and program director of landscape architecture, and program director of the Master of Environmental Design (MED) program; and Linda Nubani, assistant professor of interior design, who also served as Kellom's major advisor, as well as the EDRA conference chair.
The purpose of the research was to evaluate an existing educational facility regarding preparedness against the impact of an active shooter, and to propose safety improvements.
Recommendations were proposed for improvement following Crime Prevention Through Environmental Design Association guidelines, Prospect-Refuge theory and current best practice strategies determined from case study analysis.
Panoramic projection within a 360-degree visualization studio was utilized to obtain feedback on whether full-scale immersion within the design solution would help look at how future designs could make use of immersive technologies.
"I am honored to have work acknowledged by this EDRA award for two consecutive years. EDRA's convergence of research and practice around environmental issues makes this a unique space to discuss methodology with renowned researchers, as well as real-world application with architects and designers," said Kellom.
"I encourage other graduate students in interior design and other built environment studies to consider benefitting from involvement with EDRA. Thank you Drs. Jun-Hyun Kim and Linda Nubani for your guidance in this project!"
Kim, said that Kellom brought her project idea to his LA 817 Environmental Design Studio last fall. As a student-centered core design studio in the MED program, this course allows students to bring their own project to address the current emerging issues.
"Kristy's project was an exemplary design-research project to represent how designers should integrate research into design solutions with innovative ideas to respond to current environmental and social challenges. Her recent accomplishment recognized by EDRA has proved the quality of our MED program and one of our very strong students' talent at the national level," said Kim.
Kellom is entertaining the SPDC doctoral program this fall.
"With her research agenda and her research skills with creative approaches, I surely believe that Kristy will bring more accomplishments in the near future to make us proud," said Kim.
This award wouldn't be possible without the support of campus partners, the MSU Division of Residential and Hospitality Services and the Digital Scholarship Lab, for utilization of the 360 Visualization Studio.