MSU Tollgate Farm to host Farm to Table Dinner Aug. 25
Michigan State University alumni and friends of MSU Tollgate Farm are invited to the first MSU Tollgate Farm to Table Dinner.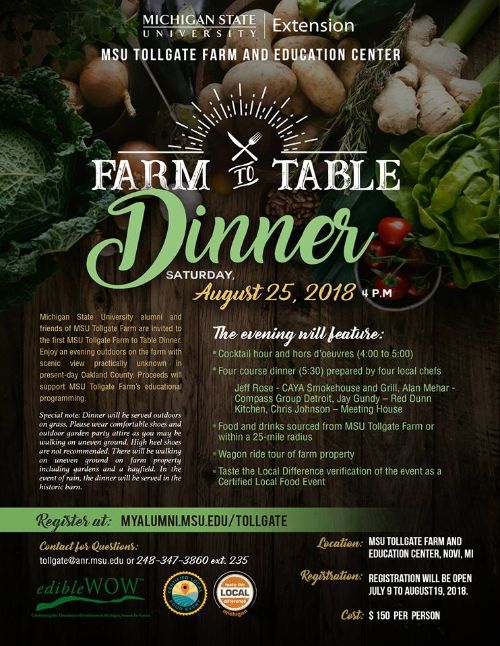 Michigan State University (MSU) Tollgate Farm and Education Center of Novi is hosting the first Farm to Table Dinner, Aug. 25 at 4 p.m., highlighting food grown at the MSU Tollgate Farm or within a 25-mile radius. Guests will enjoy an evening outdoors on the farm with scenic hills and countryside while feasting on a four-course meal prepared by local chefs.
The event is held in partnership with Taste the Local Difference and Edible WOW, two local food marketing agencies passionate about helping consumers make educated and sustainable food choices. The dinner is a "Certified Local Food Event" by Taste the Local Difference to guarantee MSU Tollgate Farm's high standards for a sustainable future.
Using food locally grown, the chefs will set the menu for the Farm to Table Dinner under the direction of MSU alumnus Jeff Rose, an accomplished chef with CAYA (Come as You Are) Smokehouse and Grill. Other local chefs include Alan Merhar of Compass Group Detroit; Jay Gundy, the executive chef at Red Dunn Kitchen; and Chris Johnson, the chef and owner at Meeting House.
All proceeds from the event will support the MSU Tollgate Farm and Education Center's educational programming. Tollgate, a 160-acre farmstead in Novi owned by MSU and the Americana Foundation, provides nonformal learning opportunities for children, families and adults, offering the unique opportunity to experience agriculture hands-on in an urban environment. Using research-based curriculum and methods, visitors can explore the joys of gardening and the natural world, appreciate and promote locally grown food, and develop a healthy community.
Upon arriving at the Farm to Table Dinner, guests will be transported by wagon ride to the dinner, which will be served outdoors on grass. Guests are encouraged to wear comfortable walking shoes to enjoy the gardens and farm property.
MSU alumni and friends of MSU Tollgate Farm are invited to register for the Farm to Table Dinner by Aug. 13 at myalumni.msu.edu/tollgate.