MSU Upper Peninsula Research and Extension Center begins focus on new mission
Ashley McFarland has been named center coordinator for the MSU Upper Peninsula Research and Extension Center (UPREC) in Chatham, Mich.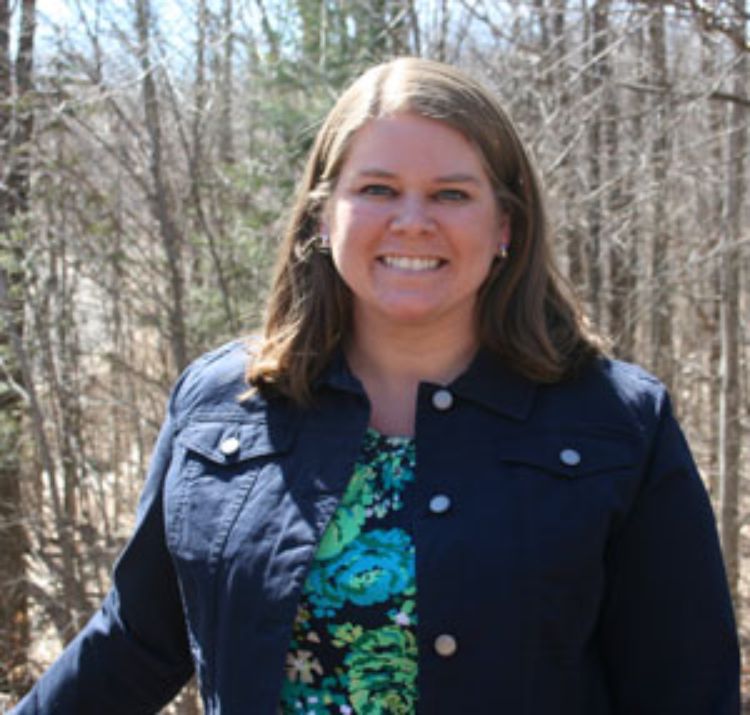 Ashley McFarland has been named center coordinator for the MSU Upper Peninsula Research and Extension Center (UPREC) in Chatham, Mich. It is a new position created as the research and Extension facility begins to take shape under a newly implemented long-term plan.
UPREC was reviewed in spring 2012 after being identified as one of the most costly of the 13 MSU AgBioResearch research facilities to operate. As a result of the review, UPREC, previously the Upper Peninsula Research Center, was renamed in January to acknowledge the significant contributions made by MSU Extension to facility operations. In line with the name change, the center will focus on collaboration and integration across three programmatic systems: livestock, plants and local food systems.
MSU AgBioResearch Associate Director John Baker said the committee report was issued last fall and work began almost immediately to implement the new vision.
"We're very pleased to have Ashley joining the team and helping with the re-direction of UPREC," Baker said. "She will be an integral part of a strategic effort to bring forth more valuable research to benefit the agriculture industry in the U.P. and across the state."
McFarland hails from Iowa and has earned degrees from Central College in Pella (B.A. in Political Science and Environmental Studies) and Iowa State University (M.S. in Environmental Science/Water Resources). She has spent the last five years with the University of Idaho Extension as a county Extension education and area natural resource educator.
Steve Lovejoy, associate director of MSU Extension, said McFarland will also focus on working with key stakeholders and keeping the industry informed on issues relative to UPREC.
"Ashley brings a great deal of experience in Extension and outreach that will be very valuable as we move forward and implement our plan for the future of the UPREC," Lovejoy said.
As the new center coordinator at Chatham, McFarland will provide an important link between campus-based faculty coordinators and the implementation of programs and oversight of operations at the center and throughout the U.P. She will also work to increase visibility of the center and build relationships with stakeholders.
McFarland, scheduled to start the position on May 20, said she is excited about the new opportunities.
"I look forward to working with MSU researchers, the staff at Chatham and stakeholders throughout the U.P. to developing meaningful education, outreach and integrated research programs that will enrich the lives of those engaged in agriculture and local food systems," she said.
Baker said three long-term objectives were identified by the review committee:
Improvement of soil quality in a way that emphasizes health linkages between soil, crops, livestock and people
Development of a close collaboration between UPREC and the MSU Lake City Research Center (LCRC) in Lake City to foster complementary research between integrated crop livestock systems at UPREC and grass-based livestock production at LCRC
Development of regional food systems that builds community sustainability while linking to objectives 1 and 2
Additionally, three MSU faculty coordinators, have also been named and will work with McFarland to oversee both research and extension activities at the center:
Jason Rowntree, assistant professor in the Department of Animal Science, will provide expertise on livestock systems
Kim Cassida, forage extension specialist in the Department of Plant, Soil, and Microbial Sciences, will work with plant systems
Matt Raven, professor in the Department of Community, Agriculture, Recreation and Resource Studies, will work with the food systems
As part of an effort to harmonize cattle genetics with LCRC and improve research opportunities, some of the herd at Chatham were sold in March and replaced by cattle relocated from LCRC.
A 15 percent cut in state funding FY 2011-2012 prompted MSU AgBioResearch and Extension to take a close look at all of its facilities and operations.
"It's been a challenging couple of years, but I'm confident the agriculture industry in the U.P. is going to see the benefits from these changes at UPREC," said Baker. "It is my hope that we will soon start to see some of the findings applied directly to nearby farms."
For more information on UPREC, visit http://agbioresearch.msu.edu/uprc/index.html.
MSU AgBioResearch engages in innovative, leading-edge research that combines scientific expertise with practical experience to generate economic prosperity, sustain natural resources, and enhance the quality of life in Michigan, the nation and the world. It encompasses the work of more than 300 scientists in six MSU colleges -- Agriculture and Natural Resources, Communication Arts and Sciences, Engineering, Natural Science, Social Science and Veterinary Medicine -- and has a network of 13 research centers throughout the state.
Since its beginning, Michigan State University Extension, (MSUE) has focused on bringing knowledge-based educational programs to the people of the state to improve lives and communities. Staff members, in concert with on-campus faculty members, serve Michigan citizens with programming in food and agriculture production, nutrition and food safety, community and natural resources development, youth development and renewable energy. Today, MSUE's goal remains the same: To give Michigan residents meaningful access to the latest life-changing research.
Photo: Ashley McFarland has been named center coordinator for the MSU Upper Peninsula Research and Extension Center (UPREC) in Chatham, Mich. Courtesy photo.