NCI's Wayne Beyea conducts session on charrettes for MSU UN Industrial Development Organization training delegates from Nigeria
On Sept. 25, Wayne Beyea, interim director of NCI, conducted a session for UNIDO delegates on "Managing Park Stakeholders Engagement & Cooperation."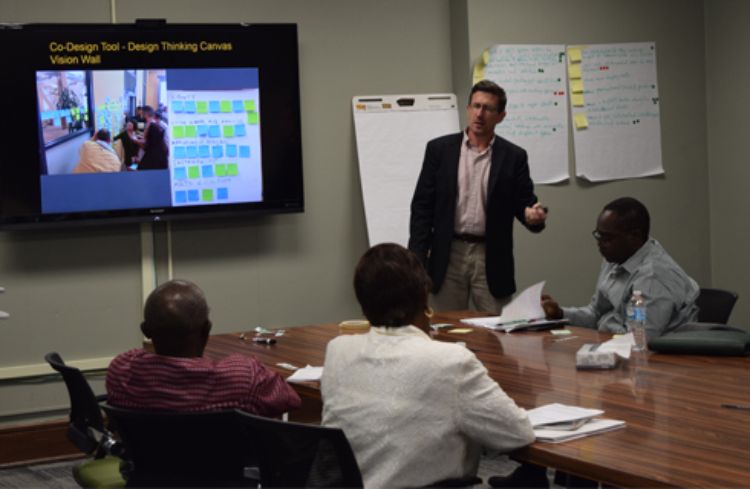 The MSU School of Planning, Design and Construction partnered with the Center for Global Connections to develop a training manual and program for the United Nations Industrial Development Organization.
The focus of the manual and training is on the planning and management of industrial parks, including modules on planning law, land use, construction, management (strategic planning, data driven decision-making), innovation, technology transfer and marketing.
The first training cohort from Nigeria visited MSU from Sept. 17-Oct. 1, 2017. The delegation included eight officials working on industrial parks and staples processing, accompanied by four officials from UNIDO's headquarters in Vienna, Austria.
On Sept. 25, Wayne Beyea, interim director of the National Charrette Institute, conducted a session for the delegates on "Managing Park Stakeholders Engagement & Cooperation."
Beyea stressed "the charrette makes the best use of people's time by involving them when their input will have the greatest impact." A primary focus of the hands-on session was how collaboration can be managed to create success for all stakeholders involved in the project process.
"The delegates were particularly interested in how collaboration by design through the charrette process can save time and money," says Beyea.
The materials and exercises were based on the highly regarded NCI Charrette System Certificate Training and The Charrette Handbook.
The MSU training program for the delegates combined classroom instruction with site visits and meetings with interested researchers and centers on the Michigan State University campus.